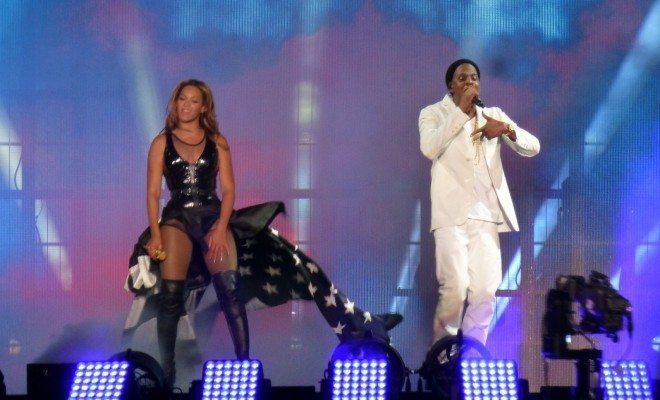 Image courtesy of [Erin Benson via Flickr]
News
Jay Z and Beyonce: Secret Activists?
By
|
Jay Z's "Decoded" ghostwriter may need to work on her discretion after spilling some of the Carters' philanthropic secrets publicly via Twitter. The ghostwriter, dream hampton, is a writer, award-winning filmmaker, and social justice organizer active in the Black Lives Matter movement. According to hampton, Jay Z and Beyoncé shelled out tens of thousands of dollars to bail out jailed protesters in Baltimore and Ferguson, but had requested their charitable actions be kept under wraps.
In a string of tweets posted Sunday that have now been deleted (but were screenshot by Complex) hampton wrote,
I'm going to tweet this and I don't care if Jay gets mad
When we needed money for bail for Baltimore protestors, I asked hit Jay up, as I had for Ferguson , wired tens of thousands in mins.
When BLM needed infrastructure money for the many chapters that we're growing like beautiful dandelions, Carters wrote a huge check.
…and more stuff, too much to list actually, that they always insist folk keep quiet.
Later that night, hampton went on to clarify her tweets which she later called "error ridden," writing:
Jay & B for stacks. It's true they gave, which is why I tweeted it. but I erased it within minutes, because ppl believe what they want to.

— dream hampton (@dreamhampton) May 18, 2015
ok, let me give password back to my assistant. Just came on here to say I was not in some foxhole texting Jay & B for bail money.

— dream hampton (@dreamhampton) May 18, 2015
They gave cuz that's what they do. & should I ever get major bread, I'm gonna be Howard Hughes, wiring out money anonymously too

— dream hampton (@dreamhampton) May 18, 2015
Hampton's honesty may have been motivated by critics consistently condemning the Carters for not speaking out publicly after the deaths of Michael Brown and Freddie Gray, which resulted in protests from thousands in Ferguson and Baltimore. In actuality the notoriously private couple, whose combined net worth is estimated at over $1 billion, had quietly been active with their contributions, which in many ways says a lot about their generosity.
Bankrolling bail money isn't the only contribution the Carters have made to the Black Lives Matter movement. According to Billboard, Jay Z also reportedly helped smuggle in "I Can't Breathe" T-shirts to players at a December Brooklyn Nets game against the Cleveland Cavaliers, and that same month met with New York governor Andrew Cuomo to discuss possible reforms for the justice system.
Jay Z and Beyoncé's reps have neither confirmed nor denied these rumored contributions, but they may not be too happy with their loose lipped associate. She may also be in a bit of trouble, as she's now notifying everyone with her Twitter bio that she is on hiatus.