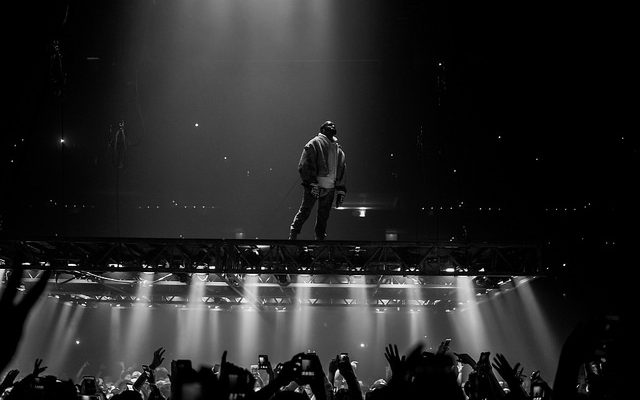 "Kanye West: Saint Pablo Tour @ TD Garden (Boston, MA)" Courtesy of Kenny Sun: License (CC BY 2.0)
Entertainment
Kanye West Sues Insurer for $10M Over Canceled Saint Pablo Tour
By
|
Kanye West is well know for his eccentricities.
So when he went on a Trump-praising, Jay Z-dissing rant in November 2016 during one of his Saint Pablo tour stops, it didn't come as much of a surprise. His eight-day stay at a Los Angeles psychiatric center for "exhaustion," however, drew whispers in the music community and shocked fans. The mental breakdown led to a canceled tour and thousands of disappointed fans–and now a $10 million lawsuit.
West's touring company Very Good Touring filed the lawsuit against Lloyds of London, the firm charged with insuring his tour, alleging that the company is stalling on paying out claims relating to the tour's cancellation.
A loss claim was filed two days after West was hospitalized at the UCLA Neuropsychiatric Hospital Center, but his touring company still hasn't been paid more than eight months later. The lawsuit alleges that the insurer is trying to blame West's marijuana usage on the mental breakdown.
"[Lloyds] have neither paid on the multi million dollar claim nor denied the claim," states the complaint filed Tuesday in a California federal court. "Nor have they provided anything approaching a coherent explanation about why they have not paid, or any indication if they will ever pay or even make a coverage decision, implying that Kanye's use of marijuana may provide them with a basis to deny the claim and retain the hundreds of thousands of dollars in insurance premiums paid by Very Good."
The lawsuit continues: "The stalling is emblematic of a broader modus operandi of the insurers of never-ending post-claim underwriting where the insurers hunt for some contrived excuse not to pay."
The tour insurance was expected to guard against non-appearances and cancellations due to unforeseen perils such as illness. According to the lawsuit, an independent medical examination of West by a doctor hand-selected by the insurer's counsel confirmed that he was "in no condition to resume the tour."
West's lawyers also accused the insurers of leaking his personal medical information to the press in the complaint.
"Plaintiff is informed and believes that the 'planting' of the Confidential Information with news outlets … was part and parcel of Defendants' efforts to impair Plaintiff's rights to the indemnity payments due under the Insurance Policies," states the complaint, which nods to a non-disclosure agreement between the parties.
West is not suing the three additional insurance companies that insured his Saint Pablo tour, as they have already paid Very Good Touring for the cancellation.
Read the full lawsuit below.
Kanye West Lloyds by gmaddaus on Scribd