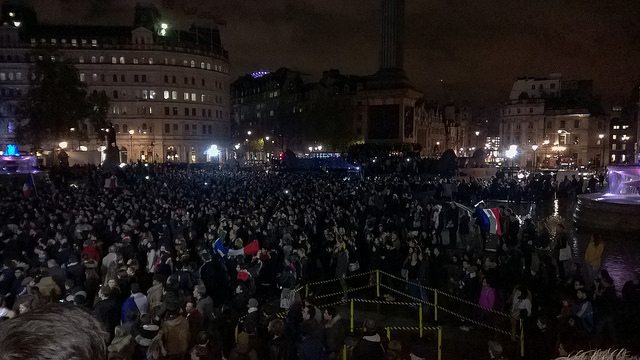 Image Courtesy of  [Garry Knight via Flickr]
News
ISIS Reportedly Releases Video Threatening Paris-Like Attack on DC
By
|
ISIS has officially taken responsibility for the horrific attacks in Paris on Friday that killed a confirmed 129 people, and left hundreds injured. Now, the Islamic extremist group reportedly points to DC as its next target in at least one of its newly released propaganda videos
Reuters obtained and translated a clip of the ISIS video where jihadists warn of a Paris-like attack on American soil saying,
We say to the states that take part in the crusader campaign that, by God, you will have a day, God willing, like France's and by God, as we struck France in the center of its abode in Paris, then we swear that we will strike America at its center in Washington.

I say to the European countries that we are coming, coming with booby traps and explosives, coming with explosive belts and (gun) silencers and you will be unable to stop us because today we are much stronger than before.
The video has not been authenticated as an imminent threat by U.S. officials, however, its timing and reference to Paris' highly-orchestrated massacres led many to believe its legitimacy. Some people even offered safe wishes for DC natives via social media.
If you're in the DC area please be careful and keep yourself updated on everything, ISIS released a video with a direct threat on DC.

— cat mom (@emilyxsnapp) November 16, 2015
Why did Isis have to release that stupid video I'm already always on high alert everywhere I go in DC — high end hetero (@Marximillion_) November 16, 2015
The thought of DC being attacked by ISIS… Smh no words 😓

— ciara (@bbyxCC) November 16, 2015
Meanwhile, the French President Francois Hollande has declared that his country is at war. Hollande told a joint session of parliament,
We're not engaged in a war of civilizations, because these assassins do not represent any. We are in a war against jihadist terrorism which is threatening the whole world.
Hollande has also pledged that not only will France not end its U.S.-backed air strikes in Iraq and Syria, but it will intensify them, hoping to lean on the U.S. for support.
During a G20 summit Monday in Antalya, Turkey, President Obama echoed his support for the airstrikes saying that they have been "effective in taking out key members of the terror group's leadership and that a large presence of ground troops in Syria would be a mistake." The comments come as some members of the GOP have criticized the president for not implementing a more aggressive U.S. military effort against ISIS. Regardless, the U.S. demonstrating its solidarity with France is crucial in helping the country bounce back from these attacks and hopefully prevent a future one.