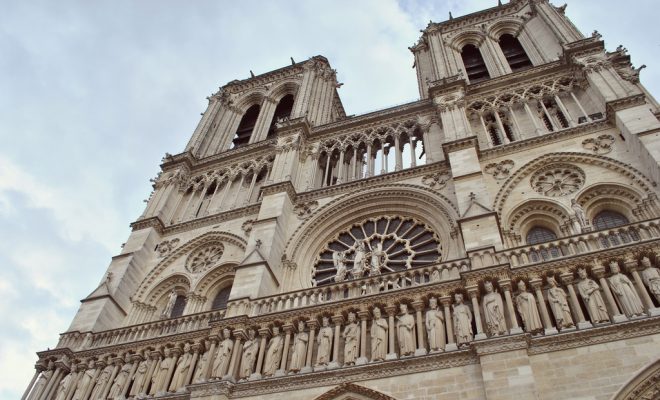 "Notre Dame" courtesy of jonnamichelle.; license: (CC BY-SA 2.0)
World
Paris Anti-Terrorism Prosecutor Launches Probe into Hammer Attack
By
|
On Tuesday, a man attacked a police officer outside of the Notre-Dame Cathedral in Paris. The man reportedly swung a hammer at the officer, and also had knives on him. Another quick-thinking officer shot him in the chest and the first officer was not seriously injured. French Interior Minister Gerard Collomb later said the man shouted, "This is for Syria" as he attacked.
The man was taken to the hospital and the situation was quickly contained, but as it happened, many feared a larger terrorist attack was taking place, only days after the attack in London. People on social media said they were escorted inside the cathedral and asked to put their arms in the air. Nancy Soderberg, a former White House Deputy National Security Adviser under President Clinton, was among those in the cathedral.
Locked inside #notre dame cathedral in #paris while police investigate attack outside against a policeman. All calm pic.twitter.com/Z4B8wUzPTV

— Nancy Soderberg (@nancysoderberg) June 6, 2017
France has been in a state of emergency ever since the terror attacks that shook Paris in November 2015, and Tuesday's incident caused panic on the streets of central Paris. However, thanks to the high-security alert, a lot of officers were patrolling the streets and the attacker was rendered harmless quickly. The 900 people inside the cathedral reportedly remained calm until they were allowed to exit again.
Notre-Dame: de nombreux effectifs se dirigent vers le lieu pic.twitter.com/FWWAGJzoW0

— David Perrotin (@davidperrotin) June 6, 2017
Authorities have not released the name of the suspect but said he was carrying identification that showed he is an Algerian student. His motives remain unclear but he seemed to be acting by himself and it didn't seem like a very well planned attack. "One sees that we have gone from a very sophisticated terrorism to a terrorism where, in the end, any tool can be used to carry out attacks," said Collomb, the Interior Minister. Prosecutors launched an anti-terrorism investigation into the incident.
France has seen several separate attacks recently, many of which targeted police officers or soldiers. A man stabbed two police officers, a couple, to death last June; a month later, another man drove a truck into a crowd in Nice killing more than 80 people; in March, a man attacked a soldier at the Orly airport; and a gunman fired shots at a police van on the Champs-Élysées in April.