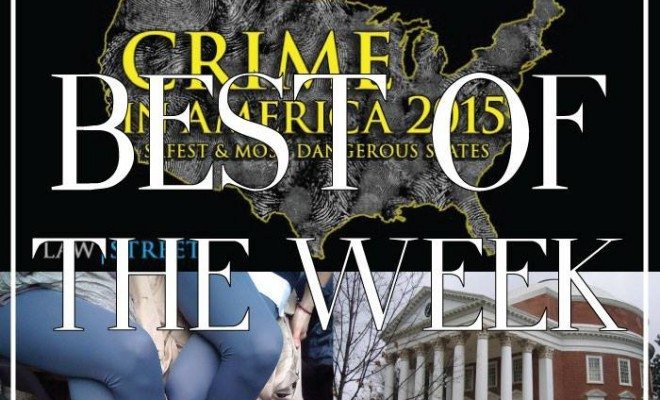 News
ICYMI: Best of the Week
By
|
Law Street's top three articles last week covered a whole range of hot topics. Don't worry if you ate too much turkey and couldn't keep your eyes open to read them though, we've got you covered here. The Crime in America Team's coverage of the Safest and Most Dangerous States in the nation took the top spot; Noel Diem delved into the complicated world of school dress codes and their effects on students for article number two; and Allison Dawson wrote the third most popular post of the week with a look into the University of Virginia's move to shut down fraternities while it investigates rape allegations published in Rolling Stone. ICYMI, here are the top three stores of the week from Law Street.
#1 Slideshow: America's Safest & Most Dangerous States 2015
Alaska is the most dangerous state in the nation according to the latest violent crime data from the FBI. With an increase in violent crime rate from 603 per 100,000 people in 2012 to 640 in 2013–the most recent year for which the FBI provides data–Alaska moved into the number one spot, followed by New Mexico (613) and Nevada (603). Read full article here.
#2 School Dress Codes: Are Yoga Pants Really the Problem?
Anyone who has been inside of a high school in the last five years has seen some interesting fashion choices by today's teenagers. Teachers are expected to teach to the tests, teach students how to survive in the real world, personalize the curriculum for IEP students of all levels, and still have their work graded within twenty-four hours. And now? Some districts are adding another dimension: dress code enforcement. Dress codes are an important part of school culture, as they sometimes dictate whether or not a student can even attend class. Read full article here.
#3 University of Virginia Suspends All Fraternities After Rape Allegations
You might have missed it with all the huge news events within the last week, but there was aRolling Stone article published last week about a young woman who was the victim of a heinous crime. Seven (yes, SEVEN) young men at a fraternity party raped the woman over a three-hour period. The rape took place two years ago, but now that the story is out UVA President Teresa A. Sullivan has decided to shut down all fraternities until at least January 9, 2015. Read full article here.