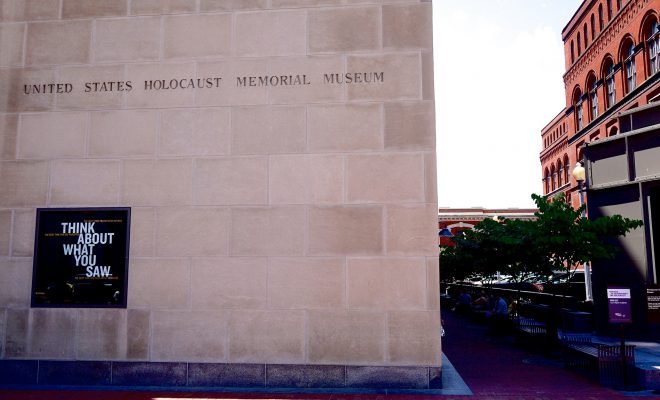 "US Holocaust Memorial Museum Washington DC USA 45365" courtesy of Ted Eytan; license: (CC BY-SA 2.0)
News
Graffiti-Painting Teens Sentenced to Study Hate Speech and Visit Holocaust Museum
By
|
Five teenage boys who painted graffiti on a historic black school in Ashburn, Virginia, in September have received an unusual sentence. The boys, all 16 or 17, wrote racist slurs on the exterior of the old school, as well as swastikas, the words "white power," and vulgar images. But Deputy Commonwealth's Attorney Alex Rueda is the daughter of a librarian and understands power of education. She recommended sentencing the boys to read books by some prominent black, Jewish, and Afghan writers, write a paper on hate speech, visit the Holocaust Memorial Museum, and listen to an interview with a former student of the school they vandalized.
The school, Ashburn Colored School, taught black children from 1892 until the 1950s. The boys will listen to the words of former student Yvonne Thornton Neal, which is a fitting sentence, said Deep Sran, founder of the Loudoun School for the Gifted. "We thought it would be good to really understand the story of Ms. Neal and the local community and why it was so important to them," Sran said.
Five white teenagers who sprayed racist graffiti were sentenced to visit a Holocaust museum and read black authors: https://t.co/zKa8qUTMgn pic.twitter.com/Oi5PKtB0ja

— Fusion (@Fusion) February 3, 2017
Students at Sran's school, which one of the boys had previously attended, have been working on restoring the old school, raising money with bake sales and yard sales. The students were devastated by the vandalism. Their school owns the property that the old institution stands on and the plan was to turn it into a museum. Sran said it stood there for 40 years without any incidents like this. "The moment you bring attention to what it is and that it's being restored somebody decides to deface it," he said.
Rueda said the vandals didn't seem to understand the gravity of their actions at the time of the crime. Three of them are also members of minority communities according to the Washington Post, and one had written "brown power" next to the other racist remarks. "It really seemed to be a teachable moment. None of them seemed to appreciate — until all of this blew up in the newspapers — the seriousness of what they had done," Rueda said. Now the boys have some reading to do, and if they manage to write reports on all the books they read as well as complete the research paper on hate speech within a 12-month period, their cases will be dismissed.