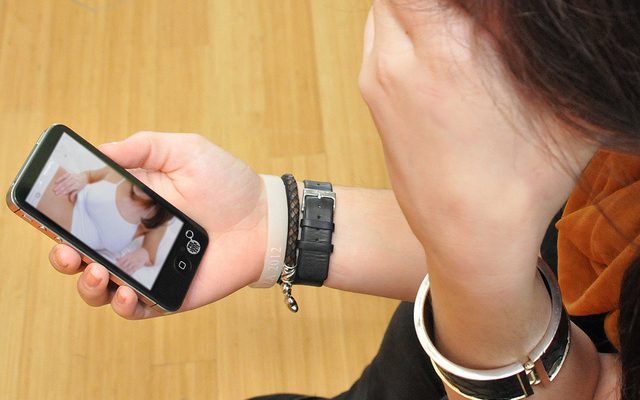 Image Courtesy of Pro Juventute; License: (CC BY 2.0)
Politics
Bill Aimed at Pornographers Could Subject Teens to Jail Time for Sexting
By
|
Two weeks ago, the House passed H.R. 1761, a bill aimed at punishing child pornographers. At first glance, this legislation seems like a common-sense child protection law, but the text's language is so vague that it could include minors who are caught sexting each other and subject them to a mandatory minimum of 15 years in prison.
Freshman congressman Mike Johnson (R-LA), introduced the bill last March to close alleged loopholes in existing child pornography laws.
Johnson's move is largely a response to a botched legal case involving a man accused of the sexual abuse of his seven-year-old neighbor. The man couldn't be convicted by federal prosecutors because the only available evidence was a single photo of the abuse, which was deemed insufficient by the court.
The bill, which will soon make its way to the Senate, seeks to "criminalize the knowing consent of the visual depiction, or live transmission, of a minor engaged in sexually explicit conduct." While this would prevent additional cases of digital sexual exploitation of minors, the definitions used also criminalize explicit photos being shared among consenting teenagers in a relationship, for example.
A 2014 Drexel University study found that 54 percent of its respondents sexted as minors, with 28 percent of those saying the sexts were photographic. The study also showed that most of these kids were not aware of the legal ramifications their sexts could bring about. If this bill passes, millions of teens across the country could inadvertently slip into criminality.
Though the legislation passed the House with a comfortable and bipartisan 368-51 margin, Sheila Jackson Lee (D-TX) called the measure "deadly and counterproductive," according to Reason. A letter signed by Jackson Lee and six other House dissenters concluded that "no child pornography offense should go unpunished. HR 1761, however, would subject more individuals to mandatory minimum penalties at a time when the federal criminal justice system should be moving away from such sentencing schemes. While well-intentioned, the bill would exacerbate a problem that is clearly unfair and unnecessary."
The ACLU took to Twitter to object to the bill's passing, once again emphasizing its good intentionality but poor anticipation of real-life application.
The purpose of child pornography laws is to prevent minors from being abused, not criminalize young people for sexual experimentation. https://t.co/2Nvbhs3u3N

— ACLU National (@ACLU) June 1, 2017
Director of federal legislative affairs at Families Against Mandatory Minimums Molly Gill told Broadly: "You're talking about 18-, 19-, 20-year-olds—young people who are being certainly reckless, but do they need to spend 15 years in prison? At that young age, their brains are not even done developing yet. They have all the potential in the world ahead of them and a 15-year prison sentence is the fastest way to kill their future."
After the bill was debated, two amendments were proposed to make the language more specific regarding who the bill is targeting. The first would have removed the possibility for teens to be punished as sex offenders for sexting. The second eliminated the mandatory minimum penalties. Neither amendment passed.
In response to his colleagues' concerns, Johnson said that "in Scripture, Romans 13 refers to the governing authorities as 'God's servants, agents of wrath to bring punishment on the wrongdoer.' I, for one, believe we have a moral obligation, as any just government should, to defend the defenseless."