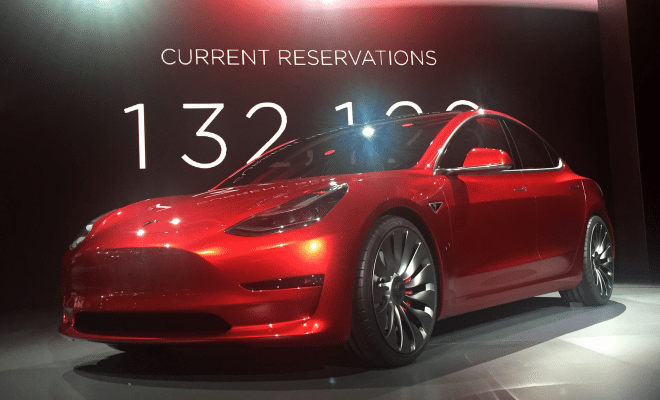 "Candy Red Model 3" courtesy of [Steve Jurvetson via Flickr]
News
The Government Wants You to Buy the New Tesla Right Now
By
|
Tesla, the company responsible for making super-cool, totally electric, ultra-luxurious, better-than-any-car-ever sports cars, just held a press conference that might be this generation's iPod announcement. That sounds kind of bombastic, but there's reason to believe that the car Tesla is making could mark the beginning of a seismic shift in transportation and energy.
Just yesterday, Tesla Motors revealed the Model 3, the product that many suspect the company has been aiming to release since its inception. During the announcement, CEO Elon Musk commemorated the success of Tesla's earlier cars, the Model S and the Model X, but recognized that they're far from affordable. The presentation's exact phrasing for the two cars was "high price" and "less high price." Now, they're ready for the mainstream, with the five-seater Model 3, beginning at $35,000. With a series of claims that seem almost too good to be true, including ample space, a 215-mile range on a single charge, and Tesla's autopilot features baked into the car, the Model 3 is poised to break Tesla out of the exclusive world of luxury vehicles.
That $35,000 price tag is a real sweet-spot for the non-premium market, as the average price of a new car last year was $33,560. Plus, an electric car like the Model 3 is in an enviable position: it's eligible for federal and state-level tax incentives and rebates, which can reduce the effective price of the car substantially. These incentives are part of a larger government program designed to improve the fuel economy of cars in America. You'll still need to pony up the initial $35,000, but you'll be able to reduce your income tax by $7,500 for that year. Individual states have their own incentives as well, with states like Lousiana offering incentives of up to $9,000 depending on battery size. This means that depending on where you live, your totally-electric Model 3 could be less than $25,000. Thankfully, Tesla's website has a cheat sheet where you can see if your state offers an extra bonus.
There's one catch–these tax credits are only available until the company sells 200,000 cars. The idea is that once an environmentally friendly car brand has established itself, it will be able to handle costs better on its own. Tesla claims to be able to make 50,000 cars a year with its current robot-army factories, so that number might be reached in the time it takes you to get tired of your current vehicle. Tesla claims people have pre-ordered an estimated $7.5 billion worth of vehicles, with pre-order numbers around 198,000.
Aside from the tax advantages, there are several other pluses to owning an electric car that help keep expenses down. For one, you'll no longer have to pay $30 to $50 at every fill-up. Tesla-provided "superchargers" will fill your car's battery to 80 percent capacity in only 30 minutes, with no charge. Plus, you can charge your car at home for your typical electricity rate, which is about $0.10 per kilowatt-hour on average and some third party chargers have rates around $0.30 per kWh. Tesla hasn't announced how large the battery in the Model 3 will be, but numbers around 40 or 50 kWh have been speculated. That would make a fill-up cost around $15 at the more expensive charging stations, and only about $5 in your home.
While the currently low gas prices across the country right don't make electric cars seem like a necessity, we don't know how long these prices will last. While it sounds like a QVC sales pitch—we really don't know for how long these deals will last. Of course, make sure to take this announcement with a grain of salt, because although Tesla has a pretty good track record of producing amazing vehicles, a promise of this magnitude may prove difficult to follow through on.