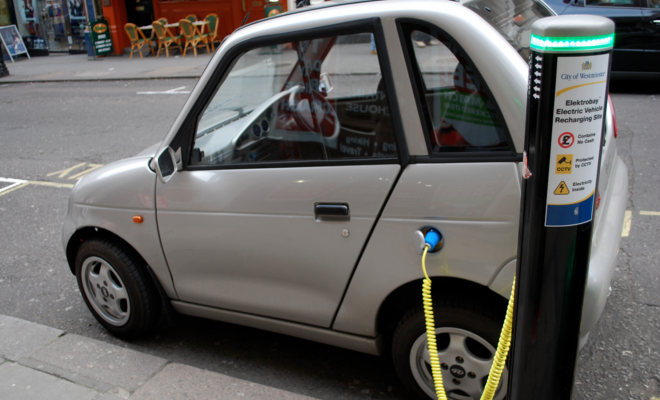 "Electric car charging" courtesy of Alan Trotter; License: (CC BY 2.0)
Energy and Environment
Britain to Ban Sale of Gas and Diesel Cars by 2040
By
|
On Wednesday, Britain's Department of Environment, Food, and Rural Affairs released documents detailing the country's plan to reduce air pollution over the next several years. Most notably, the United Kingdom will ban the sale of new petrol or diesel-powered cars and vans by 2040.
In addition to the ban on gas vehicles, the government reiterated its desire to fully implement its recently-announced £2.7 billion investments into low-emission taxis, car-rental programs, roads, and green bus retrofits.
In its plan, the government pledges to be the "the first generation to leave the environment in a better state than we inherited it."
Europe's Green Trend
Britain's announcement comes at a time when air quality levels are increasingly at the forefront of policies across Europe, as the continent tries to grapple with the increased effects of climate change.
"It's important we all gear up for a significant change, which deals not just with the problems to health caused by emissions but the broader problems caused in terms of accelerating climate change," Britain's Environment Secretary Michael Gove said.
New diesel and petrol cars are to be banned from 2040 as part of a new strategy to tackle air pollution https://t.co/Bmj3JSq6BN pic.twitter.com/MEjFNoqO9R

— BBC News (UK) (@BBCNews) July 26, 2017
Britain's new policy mimics France's ban on gas and diesel cars by 2040, which was announced last month after the country struggled with dense smog and pollution in its larger urban areas. It's also inspiring some Irish politicians to advocate for a similar commitment.
"If Ireland doesn't change it's in the danger of becoming a dumping ground. We need to set a date and work from it, without targets we are rudderless," said Ireland's Green Party Councillor Ciaran Cuffe.
Too Little, Too Late?
Some politicians, including former Labour Leader Ed Miliband, are saying that this announcement is largely meant to act as a media charade, to distract from ongoing Brexit negotiations and the fact that the U.K. government has been slow to tackle the issue seriously.
Fear that new car petrol/diesel ban in 23 years time is smokescreen for weak measures to tackle 40,000 deaths a year from air pollution now.

— Ed Miliband (@Ed_Miliband) July 25, 2017
Criticism is also emerging from industry officials who condemn the government's plan because of the negative ramifications it may have on car manufacturing jobs.
"Outright bans risk undermining the current market for new cars and our sector, which supports over 800,000 jobs across the U.K.," said Mike Hawes, chief executive of the Society of Motor Manufacturers and Traders.
Even among supporters of a gas car ban, some are critical of the timeline, which they consider to be too forgiving.
Areeba Hamid, a clean air campaigner at Greenpeace UK said: "We cannot wait nearly a quarter of a century for real action to tackle the public health emergency caused by air pollution."
While 2040 was set as a benchmark by other countries, India has stated that every vehicle sold in the country should be powered by electricity by 2030.
Norway has adopted a similar rule, but has set its target to ban diesel-powered vehicles by 2025. Forty percent of all cars sold in Norway last year were electric or hybrid, making the country a leader in this area.
Maybe Not…
In comparison to some other countries, the U.K.'s goals seem far off. Yet, researchers are confident that the market might naturally transition to cleaner cars sooner than politicians expect.
The Dutch financial group ING released a report earlier this month predicting that the electric car market will see a major breakthrough between 2017 and 2024, and could supply 100 percent of Europe's car demand by 2035.
Car manufacturers aren't wasting any time either. Tesla made waves when it announced its mass market electric Model 3 car earlier this month.
Also this month, Volvo said that all of its cars would be be completely or partially electric by 2019. Volvo's chief executive Håkan Samuelsson called for the "end of the solely combustion engine-powered car." And BMW announced on Tuesday that it would start building an electric model of the Mini compact car in England through 2023.