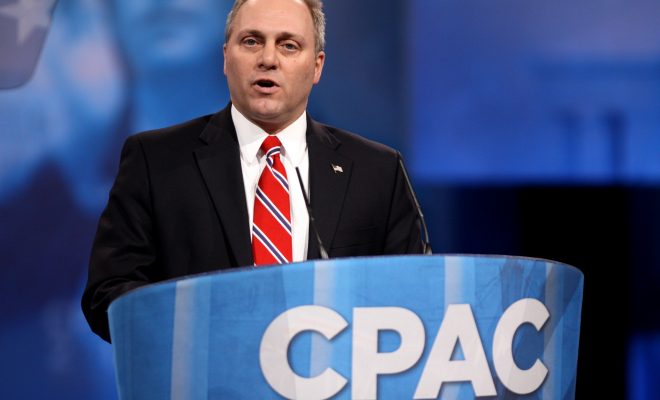 "Steve Scalise" Courtesy of Gage Skidmore; License: (CC BY-SA 2.0)
News
The GOP Baseball Practice Shooting: What You Need to Know
By
|
Wednesday morning, at a baseball diamond in Alexandria, Virginia,  a man opened fire on a group of Republican congressmen who were practicing for the annual Congressional Baseball Game. House Majority Whip Steve Scalise (R-LA) was shot and is in stable condition, but needed surgery. At least two police officers and one staffer were injured as well. The shooter, identified as 66-year-old James Hodgkinson, has died, according to President Donald Trump.
The incident comes at a time of intense political polarization in D.C. and across the country, a fact that Wednesday's tragedy only underscored.
Who is Steve Scalise?
Scalise, the third-ranking Republican in the House, was reportedly "in good spirits and spoke to his wife by phone" after being shot in the hip. He is being treated at a nearby hospital. The 51-year-old has been in Congress since 2008, and in 2014 was elected to the position of majority whip. Before he was elected to the House, Scalise served in the Louisiana legislature. He recently helped pass the American Health Care Act, House Republicans' Obamacare replacement. According to his House biography, Scalise and his wife have two children, and own a home in Jefferson, Louisiana.
There's a Congressional Baseball Game?
This annual charity baseball game, in which Republican and Democratic congressmen face off at Nationals Park, began in the early 20th century. This year's game is scheduled to be played on Thursday, and will reportedly go on. After years of Democratic dominance, Republicans won last year's game 8-7. A showing of bipartisanship, the game is also meant to raise money for charity.
The Shooter
Shortly after spraying a baseball field full of GOP congressmen with bullets, Hodgkinson was shot by Capitol Police. Hours later, he reportedly died while being treated at a hospital. Short and stocky with a wispy white goatee, Hodgkinson, a native of Belleville, Illinois, had reportedly been in Alexandria for two months. Representative Jeff Duncan (R-SC), who was present at the scene, told BuzzFeed News that Hodgkinson came up to him before the attack and asked if the players on the field were Democrats or Republicans. Duncan's account has not yet been corroborated by other sources.
According to the Belleville News-Democrat, Hodgkinson belonged to a number of anti-Republican groups, including "Terminate the Republican Party," "Donald Trump is Not My President," and "The Road to Hell is Paved with Republicans." Hodgkinson also has a criminal history: he was reportedly arrested in 2006 for assaulting his girlfriend.
PHOTOS: Shooter identified as James T. Hodgkinson pic.twitter.com/77fnpblbBZ

— Trey Yingst (@TreyYingst) June 14, 2017
Politicizing a Tragedy
In the immediate aftermath of the shooting, people on both sides of the aisle took to Twitter with political takes. Donald Trump Jr., the president's son, retweeted Harlan Hill's claim that the recent, highly controversial Shakespeare in the Park performance was to blame for Wednesday's attack:
Events like today are EXACTLY why we took issue with NY elites glorifying the assassination of our President

— Harlan Z. Hill (@Harlan) June 14, 2017
Others branded the attack as "leftist terrorism," referring to the shooter's apparent support for the Bernie Sanders campaign:
The Orlando massacre was about islamic terrorism.

The shooting of Steve Scalise is about leftist terrorism.

— Paul Joseph Watson (@PrisonPlanet) June 14, 2017
But still, with all of the politicizing and vitriol, there were some hopeful signs to be found on Twitter:
House Democrats pray for Republican colleagues and others injured in a shooting at a GOP baseball practice https://t.co/9zo4CnICPv pic.twitter.com/0VYxEJ93jA

— CNN Breaking News (@cnnbrk) June 14, 2017
And back at the Capitol, as Scalise's colleagues prayed for his quick recovery, Speaker of the House Paul Ryan (R-WI) delivered a statement, saying "an attack on one of us is an attack on all of us." Sanders also issued a statement, saying he had "just been informed that the alleged shooter at the Republican baseball practice is someone who apparently volunteered on my presidential campaign." He added: "Let me be as clear as I can be. Violence of any kind is unacceptable in our society and I condemn this action in the strongest possible terms."