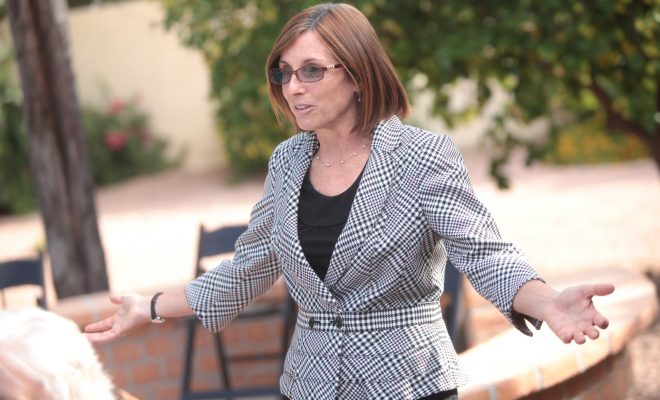 "Martha McSally" courtesy of Gage Skidmore; license: (CC BY-SA 2.0)
Politics
Republican Congresswoman Argues Against Supposed House Dress Code
By
|
Republican Representative Martha McSally commented on the Congressional dress code on the House floor on Wednesday. The debate over the dress code, which is not clearly stated and irregularly enforced, was reignited last week after a female reporter was turned away from the Speaker's Lobby outside of the House chamber. Reporters congregate in that area to grab lawmakers for quick interviews and the dress code rules are stricter there than in other parts of the Capitol Building.
On Wednesday, when speaking on the House floor, McSally ended her speech by saying, "Before I yield back, I want to point out I'm standing here in my professional attire, which happens to be a sleeveless dress and open-toed shoes."
Here's @RepMcSally on the House floor wearing a sleeveless dress, which chamber security says violates dress code (rule doesn't exist). pic.twitter.com/RCjOeYE3wd

— Rebecca Shabad (@RebeccaShabad) July 12, 2017
The dress code is actually not specifically written out, which is why it has been interpreted differently at different times. Right now, women are expected to not wear sleeveless blouses or dresses or shoes with open toes. Men are supposed to wear suit jackets and ties. But the only written specifics are contained in Jefferson's Manual and Rules of the House of Representatives.
In the 2015 edition of that manual, it says that Tip O'Neill, who was Speaker of the House from 1977 – 1986, thought that proper attire should be "customary and traditional," and elaborated by saying that meant a coat and tie for men and "appropriate" clothing for women. "Appropriate" is not very specific. The manual then states that the House Speaker should determine what is proper attire. In June, Speaker Paul Ryan reiterated that all House members should wear "appropriate business attire."
.@SpeakerRyan: "Members should wear appropriate business attire…" pic.twitter.com/a4f1Oy5ifT

— CSPAN (@cspan) June 23, 2017
After the female reporter was turned away, a lot of people reacted to the outdated dress code, especially since it is so irregularly enforced. Moreover, many female lawmakers wear sleeveless clothes, particularly given the oppressively hot weather in Washington D.C. during the summer. And former First Lady Michelle Obama often wore sleeveless dresses in an official capacity.
The Speaker's Lobby has one of the most ridiculous and backwards dress codes around. Did when I covered Congress. Still does. https://t.co/88yv6YSuz1

— Lizzie O'Leary (@lizzieohreally) July 6, 2017
This is not the first time McSally has put her foot down when it comes to men making rules about what women wear. Back in 2002, she sued then-Defense Secretary Donald Rumsfeld over a military rule that required female soldiers to wear an abaya when off-base in Saudi Arabia.
At the time, McSally was the highest ranking female fighter-pilot in the U.S. She said the rule was unconstitutional, as male soldiers weren't required to wear any particular clothes when off-base. Women also had to be accompanied by a man at all times when off duty. The rules were changed, and while the military said they had been under review for a while and had nothing to do with the lawsuit, McSally's tenacity went down in history. And while it's unclear whether her speech played any role in this decision, Paul Ryan just announced that the dress code will be "modernized."