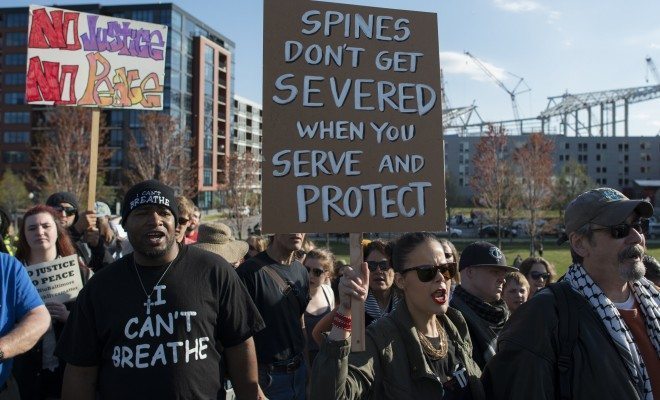 Image courtesy of [Fibonacci Blue via Flickr]
News
Freddie Gray: First Officer's Case Ends in Mistrial
By
|
The trial of the first officer charged in the death of Freddie Gray has officially ended in indecision–a hung jury caused the judge to declare it a mistrial. The prosecutors have said they plan on retrying Officer William G. Porter, and given that there are five more officers to be tried after Porter, this saga is far from over.
Freddie Gray died while in police custody last April. He was arrested for possessing an illegal switchblade, and then while being transported via police van, fell into a coma and later passed away. It was later determined that his neck was broken while riding in the police van–while his ankles and wrists were restrained, he wasn't strapped in. An autopsy determined his neck broke when he slammed into part of the van at some point during the ride. After Gray's death, protests erupted in Baltimore, as well as in solidarity in other American cities.
Porter was the first of six officers to be tried for Gray's death; according to the New York Times, he:
Was charged with manslaughter, assault and reckless endangerment and misconduct in office; the state accused him of 'callous indifference' to Mr. Gray's life for failing to call a medic after Mr. Gray asked for one, and for not buckling Mr. Gray into a police transport van, where he suffered a fatal injury to his spinal cord.
The jury deliberated three days, on a trial that began on December 2, but couldn't come to a unanimous decision on any of the charges, which is required for conviction. According to Kalani Gordon, of the Baltimore Sun, there were multiple points of contention for the jury that kept them from coming to a final decision. Those included:
Disagreements from expert witnesses about when Gray's injury occurred;
The rule that arrestees being transported must be seat-belted had recently been changed and the officers may not have known about the change;
Disagreements in witness testimony over whether Porter knew Gray was badly hurt;
Conflicting arguments from the Prosecution and Defense over the responsibilities of police officers;
Maryland laws about manslaughter and depraved-heart murder are vague.
So, while Porter wasn't found guilty, he wasn't found not guilty either. The prosecutors will have to try again–we'll have to see if this time they are successful.