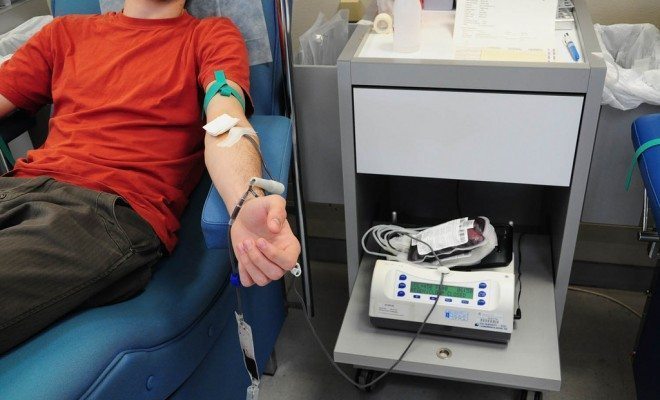 Image courtesy of [ec-jpr via Flickr]
News
The FDA's New Blood Donation Policy Still Discriminates Against Gay Men
By
|
This summer, fellow Law Streeter Brittany Alzfan wrote about the National Gay Blood Drive, which was the second event of its kind and served as an attempt to draw awareness to the fact that gay men are prevented from donating blood by the Food and Drug Administration (FDA). The FDA recently acted to change those restrictions, but activists worry that the change doesn't really do much to alleviate the discrimination against gay men who want to donate blood.
The new policy allows gay men to donate blood, but only if they haven't had sex with another man in the last 12 months. So essentially, only celibate gay men are allowed to donate–for the vast majority of adults, this changes nothing. It does the exact same thing as the lifetime ban–prevents gay men from donating–but without saying so in the same words. The FDA is basically pretending to change its policy and hoping no one notices that it's still essentially the same discriminatory policy.
There really are numerous problems with the FDA's policy. First of all, it reflects outdated science. Donated blood is tested for HIV regardless of who donates it. That's smart, pragmatic science, given that HIV can be transmitted through any sort of sexual activity, regardless of the participants' genders or sexual identities. It can also be transmitted through needle-sharing, or other manners that have absolutely nothing to do with sex. As Scott Schoettes of Lambda Legal explains:
Within 45 days of exposure, currently required blood donation testing detects all known serious blood-borne pathogens, including HIV.  Therefore, a deferral of more than two months—for anyone—is not necessary and does not noticeably enhance the safety of the blood supply.
Given that HIV tests are pretty quick and reliable–some tests can detect HIV as early as nine days after infection–this 12 month timeline seems arbitrary at best.
Moreover, the ban is insulting. When donating blood, participants are required to be honest about their medical and personal issues. Questions asked at donation locations include inquiries about travel history, whether or not the donors have gotten tattoos, and about HIV, AIDS, Malaria, and a whole host of other diseases. These are questions for everyone–regardless of age, gender, ethnicity, or sexuality. So why does the FDA believe that absolutely everyone who goes in to give blood can be trusted except for gay men? There's only one word for that: demeaning.
Finally, the FDA ban–even the new, almost equally bad ban–might be dangerous on a larger scale. By not allowing gay men to donate, the agency is turning away potentially life-saving donations. The Williams Institute at UCLA estimates that if the ban were lifted, donations would increase dramatically. As the institute put it:
If the current MSM [men who have had sex with men] ban were completely lifted, we estimate that an additional 360,600 men would likely donate 615,300 additional pints of blood each year.
Instead of a ban, activists argue that the United States should adopt a model like the one that Italy and Spain have. Those two countries screen each person as an individual based on his or her personal risk factors. Since instituting that policy change, there has been no evidence of blood supply contamination.
It does make sense that the FDA would want to keep any HIV-infected blood samples from getting into the donation supply; however, broad discrimination based on nonsensical science and old prejudices is most certainly not the way to do so.