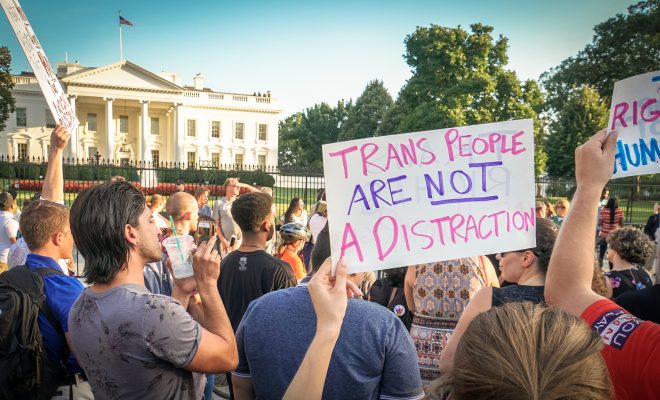 Image courtesy of Ted Eytan; License: (CC BY-SA 2.0)
Law
Transgender Military Members Sue Trump Over Ban
By
|
Trump's tweets get him in trouble all the time. But his recent tweets about banning trans individuals from serving in the military have now led to a lawsuit in federal court. The National Center for Lesbian Rights and GLBTQ Legal Advocates filed a lawsuit on behalf of five active trans service members in the U.S. District Court in the District of Columbia on Wednesday.
The plaintiffs argue that Trump's directive is unconstitutional, as it violates the due process clause and the equal protection clause. According to the lawsuit, the five servicemembers have all  "followed protocol in informing their chain of command that they are transgender. They did so in reliance on the United States' express promises that it would permit them to continue to serve their country openly. These servicemembers, like many others, have built their lives around their military service."
Trump's tweets were muddled, and sudden. The three tweet chain didn't provide any information for how exactly a ban would be implemented, or what it would mean for trans individuals already serving.
After consultation with my Generals and military experts, please be advised that the United States Government will not accept or allow……

— Donald J. Trump (@realDonaldTrump) July 26, 2017
….Transgender individuals to serve in any capacity in the U.S. Military. Our military must be focused on decisive and overwhelming…..

— Donald J. Trump (@realDonaldTrump) July 26, 2017
….victory and cannot be burdened with the tremendous medical costs and disruption that transgender in the military would entail. Thank you

— Donald J. Trump (@realDonaldTrump) July 26, 2017
The announcement blindsided the Pentagon and the U.S. Joint Chiefs of Staff. Since that tweet storm, none of those questions appear to have been answered. The Department of Defense says it is still waiting for formal guidance. But the fear and panic that trans military members felt was real, and the lawsuit argues that the tweet-based directive "already resulted in immediate, concrete injury to Plaintiffs by unsettling and destabilizing plaintiffs' reasonable expectation of continued service."