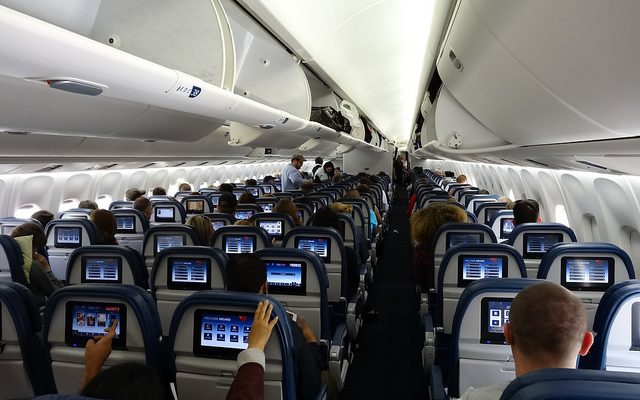 Image Courtesy of ERIC SALARD; License: (CC BY-SA 2.0)
Society and Culture
The Curious Case of the "Incredible Shrinking Airline Seat"
By
|
If you're a person of even average height who has flown in the past year, you've probably noticed that you're starting to get less space. And you know that if you do want a little extra room to make sure that the person in front of you doesn't crush your legs into oblivion, it will cost you a significant fee.
This is the phenomenon that a federal judge recently referred to as the "incredible shrinking airline seat." And on Friday, a three judge Federal Appeals court in Washington, DC ruled that the FAA standards for allowing diminished seat spacing were potentially harmful to passenger health and safety.
The panel ruled in favor of Flyers Rights, the passenger advocacy group, which argued against the recent average seat width reduction from 18″ in the early 2010s to 16.5″ now. The group pointed out that airlines also reduced seat pitch (which is the combination of seat thickness and legroom) from an average of 35″ to 31″ for an economy level seat. Low budget airlines such as Spirit go as low as offering only 28" seat pitches for its economy seats.
Flyers Rights contended that the significant decrease in legroom, combined with the increase in size of the average American passenger, can make it significantly more difficult for passengers to exit a plane in case of an emergency evacuation. Furthermore, the group argued that a decrease in seat pitch can lead to an increased risk of heightened vein thrombosis–a condition involving blood clots in the legs that has been connected to longer flights.
In a statement, the FAA said it: "does consider seat pitch in testing and assessing the safe evacuation of commercial, passenger aircraft. We are studying the ruling carefully and any potential actions we may take to address the court's findings."
But the judges found that the FAA was relying on outdated studies. The FAA even admitted last year that it lacked the data that would be able to prove whether airlines could evacuate an airplane in the minimum required time if each seat had 31 inches of pitch. The ruling will not guarantee or force the FAA to change its seat space regulation policy, rather it merely requires that it conduct a formal review.
But for the first time, it feels as though there's finally some progress. Flyers Rights had lobbied Congress for legislation to bring a change to the seating requirement earlier this year, but it failed to gain the necessary support.
Legal aviation experts such as Arthur Alan Wolk have characterized the ruling as being groundbreaking in terms of an organization having any success lobbying against the FAA. He told the New York Times on Sunday: "This is the first case I have seen where an organization has successfully challenged the F.A.A.'s basically being asleep at the switch and not fulfilling its safety responsibilities adequately."