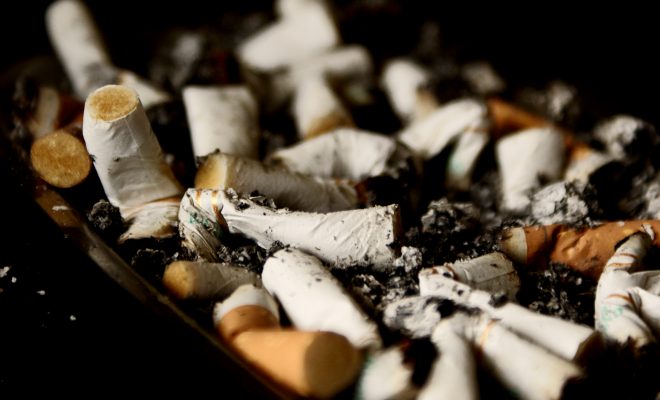 "Cigarettes" courtesy of Chris Vaughan : License (CC BY 2.0)
Society and Culture
FDA Announces Groundbreaking Plan to Curb Smoking Addiction
By
|
In an action that's been called a "public health power move" and a "step in the right direction," the federal agency responsible for regulating food safety and drugs is taking on smoking addiction.
Scott Gottlieb, commissioner of the Food and Drug Administration, announced the agency's comprehensive plan to reduce nicotine in cigarettes to non-addictive levels. Citing smoking's yearly death toll of 480,000, Gottlieb, appointed by President Donald Trump, said the FDA is "ready to do its share" in preventing smoking addiction in future generations.
"Unless we change course, 5.6 million children alive today will die prematurely later in life from tobacco use," Gottlieb said in his July 28 remarks. "A renewed focus on nicotine can help us to achieve a world where cigarettes no longer addict future generations of our kids."
This is the widest use of the FDA's tobacco regulation power as granted by the Family Smoking Prevention and Tobacco Control Act. The act, passed in 2009 under President Barack Obama, gave the FDA regulatory power over tobacco–until now that power has not been used.
The FDA's announcement comes as more state governments are hopping on the bandwagon to combat teen smoking addiction. New Jersey recently joined Hawaii and California in raising the legal smoking age to 21.
Though the opioid addiction crisis has been a major priority for the government in recent years, Gottlieb said he views the FDA's opportunity to confront nicotine addiction with the same obligation.
"I've pledged a deep commitment to taking aggressive steps to address the epidemic of addiction to opioids," Gottlieb said. "I'll pursue efforts to reduce addiction to nicotine with the same vigor."
We commend @SGottliebFDA & @US_FDA for adopting a common sense, balanced approach to tobacco & nicotine regulation. https://t.co/hOWUntQLhA pic.twitter.com/adf3MabZJx

— Tom Price, M.D. (@SecPriceMD) July 31, 2017
The agency's next steps include seeking the public's input on several tobacco and e-cigarette related topics, such as the prevalence of kid-friendly flavors in vaping products.
"Public input on these complex issues will help ensure the agency has the proper science-based policies in place to meaningfully reduce the harms caused by tobacco use," said Mitch Zeller, director of the FDA's Center for Tobacco Products.
The nicotine-reduction plan overshadowed the FDA's announcement of several compromises on e-cigarette regulations, including the decision to postpone the deadline for companies to submit applications for new products by five years, to 2022.
These revised timelines will give the agency time to evaluate how new products and a changing tobacco market best fit into the agency's wider goal of fighting smoking addiction, according to an FDA release.
"This action will afford the agency time to explore clear and meaningful measures to make tobacco products less toxic, appealing and addictive," the release reads.
Anti-smoking advocates have criticized this move, saying Gottlieb's nicotine-reduction plan was announced to detract from the potential consequences of postponing regulations on products that children and teenagers are using more.
In a statement, Matthew Myers, president of the Campaign for Tobacco-Free Kids, called the delay a "serious error."
"This long delay will allow egregious, kid-friendly e-cigarettes and cigars, in flavors like gummy bear, cherry crush and banana smash, to stay on the market with little public health oversight," Myers said. "There is no reason to allow these products to stay on the market while developing and implementing the comprehensive strategy Dr. Gottlieb outlined today."
The Los Angeles Times Editorial Board published a response to Gottlieb's announcement, calling it "troubling," and questioning the commissioner's intentions.
"We want to believe Gottlieb is sincere about regulation limiting nicotine," the piece reads. "It would be one of the most important accomplishments of the Trump administration, though it would take years to implement. The damage caused by delaying the regulations on other tobacco products, however, will be immediate."