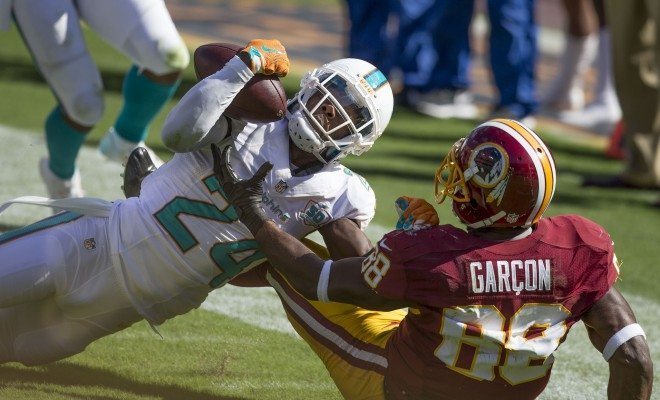 Image courtesy of [Keith Allison via Flickr]
News
FanDuel Sued by Washington Redskins Player Pierre Garcon
By
|
Notorious fantasy betting site FanDuel is in legal trouble yet again. The site is being hit with a class action lawsuit by Washington Redskins player Pierre Garcon. The suit alleges that FanDuel used the name and likeness of Garcon and other players without their permission in order to make money.
The suit claims that FanDuel makes money and promotes its daily fantasy contests "on the backs of NFL players, whose popularity and performance make the Defendant's commercial daily fantasy football product possible." The lawsuit argues that ads using Garcon's likeness, as well as other football players', appear on TV ads, Youtube spots, and infomercials. Garcon wants compensation for himself and other players who have been used in FanDuel advertising. Garcon had previously worked to promote FanDuel, but it's unclear what sort of contract he had with the company.
FanDuel doesn't have a licensing agreement with the NFL, the way that its main competitor DraftKings does. Observers are speculating that the only reason that DraftKings has not been hit with the same lawsuit is for this reason.
It's unclear whether or not this lawsuit actually holds any weight. Darren Heitner wrote at Forbes about the many reasons why he believes that Garcon's lawsuit will ultimately prove unsuccessful, including the fact that he chose to file the suit in a state, Maryland, that isn't exactly hospitable to publicity rights lawsuits. Additionally, Heitner thinks that precedent isn't on Garcon's side either, and the fact that he used to actively work to promote FanDuel will be a compelling counter-argument for the company's lawyers.
But regardless of whether or not Garcon's suit is successful, the fact that FanDuel is receiving even more negative publicity is hard to ignore. A few weeks back FanDuel and its competitive counterpart DraftKings came under investigation by the New York Attorney General for possible insider trading-like behavior. Another lawsuit currently being waged against FanDuel and DraftKings accuses the two companies of negligence, fraud, and false advertising. Brought by Adam Johnson, and also as a class action lawsuit, the suit is based on the same revelations that sparked the New York Attorney General investigation–essentially the fact that employees of FanDuel or DraftKings had been playing, and winning lots of money, on their competitors' sites.
Additionally, there's a lot of controversy over how sites like FanDuel and DraftKings should be regulated. Whether or not they constitute gambling is also a hotly contested question. Some states, like Arizona and Washington, have outlawed the sites. But for the most part, it's all a legal gray area. However, so far, these scandals and bad publicity don't appear to have affected FanDuel or DraftKings' profits–in fact, the opposite has happened, and both companies have seen increases. Garcon's lawsuit, successful or not, may not be able to make a dent either.