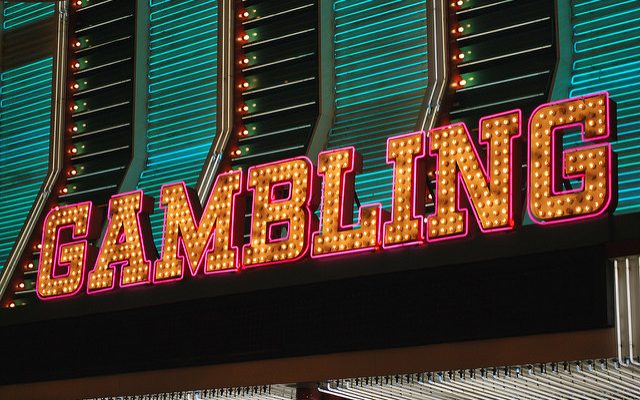 "Las Vegas Casino Sign" Courtesy of Mark Metzler: License (CC BY 2.0).
Sports
Is Daily Fantasy Sports a Form of Online Gambling?
By
|
Just a few years ago, it seemed like you couldn't watch a sporting event without seeing advertisements for daily fantasy sports leagues like Draft Kings or Fan Duel. Before the 2015 NFL season these companies spent nearly $500 million on advertisements, but after consumer concerns arose, they cut their advertising budgets.
After multiple lawsuits against the industry, the companies are fighting for their existence amid accusations that they fall under the same legal category as traditional online gambling.
A new study from Rutgers University on gambling in New Jersey concludes that daily fantasy sports (DFS) users exhibit highly similar habits as those who engage in traditional forms of gambling. It also finds that there is a high crossover between the two activities. This is bad news for an industry that has tried to distance itself from gambling in order to win lawsuits and continue operation. The study's authors wrote:
A majority of activities listed in this study are historically classified and widely accepted as 'gambling,' because they involve spending money on activities with an uncertain outcome and the possibility of winning or losing that can result in harm. However, other activities elude precise classification and are largely context and jurisdiction‐dependent.
The key distinction for these companies is whether their games are based on skill, not chance. This stems from the Unlawful Internet Gambling Enforcement Act (UIGEA) passed by Congress in 2006, which makes a distinction between the two forms of gambling and outlawed only games that require no skill.
Fan Duel, which opened in 2009, was the first major daily fantasy sports company before Draft Kings, its main competitor, opened in 2011. First, they experienced massive growth and profits before running into legal problems.
To learn more about daily fantasy sports check out Law Street's Explainer.
These companies, and their users, must prove to the courts that they are winning massive amounts because of skill and hard work, not pure luck like traditional gambling games.
Those who argue that DFS is skill-based believe it's clear the games aren't random because of the overwhelming success of experienced players. While normal gambling games such as roulette or slots don't favor someone with experience, these games show that the most winners have dedicated themselves to the craft.
While many users casually play the games, others have dedicated themselves to the game, and some manage to earn six-figure payouts in just one month.
In fact, 1 percent of players win around 91 percent of the profits from DFS  sites, according to a study by gambling expert Ed Miller. Miller argues this is evidence of a surplus of skill exhibited by the top bettors, whom he refers to as "sharks," who feast on the "minnows," which are novice gamblers who lose over 50 percent of their investments.
On the other hand, those who argue the game is just gambling cite evidence that knowledge of the actual sports doesn't help win the game. Instead, it's just about algorithms, gaming the system, and luck, they argue.
Even former Florida governor and presidential candidate Jeb Bush called it, "day trading without any of the regulation" during one debate in the 2016 campaign. The lack of oversight is yet another reason many hope for government intervention in the industry.
In recent years, the industry has faced lawsuits across America while states such as Nevada and New York barred them and defined them as gambling. In 2015 both states booted daily fantasy sports companies from their states.
But in late 2016, New York and Nevada compromised with the companies.
New York's ban was particularly impactful because the Fan Duel headquarters is located in the Big Apple. However, Governor Andrew Cuomo later signed a law in classifying DFS as a "game of skill," which allowed them to continue business in the state.
Meanwhile, Nevada decided that the companies need a gambling license to operate, but only one company–USFantasy–has applied and received a license as of last November, according to the Legal Sports Report. The policy means that daily fantasy sports is considered gambling in the state, allowing DFS companies to operate under the same regulation as traditional gambling. However, given the industry's efforts to identify itself as a game of skill, many DFS companies have been unwilling to participate with a gambling classification.
In Texas, state Attorney General Ken Paxton issued an opinion last year equating DFS with illegal gambling, which prompted lawmakers to craft a bill formally classifying DFS as games of skill. State Rep. Richard Peña Raymond, a fantasy football lover himself, decided to sign onto the bill after speaking with constituents who worried about government interference, he told the Texas Tribune.
So while the Rutgers study finds that DFS users also tend to engage in traditional gambling–and are susceptible to similar gambling and drug-related problems–many states are working with these companies to continue operation.
The new study doesn't necessarily mean that legal changes are coming down the road, but it furthers research that will help inform future decisions. The legality of DFS is a complex issue that must weigh the economic benefits of gambling for local taxes and the negative impact that it can have on individuals and their families.