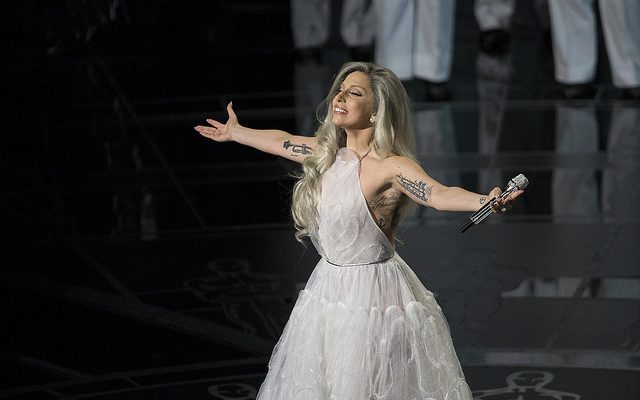 Image Courtesy of Disney | ABC Television Group : License (CC BY-ND 2.0)
Entertainment
Lady Gaga Dodges Dr. Luke Subpoena in Kesha Defamation Case
By
|
After a four-year hiatus, Kesha is finally back to belting out pop hits, but that doesn't mean her legal saga with music producer Dr. Luke is anywhere close to being over. In fact, the contentious court battle has managed to entangle another female pop star: Lady Gaga.
In the latest series of events, Luke's legal team subpoenaed Gaga to testify in his defamation lawsuit against his former protégée, after several unsuccessful attempts to get her testimony on the record.
Gaga was subpoenaed in relation to a text message conversation between her and Kesha that was submitted into evidence last year, in which Kesha allegedly asked "The Cure" singer to join a "smear campaign" against him. Luke's lawyers claim Gaga even spread a statement urging Sony Music to cut ties with Luke, according to court documents.
"Dr. Luke's counsel served a subpoena on Lady Gaga because she has relevant information regarding, among other things, false statements about Dr. Luke made to her by Kesha," Luke's lawyer said in a statement on Saturday. "This motion has become necessary because Dr. Luke's counsel has not been able to obtain, despite repeated request, a deposition date from Lady Gaga."
Dr. Luke, real name Lukasz Gottwald, sued Kesha for defamation after she claimed he drugged, raped, and emotionally abused her. Gaga showed public support for Kesha throughout her years-long sexual assault case against Luke–including tweeting the popular hashtag #FreeKesha.
There are people all over the world who love you @KeshaRose. And I can say truly I am in awe of your bravery.

— xoxo, Gaga (@ladygaga) February 19, 2016
Gaga's legal team responded to the subpoena with the following statement to Variety over the weekend:
As Lady Gaga's legal team will present to the court, she has provided all of the relevant information in her possession and is at most an ancillary witness in this process. Dr. Luke's team is attempting to manipulate the truth and draw press attention to their case by exaggerating Lady Gaga's role and falsely accusing her of dodging reasonable requests.
Unfortunately, we can't look at the text exchange for ourselves, because the judge sealed the messages between Gaga and Kesha, making the content confidential.
Now that the subpoena has been issued, Gaga will be required to set a date to appear in-person for a three-hour deposition. Many other celebrities are expected to provide testimony as well in the case.
In July, Kesha made a triumphant return to music with her emotional first single "Praying," which appears to be inspired by her conflict with Luke. The track will appear on her brand new album "Rainbow"–her first in five years–which is expected to be released in August.