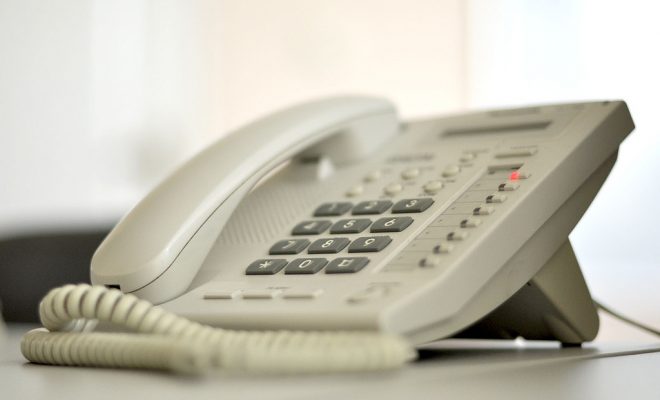 "Office phone" courtesy of [Karolina Kabat via Flickr]
News
David Duke Robocalls Voters Asking them to Vote for Him and Trump
By
|
Former Ku Klux Klan grand wizard and well-known white supremacist David Duke started robocalling people urging them to vote for both him and Donald Trump in November, an effort to tie himself to Trump's appeal. Duke is currently running for a Senate position in Louisiana.
Prior to his endorsement in February, Duke was reluctant to support Trump because he is too friendly with "the Jews" and might not do anything about the "Jewish elite" that he claims is running the United States. In August 2015 he said, "Trump has made it very clear that he's 1,000 percent dedicated to Israel, so how much is left over for America?"
But in February Duke set aside his reservations and formally endorsed Trump. He told NBC News that he had to make a political decision and that he agrees with Trump on "a lot of other issues."
Duke has since supported the idea of a Trump presidency, encouraging listeners of his radio show and visitors of his website—where he goes by Dr. Duke—to vote for Trump in November. Despite his initial hesitance, Trump formally denounced Duke's endorsement and continues to denounce it.
In the robocall, Duke even takes a shot at Beyoncé:
Unless massive immigration is stopped now, we'll be out numbered and outvoted in our own nation. It's happening. We're losing our gun rights, our free speech. We're taxed to death. We're losing our jobs and businesses to unfair trade. We're losing our country. Look at the Super Bowl salute to the Black Panther cop killers.
You can listen to the full robocall here.
Hillary Clinton took the opportunity to highlight the fact that a prominent KKK figure is endorsing Trump.
Longtime Ku Klux Klan leader David Duke supports Donald Trump because they share so many of the same values. pic.twitter.com/XuXznBEslA

— Hillary Clinton (@HillaryClinton) August 25, 2016
Duke told NBC in February that he is still an important political player and has hundreds of thousands of followers online who will all vote for Trump. But Mark Potok of the Southern Poverty Law Center points out that Duke's claim is not quite accurate. "David Duke still portrays himself as a white nationalist hero, but the fact is he hasn't done anything political in years," Potok said. "Duke's having a moment in the news now, and he needs this. In the white supremacist world, he's seen as an opportunist, someone who is living off the movement."
David Duke's history in politics ranges from founding the White Youth Alliance at the Louisiana State University in 1970 to becoming a leader of the Ku Klux Klan, which he made an effort to bring into the mainstream. He won a seat in the Louisiana State Senate in 1989 but later failed when running for governor, Senate, and even the White House. He also formed an organization called National Association for the Advancement of White People to further his mission and spread white supremacy.
In 2002, he was convicted of filing a false tax return–he used donated money privately and for gambling–and lost a lot of public support. He is now running for Senate in Louisiana and even though the Republican Party there does not support him, it claims that it would be too costly to formally ban him from running on the Republican ticket.
After the recent robocall made the news, Trump's campaign sent a statement to politico reiterating his disavowal of Duke's support. The statement said:
Mr. Trump has continued to denounce David Duke and any group or individual associated with a message of hate. There is no place for this in the Republican Party or our country. We have no knowledge of these calls or any related activities, but strongly condemn and disavow.