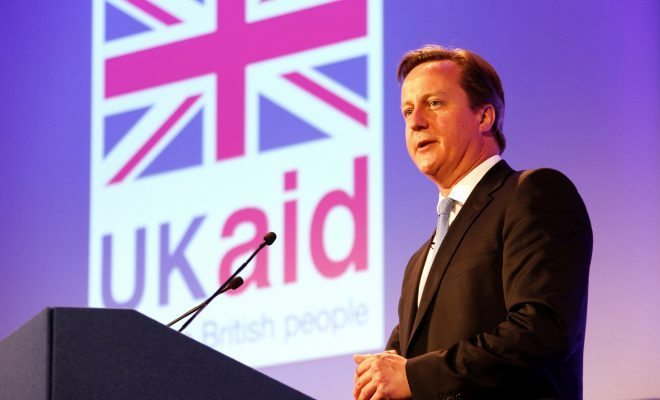 "Prime Minister David Cameron, speaking at the London Summit on Family Planning" courtesy of [DFID - UK Department for International Development via Flickr]
News
David Cameron on Tinder? When Wooing Young Voters, Anything is Possible
By
|
It's common for older politicians to go to great lengths to relate to and connect with young voters who are sometimes decades younger than themselves. David Cameron, the Prime Minister of the United Kingdom–in an effort to induce young people to go to the polls on June 23 to vote for Britain to remain in the European Union–might utilize an untapped tool: Tinder.
While the 49-year-old will not be joining Tinder, or TheLADbible–a popular virtual community for young men–according to a spokesperson, he is considering using both as advertising platforms to spur young voters to participate in the June 23 referendum to prevent a "Brexit," or a British exit from the EU.
"Cameron was holding meetings with various social media outlets to explore ways of encouraging more people to vote," the spokesperson said in response to speculation of a Cameron Tinder profile, adding that the rumor "isn't true." Cameron has already engaged with Facebook and Twitter in an effort to get young people to register to vote before the June 7 deadline, hosting a meeting with representatives from the social media giants last week.
The youth vote is important to Cameron, who opposes Brexit, because polls suggest nearly two-thirds of those under 25 share his position. 
Young voters have never lived in a Britain untethered to a united Europe. The last time a similar vote occurred was 1975 when Britons took to the polls to vote on whether the island should remain in the European Economic Community–the precursor of the EU–or leave the bloc. Britain remained an EEC member with 67 percent of the vote going to the "remain" camp.
The arguments from each side largely revolve around the economy, British sovereignty, and safety. The primary arguments of Brexit supporters: immigration–those seeking jobs from other EU countries or those seeking refuge from the Middle East–is out of control and will worsen as EU ties strengthen. Greater EU cooperation–politically and economically speaking–has left Britain with a shrinking ability to act for itself. And in terms of the economy, long-term gains would outweigh short-term losses.
Arguments from the pro-Europe side, who are in favor of Britain remaining an EU member state: the bloc offers stability and security against potential threats abroad, namely Russia and China. Many leading economists argue that the uncertainty surrounding a Brexit would be detrimental to the economy. Nearly half of Britain's exports land elsewhere in the EU, and an exit would mean less fluid trade with the continent, threatening British exports.
Young Brits would not be the only ones affected by a Brexit–1.3 million people between the ages of 18-35 who are citizens of other EU nations live and work in Britain. A vote for a Brexit could mean jobs lost and unstable futures for those without British citizenship, which at the moment, due to Britain's EU member state status, does not prevent them from working in the country. However, that could be the case if Britain leaves the EU and gets ride of its lax immigration laws for EU members.
And while a "David Cameron, 49, prime minister seeking young voters" profile might not show up on Tinder, Bite the Ballot–a political group seeking to engage young voters–has not shot down its own partnership with the dating app: "We are in talks with Tinder… but can't talk about specifics at this stage," said Partnership Coordinator Kenny Imafidon.