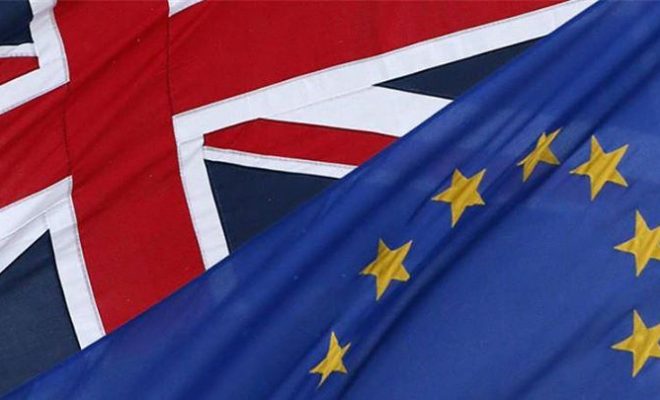 "Brexit" Courtesy of Rich Girard : License (CC BY-SA 2.0)
World
UK Border Costs are Predicted to Surge After Brexit
By
|
Prolonged border delays, expanded truck parking, and increased customs staffing could cost the U.K. 1 billion pounds per year after it leaves the European Union, according to a report by Oxera, an economic consultancy.
Andrew Meaney–head of transport at Oxera–wrote this analysis to see what effects Brexit will have on British ports. Using World Trade Organization statistics for trading across borders, Meaney estimated the related costs based on the assumption that Britain would try to create a new customs system that will be as close as possible to the current system. The most likely result would be a "low regulation, high enforcement" policy, he concluded.
"Enforcement is either undertaken at the ports, or on a random checks basis," the report states. "However, the number of staff involved increases substantially, and many consignments are subject to lengthy checks."
Meaney described the 10-figure annual cost as "extremely conservative" because it does not take into account the economic costs of uncertainty involved, extra staff, traffic congestion, and land on which to conduct the checks, which led him to conclude, "The full cost is likely to be much higher."
Even if the billion-pound increase is something that diehard Brexit supporters want, news of the projected increase could not come at a more inconvenient time for the U.K., as the island nation scrambles to figure out how to replace funding from the European Union.
One example of this came up last week when the Local Government Association (LGA) called on Britain's Treasury to help replace funds that would be used in smaller towns and regions near the coast–known as regeneration funds. Local authorities estimate that nearly 8.4 billion pounds were allocated through the European structural and investment funds between 2014-2020, which means that once Brexit happens, that total would fall on the British government.
"Since the referendum, one of the biggest concerns for councils has been the future of vital E.U. regeneration funding," said Kevin Bentley, an executive member of the LGA. "Councils have used E.U. funds to help new businesses start up, create thousands of new jobs, roll out broadband, and build new roads and bridges."
The Treasury's commitment to these funds would likely mean an increase in domestic taxes for British citizens to maintain existing funding levels. This becomes a bit problematic when wealthier parts of the country–such as London, where a majority voted Remain–will be paying to support the regions inhabited by the people who voted Leave, and much of the tax-paying immigrant base might leave because of Brexit. In fact, Remain voters would be paying double for the government's decisions–a National Audit Office report in 2016 found that British investments in infrastructure were not doing too well.
Ever since Britain elected to exit the European Union in June 2016, Brexit supporters have seen many troubling revelations about the withdrawal they voted for. From Prime Minister Theresa May confirming that the 350 million pounds a week promised to the NHS after the Brexit vote was a lie, to the European Union's chief Brexit negotiator, Michael Barnier, ruling earlier this month that the government's hope of securing "frictionless" trade once outside the E.U. was not possible, Brexit proponents have had little to hang their hats on. A projected spike in border spending only adds to the problem.