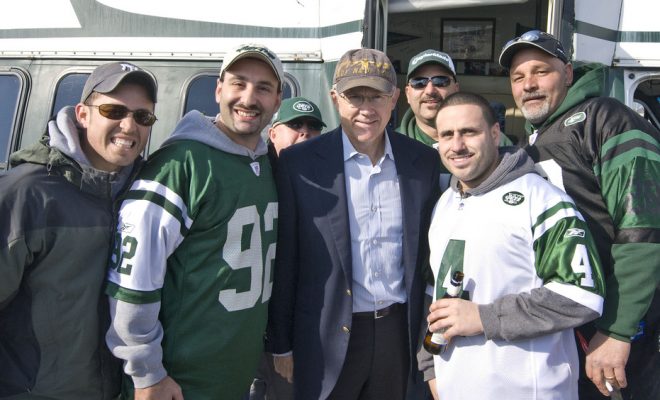 "dave and chris and others with jets owner woody johnson" Courtesy of Anthony Quintano: License (CC BY 2.0)
Politics
New York Jets Owner Woody Johnson Confirmed as Ambassador to UK
By
|
Last Thursday, the Senate confirmed Robert "Woody" Johnson IV, the 70-year-old owner of the New York Jets, as ambassador to the United Kingdom. Now, Johnson will move to London and serve a three-year term as the United States' main representative in a country struggling to navigate the complex negotiations related to Brexit.
Johnson's friendship with President Donald Trump goes back to their times as businessmen in New York City. Trump considers Johnson one of his oldest friends, according to the New York Times. Johnson is a registered Republican who helped fundraise in 2012 for Mitt Romney and again in 2016 for Trump, despite initially supporting Jeb Bush.
Many expect the Jets owner to be a mediator between Trump and London Mayor Sadiq Khan, who Trump has repeatedly criticized, most notoriously after the June terrorist attack in London.
Trump had long wanted Johnson to serve as the ambassador to London, but he didn't formally nominate him until June. Since then, the Senate has been holding hearings before his confirmation on Thursday. During one hearing last month, Florida Senator Marco Rubio brought some football into the conversation.
.@MiamiDolphins fan @marcorubio jokes to @nyjets owner Woody Johnson that Tom Brady should be made ambassador to Brazil #Patriots #WBZ pic.twitter.com/AMWQ2873hp

— Joe Giza (@JoeGiza) July 21, 2017
Before purchasing the football team in 2000 for $635 million, Johnson and his family were involved in a number of charities for lupus and juvenile diabetes, which his daughter Casey is affected by. While some NFL owners are self-made businessmen, Johnson is the heir to the Johnson & Johnson fortune, a company worth $65 billion, according to Celebrity Net Worth. Johnson himself is valued at $4.2 billion, according to Bloomberg, while the Jets' estimated value is around $2.7 billion, according to Forbes.
Woody's brother, Christopher Johnson, will take over operations of the Jets for the next few seasons. The confirmation of the Jets owner is another example of Trump's penchant for placing businessmen with no political experience in positions of political power. Now it's time for Johnson to move across the Atlantic Ocean and begin his work with the English government.