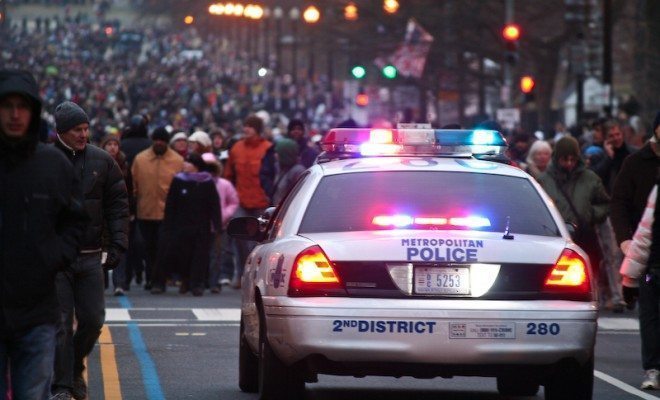 Image courtesy of [Joe Flood via Flickr]
News
D.C. Cop Accused of Stealing Nude Photos After Woman Pulled Over
By
|
A few months back I wrote a story about "California Police Officers Found Stealing Suspects' Nude Photos." It centered around a few cops in Contra Costa County, California who were stealing nude photos off of female suspects' cellphones while those cellphones were in police custody. They would share the pictures among themselves, and then discuss and rank the women, rendering it a kind of perverted "game." Well, when I wrote that piece, I kind of expected that this wouldn't be the only example we heard of such disgusting behavior. I expected a similar story to pop up in another city or state. I was right–although it happened a little closer to home than I anticipated. Similar allegations are now being waged against a police officer in my city of Washington, D.C.
An Alexandria woman named Natalia Argote has filed a lawsuit against the Washington D.C. Police Department (MPD) and the cop in question, Terrence Richardson. According to Washington City Paper Richardson no longer works for MPD.
The suit claims that Argote was stopped by Richardson and another officer on March 3, 2012 on suspicions of driving under the influence. Her phone and drivers license were taken from her, which seems like a normal enough procedure. One of the officers administered a sobriety tested, while the officer went through her phone. She claims that he saw a nude photo she had taken for her boyfriend, and without her consent sent it to himself.
Argote's suit doesn't just claim that it was Richardson who violated her rights. She claims that this is a pervasive problem in the ranks of the MPD. The suit states:
On information and belief, MPD officers regularly rifle through the phones of female citizens without their permission or a warrant, searching for salacious photos.

On information and belief, MPD officers regularly share the salacious photos with each other and individuals outside the MPD.

On information and belief, on March 3, 2012, MPD was aware that its officers were conducting warrantless searches of female citizens' phones and sharing the photos they stole; yet, it took no action to stop and correct its officers.
Whether or not Argote and her lawyer, Latif Doman, will be able to prove those claims remains to be seen. It will also be interesting to see why Richardson doesn't work with the MPD anymore–whether it has anything to do with these allegations, or other misconduct, or whether he left voluntarily. As of yet, the MPD does not appear to have commented on the lawsuit.
When I first heard about the admittedly very similar California case, I was outraged, and I reacted similarly when I heard about this one. If what Argote alleges is true, she has every right to sue for an unfair search and violation of privacy. Being pulled over doesn't mean that you lose all rights. Hopefully, MPD is about to learn that first hand.