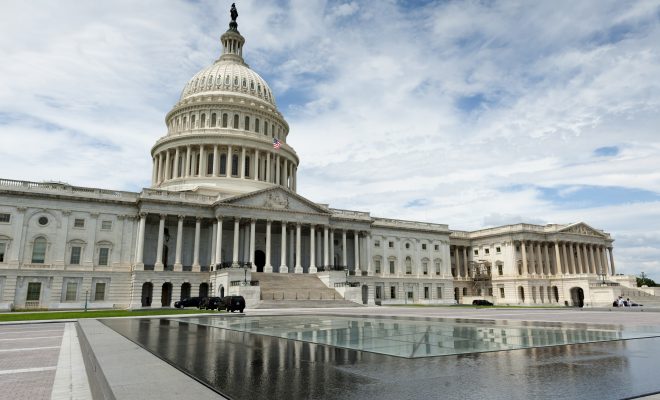 "Congress" courtesy of Jeremy Buckingham; License: (CC BY 2.0)
News
Crisis Averted: Congress Approves Funding to Avoid Government Shutdown
By
|
Federal workers can breathe a sigh of relief (at least for one week): the Senate and the House both passed a short-term spending bill on Friday to fund the government at its current levels until next Friday. This averted a government shutdown that would have occurred if a deal had not been reached by midnight.
Some of the most contentious issues preventing a longer-term spending bill from being passed were funding for the border wall and an Affordable Care Act subsidy for low-income individuals, among others.
Even the one-week funding bill had a bumpy road to its passage, as many Democrats threatened to oppose its approval as long as Republicans planned to vote on repealing and replacing the ACA this week (within the President's first 100 days). In the end, the health care vote was not scheduled for Friday.
President Donald Trump did not seem too concerned with the possibility of a shutdown, telling Reuters on Thursday, "we'll see what happens. If there's a shutdown, there's a shutdown." He also harshly criticized the Democratic Party in a series of Tweets on Thursday, accusing them of putting roadblocks in place and being responsible for a potential shutdown.
The Democrats want to shut government if we don't bail out Puerto Rico and give billions to their insurance companies for OCare failure. NO!

— Donald J. Trump (@realDonaldTrump) April 27, 2017
I promise to rebuild our military and secure our border. Democrats want to shut down the government. Politics!

— Donald J. Trump (@realDonaldTrump) April 27, 2017
As families prepare for summer vacations in our National Parks – Democrats threaten to close them and shut down the government. Terrible!

— Donald J. Trump (@realDonaldTrump) April 27, 2017
The one-week spending bill buys Congress more time to smooth out conflicts and draft up a longer-term spending bill for the rest of the year.
The environment for government workers has been tenser than usual, to say the least. In addition to the possibility of a shutdown, federal workers have recently had to endure the possibility of job cuts, as Trump's budget proposals have called to reduce the federal workforce by as many as 200,000 jobs. Also on Friday, officials announced that Secretary of State Rex Tillerson proposed to cut 2,300 jobs in the State Department.
Meanwhile, a large number of federal appointments still have yet to be selected by Trump. Politico reported that 470 out of 556 positions requiring Senate confirmation do not have nominees yet. It remains to be seen if the remaining issues in the long-term spending bill will be ironed out before this temporary measure expires on May 5.