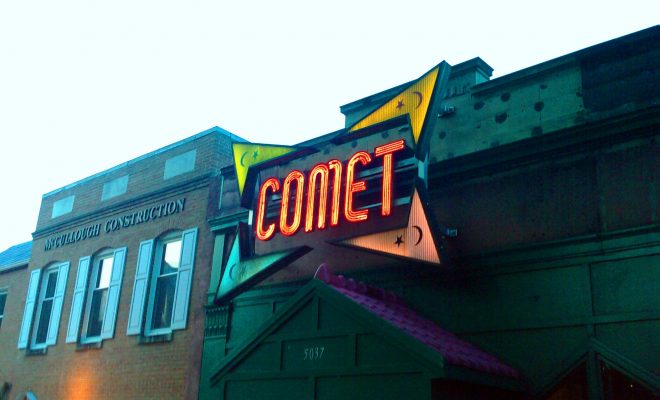 Comet - NW DC Courtesy of Elizabeth Murphy : License (CC BY 2.0)
News
Comet Ping Pong Gunman Says He Was 'Investigating' Fake News Story
By
|
A North Carolina man was arrested Sunday after he entered a Washington D.C. pizzeria with an assault rifle hoping to investigate an online fake news story involving Hillary Clinton.
Police respond to reports of man with gun at Comet Ping Pong restaurant in D.C. https://t.co/ccH50zq6KH pic.twitter.com/b6mLPkxxRg

— WTOP (@WTOP) December 4, 2016

Police say Edgar Maddison Welch, 28, of Salisbury, North Carolina walked into Comet Ping Pong–located in Chevy Chase–and pointed an AR-15 assault-style rifle in the direction of a restaurant employee, who fled and called police.
Welch reportedly fired the rifle inside of the restaurant, but no one was injured.
According to the Washington Post, police also seized a Colt .38 caliber handgun and a shotgun from Welch. One of those weapons was found inside the restaurant, while the other was located in his car.
Comet Ping Pong was the unlucky target of the #Pizzagate conspiracy theory that went viral last month. A string of fake news stories claimed that then-Democratic presidential nominee Hillary Clinton and her campaign chairman John Podesta were running a pedophilic sex ring from the pizzeria's back rooms.
None of the rumors were true, but that didn't stop the restaurant's owner, James Alefantis, and his employees from being attacked on social media and receiving death threats.
Reddit banned the Pizzagate subreddit from its site, citing its strict policies against posting personal information of others; however, this was met with a wave of criticism from users on r/The_Donald, a popular pro-Trump subreddit, who felt Reddit's decision was an act of censorship.
Every "conspiracy" theory has proven right&media wrong. Comet ping pong and #Pizzagate are real. I trust Twitter "reporters" more than CNN

— Jill Stein↔️Crazy (@terrymendozer) December 5, 2016
The rise of fake news stories has become a growing concern as some experts argue it altered the fate of the presidential election. Facebook even went as far as to announce plans to crack down on fake news, but eradicating these types of stories from social media may be next to impossible.
In a statement on Sunday, Alefantis vowed that Comet Ping Pong would "continue to operate safely and securely," and he condemned those who are working to spread the malicious accusations.
"What happened today demonstrates that promoting false and reckless conspiracy theories comes with consequences," he said. "I hope that those involved in fanning these flames will take a moment to contemplate what happened here today, and stop promoting these falsehoods right away."