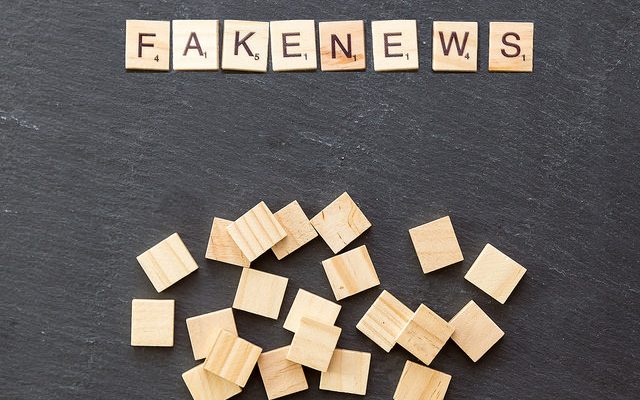 Image Courtesy of Marco Verch; License: (CC BY 2.0)
Entertainment
Trump's "Real News" Sparks Social Media Reactions
By
|
Throughout the campaign and the beginning of his presidency, President Donald Trump has criticized a lot of different people. But there is one group that he has consistently attacked with passion and fervor like no other: "The Media"
His attacks are blunt and relentless, he has gone after world-renowned organizations like the New York Times, and has even posted a video meme of himself attacking a CNN icon, calling it the "Fraud News Network."
#FraudNewsCNN #FNN pic.twitter.com/WYUnHjjUjg

— Donald J. Trump (@realDonaldTrump) July 2, 2017
Wow, the Failing @nytimes said about @foxandfriends "….the most powerful T.V. show in America."

— Donald J. Trump (@realDonaldTrump) July 27, 2017
He contends that these major news corporations are "enemies" to his administration because they consistently post critical stories.
But now Trump seems to have found a solution to counteract "Fake News"… his own "Real News". On Sunday, the Trump presidential campaign announced a short weekly segment on its Facebook page called "Real News." The show aims to be a brief two minute recap of news about the Trump Administration, straight from Trump Tower. The show is hosted by Kayleigh McEnany, a Trump-supporting CNN pundit, who resigned from her position at CNN to work on the show as well as become a spokesperson for the GOP.
While the resources to produce the show are not directly coming from Trump himself, investigative reports from The Daily Beast and Mic show that the effort is being spearheaded by Lara Trump, the president's daughter-in-law. The money is coming from a PAC that is raising money for Trump's reelection campaign.
Though the show aims to produce so-called "real news," it seems to focus more on touting Trump's accomplishments than anything else. In the two minute segment McEnany discussed Trump's new immigration policy, data that showed global economic confidence at an all-time high, and Trump awarding a medal to a Vietnam veteran.
It's fair to note that this is not the first time a president has had his own "information" show. Obama's administration hosted a weekly video series titled "West Wing Week," which discussed the activities going on in 1600 Pennsylvania Avenue during the week. Nevertheless people all over social media couldn't get enough of the idea of Trump TV and its quest for "real news."
Donald Trump's "Real News" seems kinda familiar. pic.twitter.com/TAMDYHGtXq

— Zac Richey (@the_zacsta) August 2, 2017
This is the person reporting the "Real News" from Trump Tower on Trump TV.

In New York.

The End. https://t.co/tgyWJMWk9S

— Dan Slott (@DanSlott) August 7, 2017
The left must be going crazy knowing #Trump TV is "Real News"
Those who laugh last, laugh best!#MAGA #DrainTheWashingtonSwamp #YesWeWill pic.twitter.com/43erYELDin

— Joel Fischer🇺🇸 (@JoelFischerNYC) August 7, 2017