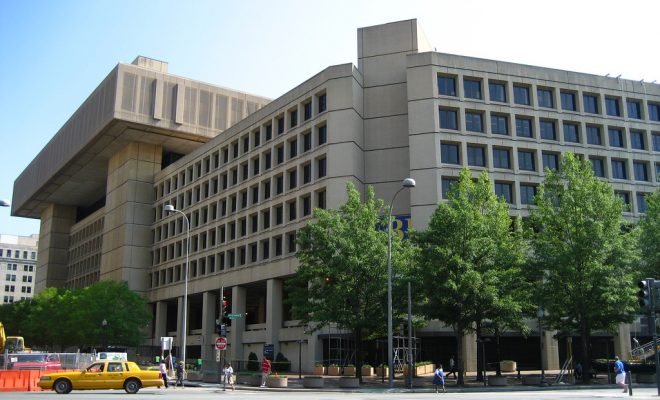 Image Courtesy of zaimoku_woodpile; License: (CC BY 2.0)
News
Trump's FBI Director Nominee is Christopher Wray: What You Need to Know
By
|
A day before former FBI Director James Comey is set to testify in front of the Senate Intelligence Committee, President Donald Trump, who fired Comey in May, nominated his successor. The nominee is Christopher Wray, a former Justice Department official with years of experience in the private sector. Trump made the announcement on Twitter early Wednesday morning:
I will be nominating Christopher A. Wray, a man of impeccable credentials, to be the new Director of the FBI. Details to follow.

— Donald J. Trump (@realDonaldTrump) June 7, 2017
Wray served with the DOJ in various capacities. From 1997 to 2001 he was a U.S. attorney in Georgia. In 2003, President George W. Bush nominated Wray as the assistant attorney general for the DOJ's Crimes Division, where he led a number of investigations.
Donald Trump chooses Christopher Wray to head the FBI https://t.co/Kp6ladW3qg

— The Economist (@TheEconomist) June 7, 2017
Wray "was also integral to the DOJ's response to the 9/11 attacks and played a key role in the oversight of legal and operational actions in the continuing war on terrorism," according to his bio on the King & Spaulding website, where he has been a partner since 2005. Specializing in white-collar crime, he has represented a wide array of clients, including: "The Governor of New Jersey in connection with investigations relating to the George Washington Bridge toll lane closings."
Translation: Wray was New Jersey Gov. Chris Christie's attorney in the infamous "Bridgegate" trial, in which Christie was accused of orchestrating–or willfully ignoring–a plot to close traffic lanes on the George Washington Bridge in the fall of 2013. The lane closures were allegedly a response to the actions of the Democratic mayor of Fort Lee, who refused to back Christie's re-election bid.
Jack Goldsmith, a Harvard Law School professor and former colleague of Wray's at the Justice Department, called him "smart, serious, and professional" in a blog post. He said Wray has "deep experience with federal criminal law and the FBI," and is "a good choice, a much better choice than any of the politicians I previously saw floated, and a much better choice than I expected Trump to make."
Attorney General Jeff Sessions issued a statement a few hours after Trump's announcement, calling Wray an "extraordinary person, possessing all the gifts necessary to be a great Director of the FBI." Sessions added: "The President asked us to look for an FBI Director who has integrity, who understands and is committed to the rule of law, and who is dedicated to protecting the American people from crime, gangs, and terrorists. We have found our man in Chris Wray."