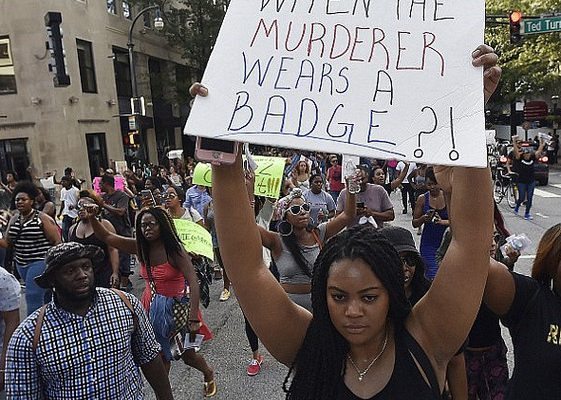 Image Courtesy of [Devriv via Flickr]
News
Charles Kinsey's Hands Were Up and He Was Still Shot By Police
By
|
By now you've seen the video of a black man lying in the street with both hands firmly in the air pleading with police, "don't shoot me!" The man is Charles Kinsey, a 47-year-old behavioral therapist from North Miami, Florida,  and he was shot in the leg by police while trying to help his autistic patient.
Police were responding to reports that a man was suicidal and had a gun. Cellphone footage captured Kinsey lying on the ground trying to explain to police that the man sitting next to him was autistic and was holding a toy car–not a gun. But it didn't matter that his hands were in the air, or that he was lying on his back, or that he wasn't even the individual suspected of having a gun–he was still shot.
Watch the Video Below
"As long as I've got my hands up, they're not gonna shoot me, that's what I'm thinking," Kinsey told reporters. "Wow, was I wrong."
Kinsey was shot Monday, but his attorney released the video filmed by witnesses to the public Wednesday afternoon. While the video does not show Kinsey being shot, it clearly shows him on the ground complying with police. Versions of the footage have been viewed collectively over a million times already on YouTube.
Kinsey has been released from the hospital and is expected to fully recover. Before leaving the hospital he told WSVN, a CNN affiliate, that he asked the officer for an explanation after the shooting. "I'm like, 'Sir, why did you shoot me?'" Kinsey recalled. "He said to me, 'I don't know.'"
However, the president of the Police Benevolent Association in Dade County painted a different story. During a press conference, John Rivera
stated
,
It appeared to the officers that the white male was trying to do harm to Mr. Kinsey. In fearing for Mr. Kinsey's life, the officer discharged his firearm trying to save Mr. Kinsey's life and he missed.
The shooting comes after the recent police shootings of Alton Sterling and Phillando Castile rocked the nation. After the video went viral Thursday, Twitter quickly exploded with people condemning the shooting.
"Sir, why did you shoot me?"
"I don't know…"
is 400 years of American history wrapped into one conversation #CharlesKinsey

— AHill (@al3x_hill) July 21, 2016
Officer says he "thought" #CharlesKinsey was in danger. Doesn't explain why he handcuffed him after he shot him.

— Goldie Taylor (@goldietaylor) July 21, 2016
Until police officers are routinely held accountable for shooting unarmed civilians, especially of color, it won't end. #CharlesKinsey

— Dr. Jill Stein (@DrJillStein) July 21, 2016
I've been thinking about this all morning.
"Sir, why did you shoot me?"
"I don't know."

This is insanity. #CharlesKinsey

— Johnetta Elzie (@Nettaaaaaaaa) July 21, 2016
Plot twist: Even if you surrender completely with both hands in the air lying down, you will still get shot by a cop. #CharlesKinsey

— NUFF$AID (@nuffsaidNY) July 21, 2016
So is this #CharlesKinsey silence the "he's no angel" portion of the game? Where y'all check his 8th school reports & his driving records?

— Questlove Gomez (@questlove) July 21, 2016
Don't swim. Don't listen to loud music. Don't walk home. Don't ask for help. Don't sell CDs. Don't breathe. Don't be black. #CharlesKinsey

— Black Magic Woman (@jananamirah) July 21, 2016
The unidentified officer, who is described as being a 30-year-old Hispanic, was placed on administrative leave pending an investigation. Kinsey's attorney Hilton Napoleon II told CNN,
The reality is that he believed … that if you comply with the police and you lay on the ground with your hands up, and if you speak to them like my client was speaking to them, as Americans, we try to believe that that will not result in you getting shot.

[…]

Physically, he will recover, but mentally, he felt like he did everything he could possibly do and that wasn't good enough.