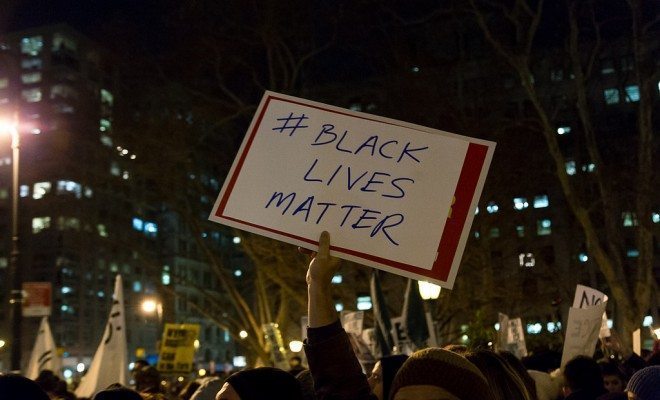 Image courtesy of [Ryan Sorensen via Flickr]
News
#HandsUpDontShoot #ICantBreathe: Celebrities Weigh In
By
|
It's been a few weeks since the announcement that the Ferguson grand jury would not indict Officer Darren Wilson for shooting Michael Brown to death. It's been about a week since a Staten Island grand jury announced that Officer Daniel Pantaleo would not be indicted for the death of Eric Garner. Protests have continued in many major cities, and everyone is still talking about the injustices inherent in our judicial system. #ICan'tBreathe, a reference to Garner's last words as he died after being put in a chokehold by Panteleo, is still trending on Twitter as I write this.
Now, celebrities are starting to get involved. A few nights ago, Kobe Bryant and other members of the Los Angeles Lakers wore "I Can't Breathe" t-shirts before their game.
Kobe and the rest of the #Lakers wearing #ICantBreathe T-Shirts during warm ups ( pic via @lakers ) pic.twitter.com/kd2OlxrZfm

— Jeff G. (@TheSportsDude) December 10, 2014
The Lakers weren't the first team to participate in protests. The St. Louis Rams, shortly after the Ferguson grand jury decision, walked out onto the field with their hands in the "Hands Up, Don't Shoot" gesture that has been a symbol of the Ferguson protests:
Rams players said they 'absolutely' would repeat 'Hands Up, Don't Shoot" gesture http://t.co/lxshSRD8wrpic.twitter.com/H4Z71QQWau

— Sportsnet (@Sportsnet) December 4, 2014
Rams player Davin Joseph also kept his support going by writing "I Can't Breathe" on his shoes before a recent game:
R.I.P Eric Garner pic.twitter.com/i84grny7pR

— Davin Joseph (@DavinJoseph75) December 7, 2014
Detroit Lions player Reggie Bush also showed his support with a homemade "I Can't Breathe" shirt:
ICYMI: Reggie Bush supports Eric Garner with message on shirt http://t.co/N6oDRFTcQD pic.twitter.com/LqMsc2eCsx — Josh Katzenstein (@jkatzenstein) December 7, 2014
It's not just professional athletes who are showing their support; other celebrities have chosen to throw their weight around as well and bring attention to the Brown and Garner-inspired protests. Singer/songwriter John Legend and his wife Chrissy Teigen, a model, paid for an entire fleet of food trucks to serve protesters in Lincoln Square in New York on Sunday. 
.@johnlegend and his wife pay for a food truck to feed #EricGarner supporters at #NYC protest. http://t.co/HYLPqHTFZxpic.twitter.com/0JJqqEuIIu — Jassiel Perez (@fl_dreamer) December 8, 2014
Finally, members of Congress have shown their support. Four members have done the "Hands Up, Don't Shoot" gesture on the floor of the House of Representatives: New York Reps. Hakeem Jeffries and Yvette Clarke, and Texas Reps. Sheila Jackson Lee and Al Green. 
Four Members of Congress do 'Hands Up, Don't Shoot' gesture on House floor. http://t.co/EMPkdTk6otpic.twitter.com/YanQI5RzJ4 — NYDN Politics (@NYDNPolitics) December 2, 2014
Although many celebrities have made their opinions known about the lack of indictments in these cases, these athletes, celebrities, and politicians have stood out. They're in good company–it's only by bringing attention to these issues that we can ever hope to enact change.