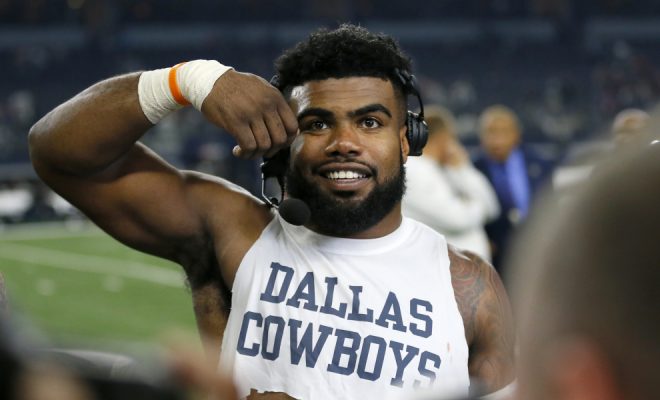 "AP Redskins Cowboys Football" Courtesy of Roger Steinman: License (CC BY-ND 2.0)
Sports
Ezekiel Elliott's Accuser Admitted to Suggesting Blackmail Over Sex Tapes
By
|
Last week, the NFL issued Dallas Cowboys running back Ezekiel Elliott a six-game suspension for violating the NFL's personal-conduct policy, following an investigation into domestic abuse allegations. Now the former Buckeye has filed an official appeal, hoping to discredit his accuser by highlighting a text exchange between her and a friend in which she discussed leveraging sex videos featuring her and Elliott for money from the player.
Yahoo! Sport's Charles Robinson obtained a 160-page report prepared by NFL investigators, which reportedly contains a series of text messages between Elliott's ex-girlfriend Tiffany Thompson and an unnamed friend that suggest the pair considered blackmailing the second-year pro for $20,000.
According to the report, here is the exact exchange between Thompson and her friend on September 21, 2016:
[Thompson]: What if I sold mine and Ezekiel's sex videos

[Friend]: We'd all be millionaires

[Friend]: We could black mail him w that

[Thompson]: I want to bro

[Friend]: Let's do it

[Thompson]: Scared

[Friend]: Shit

[Friend]: Id be like look give me 10k or I'll just sell our sex videos for the same amount flat

[Friend]: Me and my friends tryna go on vacation and get boob jobs

(the report notes a pair of blank texts)

[Thompson]: 10k Bitch I want 20k

[Thompson]: Go big or go home

[Friend]: That's fine too
"While none of this appears to be evidence that can conclusively clear Elliott of domestic violence, the NFLPA and his lawyers believe it speaks to the credibility aspect that may ultimately determine the success of his appeal," writes Yahoo! Sports.
Elliott, 22, was accused of assaulting Thompson in Columbus, Ohio, in July 2016, after she posted images of bruises all over her body to her Instagram, tagging Elliott. In the captions, Thompson said Elliott picked her up and threw her across the room by her arms and choked her. She later called Columbus police and told officers that Elliott had been hitting her for "the past five days."
Elliott, who was neither arrested nor charged in the case, continues to maintain his innocence.
However, NFL Commissioner Roger Goodell suspended Elliott after four independent advisers concluded that there was "substantial and persuasive evidence supporting a finding that [Elliott] engaged in physical violence against Ms. Thompson on multiple occasions during the week of July 16, 2016." The league found the "photographic and medical forensic evidence corroborates many critical elements of the allegations regarding the causes of her injuries."
Following the release of the text messages, many were accused of shaming the victim with their responses on Twitter.
Tiffany Thompson was willing to ruin @EzekielElliott career so she and her pals could get $20K worth of boob jobs. https://t.co/QEUpT1Pk6e

— mike fisher ✭ (@fishsports) August 16, 2017
This doesn't clear Zeke. It just tears away at her credibility. Makes me wonder how unimpressed they were with Zeke's credibility

— Mark Friedman (@friedo1033) August 16, 2017
I see we've reached the "trash the victim" point in Ezekiel Elliott case. Lovely. Remember victims can behave badly, still have been abused

— Nancy Armour (@nrarmour) August 16, 2017
Seeing people paint Ezekiel Elliott as the victim in this situation is … something.

— Scott Bell (@ScottBellDMN) August 11, 2017
Elliott's lawyers intend to further attack Thompson's credibility in their appeal using documents that show she allegedly lied to the Columbus Police department during its investigation, and her various threats to "ruin his career," including one that was racially based, according to sources. In one such threat, Thompson allegedly told Elliott on July 22, "You are a black male athlete. I'm a white girl. They are not going to believe you."
Elliott will be eligible to make his season debut October 29 against the Washington Redskins. His appeal hearing is scheduled for August 29.