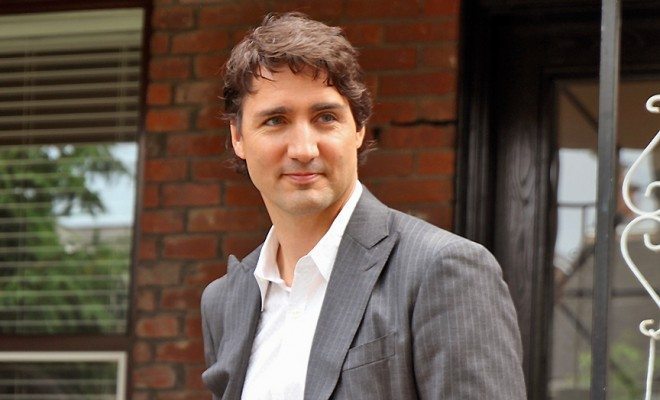 "Justin Trudeau, MP" courtesy of [Alex Guibord via Flickr]
News
Canadian Prime Minister Justin Trudeau Visits Washington
By
|
Canadian Prime Minister Justin Trudeau was welcomed to the United States today by President Barack Obama. Trudeau's trip is the first time a Canadian Prime Minister has made an official visit to the U.S. in 19 years–it's also the first time in about as many years that the U.S. and Canada have both been controlled by liberal heads of state.
The mood between Obama and Trudeau seemed friendly, as the two leaders began the visit with a joint statement on climate change. They also delved into some remarks about Canada's efforts to aid the Syrian refugees, and spoke about how the two countries will work together to combat the new threat of the Zika virus.
Obama and Trudeau–both relatively young progressives–paint a striking picture side by side. Some news outlets have already released coverage of the two premiers' "bromance"–see this homage to their chemistry courtesy of the Washington Post, for example. Here are a few more instances of the two being pals, both during this visit and in the past:
Here are some Internet-friendly photos of Barack Obama and Justin Trudeau being best bros https://t.co/0YMgB3V8sD pic.twitter.com/WFIOvRRoyA

— GQ Magazine (@GQMagazine) March 10, 2016
Twitter hails #Obama / Trudeau 'bromance' https://t.co/EQFIkyOoxP pic.twitter.com/Vad65d9PWf

— Live News Cloud ⭐️ (@livenewscloud) March 10, 2016
Trudeau and Obama start a heavy bromance at the APEC summit 😘😘😘: https://t.co/SuV5UQIXllpic.twitter.com/v3XdTsswmt

— VICE Canada (@vicecanada) November 19, 2015
The friendly rapport extended to their conversations–Obama even mocked Trudeau about the fact that the Stanley Cup currently resides with an American team, the Chicago Blackhawks. It's certainly a different relationship than the slightly frigid one between Obama and former Canadian Prime Minister Stephen Harper. A particular sticking point between Obama and Harper was their disagreement over the Keystone XL Pipeline. 
Obama and Trudeau seem intent on putting any animosity (although even with Obama and Haper's relationship, there was little) behind them. Obama stated today about Trudeau: "I am grateful that I have him as a partner … When it comes to the central challenges that we face, our two nations are more closely aligned than ever."
Trudeau's comments were along the same vein; during their join statement he said: 
We've faced many challenges over the course of our shared history, and while we have agreed on many things and disagreed on a few others, we remain united in a common purpose. [..] Whether we're charting a course for environmental protection, making key investments to grow our middle class or defending the rights of oppressed peoples abroad, Canada and the United States will always collaborate in partnership and good faith.
However, despite the relationship between Trudeau and Obama now, it's entirely possible that we could have a conservative in the White House in a little under a year. If that's the case, this harmonious relationship may not last too long, given Trudeau's stated progressive agenda.