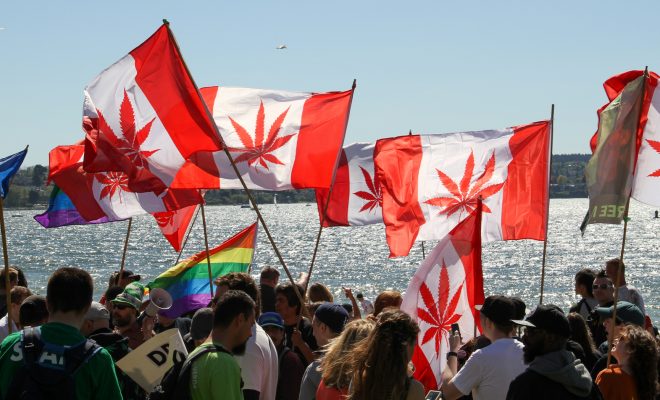 Image courtesy of Cannabis Culture: license: (CC BY 2.0)
Cannabis in America
The Path to Cannabis in Canada: Eight Crucial Events
By
|
While the United States remains locked in an impasse between state and federal law, Canada looks to pass nationwide marijuana legalization this year and begin recreational sales in 2018. How did Canada get to this point? The path to legalization in Canada has been a haphazard one, driven largely by legal decisions. To make the recent Canadian cannabis developments easier to understand, below are eight key court cases and regulations that shaped the current landscape:
1996: Controlled Drugs and Substances Act ("CDSA")
Provided for limited exemptions for the medical use of cannabis in Section 56, but legal access to dried marijuana for medical purposes was not provided until 1999.
2000: R. v. Parker (Ontario Court of Appeals)
Section 4 of the CDSA was found to be unconstitutional because prohibiting cannabis possession forced people to choose between liberty and health. The medical marijuana exemption in place was found to be unconstitutional because of the Minister of Health's discretionary power.
2001: Marihuana for Medical Access Regulations ("MMAR")
R. v. Parker led to the MMAR, which enabled individuals with the practitioner authorization to access dried marijuana for medical purposes by producing their own marijuana plants, designating someone to produce for them, or purchasing Health Canada supply.
April 1, 2014: Marihuana for Medical Purposes Regulations ("MMPR")
The MMPR replaced the MMAR, which was officially repealed on March 31, 2014. For the first time in Canada, the new system allowed for the production and distribution of cannabis for medical purposes, but still contained restrictions on certain types of marijuana.
June 2015: R. v. Smith (Supreme Court of Canada)
The Court decided the MMPR's restrictions were unconstitutional and that individuals with a medical need have the right to use and make other cannabis products. To eliminate uncertainty, in July 2015 the Minister of Health issued section 56 class exemptions under the CDSA to allow licensed producers to produce and sell cannabis oil and fresh marijuana buds and leaves in addition to dried marijuana, and to allow authorized users to possess and alter different forms of cannabis.
February 2016: Allard v. Canada
A Canadian federal court found that restricting an individual's right to home grow and requiring individuals to get their marijuana only from licensed producers violated liberty and security rights protected by section 7 of the Canadian Charter of Rights and Freedoms. The Court found that individuals who require marijuana for medical purposes did not have "reasonable access" under the MMPR's restrictions. Instead of striking certain portions of the MMPR or reinstating the MMAR, the court called for a new legislative framework for accessing medical marijuana.
August 24, 2016: Access to Cannabis for Medical Purposes Regulations ("ACMPR")
The ACMPR, similar to the MMPR, provided for commercial production and distribution of quality-controlled fresh or dried marijuana or cannabis oil or starting materials (i.e., marijuana seeds and plants) and allowed for limited production by individuals. The two types of licenses to be aware of are: (1) Dealers License, issued under the Narcotic Control Regulations and permits activities with cannabis, including analytic testing and (2) Licensed Producers who are authorized to produce and sell cannabis under the ACMPR.
April 13, 2017: The Cannabis Act, Bill C-45 (the "Cannabis Act")
On April 13, 2017, the Cannabis Act was introduced. If passed, it will provide Canadians with legal access to recreational cannabis nationwide. On June 8, 2017, after the second reading of the bill, the Act passed the House at a vote of 200 for and 76 against. The bill has now been referred to the Standing Committee on Health. The bill is widely expected to pass Parliament and take effect in the summer of 2018.
Canada is already a worldwide leader in the growing cannabis industry, with last year's sales reaching over one billion Canadian dollars. With the passage of the Cannabis Act, annual sales are expected to increase to between five and eight billion in the first-year post-recreational legalization. And the total estimated annual economic impact could be as high as $23 billion. Given the size of the new market, anyone with an interest in cannabis should pay special attention to Canada and the eight key events listed above.
Amber D. Lengacher also contributed to this post.