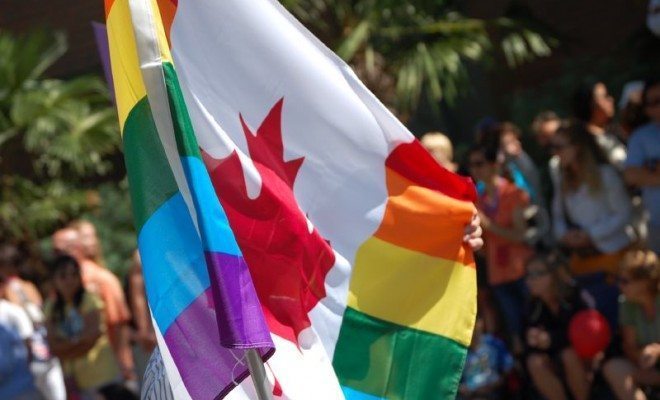 News
Canadian Law Societies Reject Trinity Western's Anti-Gay Policies
By
|
The British Columbia Law Society just voted 3,210 to 968 to reverse its  April decision accrediting the new Trinity Western University Law School. The original accreditation decision came under fire because Trinity has a Christian covenant that serves as a mandatory contract students and staff are required to sign. The problem with this covenant? It blatantly discriminates against the LGBT community.
Under the covenant, all school affiliates are prohibited from a sexual relationship "that violates the sacredness of marriage between a man and a woman." If they are found to have violated this covenant, or even fail to report violations by fellow students or staff, they may be expelled or terminated. The school has used a freedom of religion argument to defend its offensive and harsh rule.
In the most recent vote, 77 percent of the BC Law Society voted against TWU Law receiving accreditation, and although this vote is non-binding, it definitely affects the final decision. The BC Law Society is not alone in protesting the school's covenant. The Law Society of Upper Canada in Ontario also voted against the accreditation. The Nova Scotia Barristers Society only granted conditional acceptance; the terms of that acceptance were that TWU either changes the covenant or gives students the option to not sign it.
TWU contends that its freedom of religion allows it to enact this covenant, and even launched court actions in British Columbia, Nova Scotia, and Ontario to defend it. Statements made by the institution have gone so far as to say that the provincial law societies rejecting the school's accreditation are denying the concept that lawyers can participate in society while holding any religious beliefs. They also argue that the rulings are based solely ony public opinion, making them inherently unfair. But three different provincial law societies amount to thousands of votes, which seems like a very popular opinion, so the school's argument seems a bit far fetched to me.
A similar case came before the Canadian Supreme Court in 2001 concerning the accreditation of TWU's graduates and the court ruled in the school's favor. Bob Kunn, Trinity's president, even used this fact as a defense for the school's covenant, saying, "the Supreme Court of Canada is the highest court in the country, comprised of the best legal minds, and their decisions should be respected." I find this point especially laughable given that the school's covenant is discriminating against an entire community that has been protected by that same court for eleven years. How can Trinity preach about freedom of religion when it forces students and staff to sign a contract that specifies their personal beliefs and punish students for violating the beliefs it deems correct?
Even more alarming is what this covenant could mean for Trinity's future law graduates. In my eyes, this anti-gay covenant promotes further discrimination beyond just school enrollment. It has the potential to subliminally teach graduates that the LGBT community is somehow not worth their time as lawyers. Even worse, these future lawyers may have an extra barrier to employment in British Columbia, where gay marriage is now commonplace.
It is important to note that Trinity Western is not alone in its initiative to exclude the LGBT community from enrollment. In the United States, the supremely Christian Liberty University earned fifth place on a list of the top five most conservative schools in the United States. In addition to teaching youth earth creationism, the school also bans the admission of openly gay students. Many other universities with anti-gay policies, such as Patrick Henry College, are home to a silent underground LGBT community. Queerphc is a blog specifically dedicated to gay Patrick Henry students that states, "Patrick Henry College maintains a requirement of non-advocacy for enrolled students in regards to LGBTQ issues."
Although this discriminatory spirit against homosexual and transgender students exists all over North America, the tides seem to be changing for the better in America. President Obama just announced that he will sign an executive order prohibiting sexual orientation discrimination. Many people, myself include, haven't paid much attention to this announcement because frankly, we thought it was already established. Although there's plenty of progress that needs to be made, both the US and Canada are on the right track in most respects. Hopefully Canada can take a lesson from its southern neighbor, use its constitutional history of LGBT acceptance as a basis, and show Trinity Western that discrimination in any form is both illegal and wrong.
—
Erika Bethmann (@EBethmann) is a New Jersey native and a Washingtonian in the making. She is passionate about travel and international policy, and is expanding her knowledge of the world at George Washington University's Elliot School of International Affairs. Contact Erika at staff@LawStreetMedia.com.
Featured image courtesy of [Syowoe via Flickr]