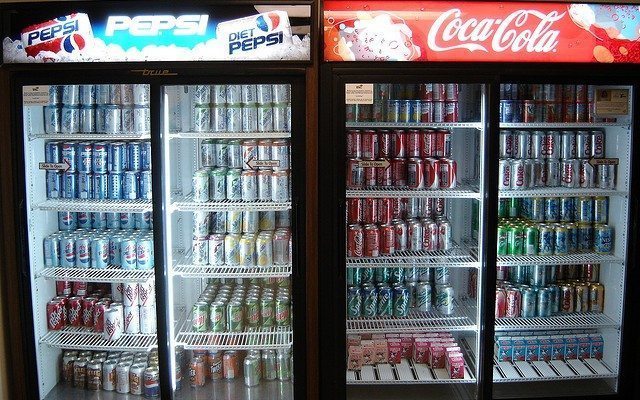 Image courtesy of [Rex Sorgatz via Flickr]
News
California Bill Aims to Put Warning Labels on Sugary Drinks
By
|
There's long been a debate in this country over soft drinks. Health advocates see soft drinks as liquid fuel for our national obesity epidemic, but many freedom loving Americans don't like being told what chemically engineered beverages they can or can't pour into their bodies. Hell, we as a country can't even decide what to call it. Is it pop, soda, or coke? The answer to that question depends on what part of the country you're from. But don't expect the battle over sugary soft drinks to fizz out anytime soon. There's now a new battleground for that fight in California.
It's been a long time coming. First, ex-New York City Mayor Michael Bloomberg tried to limit the size of sodas sold in NYC establishments to no more than 16 oz. Beverage buffs nipped that mandate in the bud, and it was declared unconstitutional in court. Next, in an effort to curb unhealthy diets while funding the city, 75 percent of Berkeley, California voters approved the country's first soda tax last fall. That tax took effect at the beginning of the new year. It imposed a tax of one cent per ounce on distributors of specified sugar-sweetened beverages such as soda, sports drinks, energy drinks, and sweetened iced teas.
Now the California legislature is on the offensive. California Senate Majority Leader Bill Monning introduced a proposal Wednesday to put warning labels (similar to those already on alcohol and cigarettes) on any beverages containing added sweeteners with at least 75 calories per 12 ounces. According to the Huffington Post, the labels would read:
STATE OF CALIFORNIA SAFETY WARNING: Drinking beverages with added sugar(s) contributes to obesity, diabetes, and tooth decay.
Tooth decay. Obesity. Diabetes. Yeah, seeing that every time I look at a can of coke might make me pick up a bottle of H2O instead. This isn't the first time Monning has tried guilt his constituents into making healthier choices. Last year, his warning label bill narrowly passed the Senate but died in the Assembly Committee on Health after a strong lobbying effort from the soda industry. However, this time his bill may see fruition.
In a press release Monning states:
Given the rock solid scientific evidence showing the dangers of sugary beverages, the State of California has a responsibility to inform consumers about products proven to be harmful to the public's health. This bill will give Californians the at-a-glance information they need to make more healthful choices every day.
Some opponents don't see the necessity of the warning labels when ultimately the decision to drink or not drink is up to the individual. CalBev, the California arm of the American Beverage Association, said in a statement:
Putting government warning labels on more than 500 beverages will do nothing to change personal behaviors or teach people about healthy lifestyles. The last thing California needs is more warning labels.
Soda companies will likely try to block the bill once more rather than face any potential loss in sales, but stopping it yet again may prove harder with the added momentum garnered from Berkeley. I'm putting my bets on California adding these labels to sugary drinks eventually.