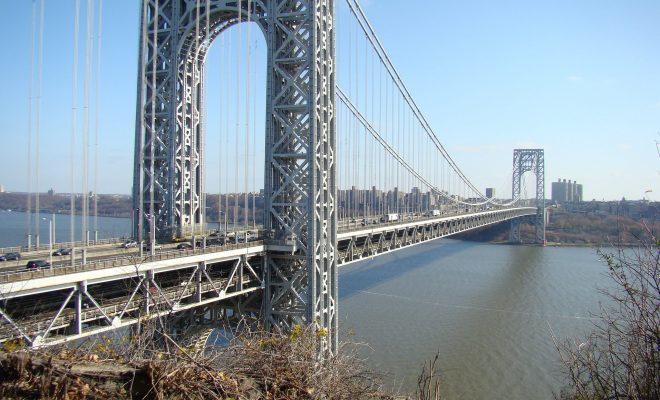 "George Washington Bridge" courtesy of alvaroreguly; license (CC BY 2.0)
News
Bridgegate Trial: Two Former Christie Allies Found Guilty on All Counts
By
|
Two former aides to New Jersey Governor Chris Christie have been found guilty on all nine counts in the so-called Bridgegate trial. The officials knowingly closed the access lanes to the George Washington Bridge in September of 2013, creating an enormous traffic jam for four days–doing so only to punish a mayor who wouldn't endorse Governor Christie in his bid for reelection. The recent verdict may also create some issues for Republican presidential candidate Donald Trump, who has made Christie an important member of his campaign team.
The aides are Bridget Kelly, former deputy chief of staff for Christie, and Bill Baroni, the former Deputy Executive Director at the Port Authority. The charges against them include conspiracy, fraud, and misapplication of public resources. Sentencing is scheduled for February 21, and according to NBC News, both face up to 86 years in prison if convicted. Although the actual sentences will likely be much shorter.
When Mark Sokolich, the Democratic mayor of Fort Lee, New Jersey, did not endorse Christie in 2013, his town was punished with gridlock. Two out of three lanes leading to the George Washington Bridge were closed, jamming up traffic on the world's busiest bridge. As a result of the closures, a commute that normally took 30 minutes ended up lasting four hours.
This caused extreme delays for emergency calls–one 91-year-old woman reportedly died because an ambulance didn't make it to her in time. Children were stuck on the buses and couldn't get to school. David Wildstein, a Christie appointee at the Port Authority who resigned due to his involvement in the scheme, said that Mayor Sokolich asked Baroni for help because kids couldn't get to school. After learning that, Wildstein texted an unidentified person saying they were "children of Buono voters," referring to Christie's opponent in the election. Amidst the traffic, a toddler was lost and countless people were late for work and appointments.
Remember when Chris Christie led the "lock her up" chants at the GOP convention? #Bridgegate https://t.co/4wAHJVc8sF pic.twitter.com/xUDSEOup4z

— Keith Boykin (@keithboykin) November 4, 2016
While Chris Christie continues to argue that he had no knowledge of the scheme, both prosecution and defense attorneys presented evidence that he knew about it beforehand. Kelly and Baroni testified that they discussed the lane closings with Christie as they were happening and Wildstein said that he told the governor about it when he saw him at a 9/11 memorial service. Even Donald Trump, who appointed Chris Christie to serve as the chair of his Transition Team, has said Christie "totally knew about" the plans to close the lanes.
During the Bridgegate trial, Kelly's defense painted her as a helpless scapegoat who just did as she was told. But the jury apparently didn't buy it. Kelly was the one who infamously emailed Wildstein, "Time for some traffic problems in Fort Lee" before the lanes were closed. And after hearing about school children who were stuck on buses, she texted Wildstein, "Is it wrong that I am smiling?" In exchanges revealed during the trial, Baroni and Wildstein also referred to Mayor Sokoloch as "Serbia," although he is actually of Croatian descent.
While Chris Christie was never charged for any potential involvement, the episode will have very negative consequences for his political career. His approval rate in New Jersey currently stands at 21 percent, a record low.