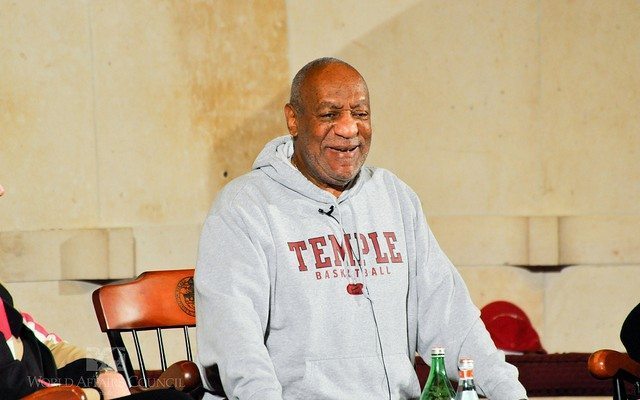 Image courtesy of [The World Affairs Council of Philadelphia via Flickr]
News
Bill Cosby's Accusers Come Together On The Cover of New York Magazine
By
|
During this past year the media has paid close attention to Bill Cosby due to the many sexual assault allegations against him. There have been women stepping forward, some named and some anonymous, with similar stories that Cosby drugged and raped them. New York Magazine just recognized these women with its powerful new cover.
35 women of the 46 who have publicly come forward against Bill Cosby on New York Magazine Cover! Powerful Journalism! pic.twitter.com/yQaUEswsix

— John Robbie (@702JohnRobbie) July 27, 2015
Nearly 60 years after Cosby's first alleged assault, 35 women have come together on the cover of New York Magazine to have their voices heard. The magazine photographed and interviewed the women who have accused the 78-year-old comedian of sexually assaulting them. The story features a combination of videos, photos, and individual testimonies. The list includes supermodels, actresses, playboy bunnies, waitresses, and journalists alongside many other women.
Beverly Johnson, one of 35 women interviewed, on allegedly being assaulted by Bill Cosby: http://t.co/T3DGgjNWI4 pic.twitter.com/ABg3ilTShS

— New York Magazine (@NYMag) July 27, 2015
"I felt ashamed. I was embarrassed to be me." Listen on Instagram: http://t.co/y8zR8jXEuL pic.twitter.com/VNQySdNUoV

— New York Magazine (@NYMag) July 27, 2015
People have constantly questioned if these allegations were true due to some of the women waiting decades to speak out about it, but many claimed they did not speak out because of the fear that no one would believe them. Barbara Bowman, who accused Cosby of assaulting her from 1985 to 1987, said in an interview:
I could have walked down any street of Manhattan at any time and said, 'I'm being raped and drugged by Bill Cosby,' but who the hell would have believed me? Nobody, nobody.
Cosby has denied all the sexual allegations despite revealing in a 2005 court deposition that he gave quaaludes to young women with whom he wanted to have sexual relations. The case was filed by Andrea Constand, a former basketball player and administrator at his alma mater, Temple University, who claimed Cosby drugged and raped her in his Pennsylvania home. Constand was the first person to file a lawsuit against Cosby. After the deposition from that case became public three weeks ago, Spelman College ended its long term relationship with Cosby, along with Temple University, and the University of Massachusetts. "The William and Camille Olivia Hanks Cosby Endowed Professorship at Spelman College has been discontinued," Spelman's communications office said in a statement Saturday.
Due to statutes of limitation, civil suits and criminal charges must be filed within a specific time period. If they are not filed within this period, then they can't move forward, no matter how much evidence is presented. Because most of these allegations describe an assault that took place in 2004 or earlier the statutes of limitation for these cases have seemingly passed and Cosby cannot be charged or sued. However, several of the women have filed a defamation suit against Cosby, claiming that he damaged their reputations by accusing them of lying in their accusations against him. Although there a few cases within the statutes of limitation, the amount of time that has passed and lack of physical evidence would make it extremely difficult for him to be prosecuted.
Despite the legal complications, this magazine cover is still incredibly important. So far, there have been a total of 46 women who claimed that Cosby sexually assaulted them, and 35 have stepped up to be on the magazine. On the cover there is a 36th chair left open for the women who have not yet come forward. The cover has been described as brave, powerful, and brilliant. New York Magazine is giving powerful and recognition to the voices of the women who have stepped forward, and all those who were victimized by Cosby.