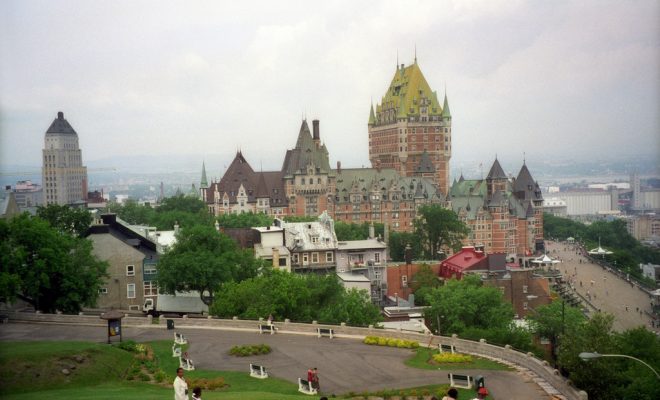 "Quebec City" Courtesy of Peter Dutton; License: (CC BY 2.0)
News
Attack at Quebec Mosque Leaves Six Dead, Five in Critical Condition
By
|
A shooting at a mosque in Quebec City, Canada on Sunday evening left six people dead, and over a dozen people injured; at least five are in critical condition. Witnesses said two gunmen, both dressed in black, entered the mosque and began firing indiscriminately into the crowd of worshippers. Early Monday morning, police said they took two men into custody, but a few hours later, said one of the suspects was a witness, and the other is now considered the sole gunman. 
Prime Minister Justin Trudeau called the incident a "terrorist attack on Muslims" in a statement on Monday. "It is heart-wrenching to see such senseless violence. Diversity is our strength, and religious tolerance is a value that we, as Canadians, hold dear," he said. "Muslim-Canadians are an important part of our national fabric, and these senseless acts have no place in our communities, cities and country."
Tonight, Canadians grieve for those killed in a cowardly attack on a mosque in Quebec City. My thoughts are with victims & their families.

— Justin Trudeau (@JustinTrudeau) January 30, 2017
Soon after the two alleged attackers were arrested on Monday morning, their identities were released: Alexandre Bissonnette and Mohamed Khadir. According to a witness, the two men entered the mosque at the Quebec Islamic Cultural Center, and yelled "Allahu akbar," or "God is great" in Arabic, as bullets whizzed over the heads of worshippers. But by the afternoon, police confirmed that only one of the men is being considered a perpetrater of the attack; the other was a witness. The identity of the attacker has not been officially revealed by the police.
"Please wait for the preliminary result before spreading rumors. The situation is very critical, but inshallah, we're ready to endure it," said a statement on the mosque's Facebook page. "All our thoughts are with the children, whom we must tell about the death of their fathers," another message said. "May Allah give them patience and endurance."
This is not the first time this mosque was targeted. Last summer, a bloody pig's head wrapped in cellophane was left at the front door of the mosque, along with a note that said "Bonne appétit." In Islam, the consumption of pork is forbidden. South of the Canadian border, in America, protests raged in cities like New York, Washington D.C., and Boston over President Donald Trump's executive order banning refugees from seven predominately Muslim countries.
New York City Mayor Bill de Blasio said the police department will bolster security at the city's mosques. "Our prayers tonight are with the people of Quebec City as they deal with a terrible attack on a mosque," he said in a tweet. In another, he wrote: "To my fellow New Yorkers who are Muslim: New York City will protect you. The NYPD will protect you. We will fight all hatred and bias."