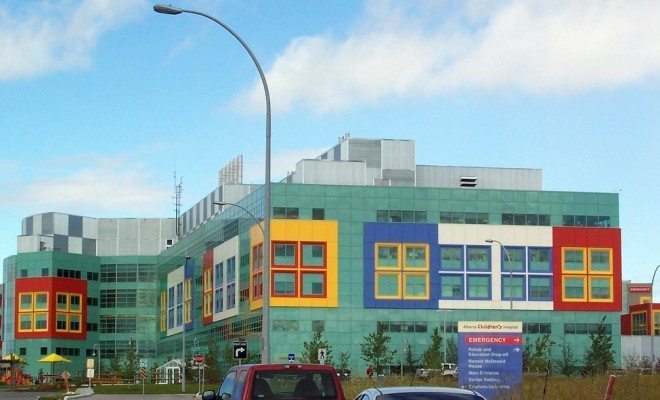 University of Calgary Children's Hospital Courtesy of [futureatlas.com via Flickr]
News
Anti-Vaccine Parents Found Guilty of Not Providing 'Necessaries of Life'
By
|
The parents of 19-month-old Ezekiel Stephen were found guilty of letting their child die after he contracted bacterial meningitis in 2012.
David Stephan, 32, and Collet Stephan, 36, who live in Lethbridge, Alberta in Canada, walked out of an emotional courtroom Tuesday after hearing their fate. They won't, however, be held in custody, and will return to court in June for their sentencing hearing.
They were charged with "failing to provide the necessaries of life," under Section 215 of the Canadian Criminal Code.
The courtroom was overtaken with emotions when the verdict was read. Collet began to sob, as did multiple people in the courtroom and on the jury bench.
The maximum sentence the Stephans could get for not providing these necessaries of life would be five years in prison, but according to some lawyers, that doesn't seem like a likely scenario.
"It's not like they were not feeding their child or they were purposely withholding medication that they knew would assist the child but didn't," Shannon Prithipaul, former president of the Criminal Trial Lawyers Association, said to CBC News.
The jury comprised of eight women and four men was told that the parents took Ezekiel to a naturopathic clinic when he was too stiff to sit up in his car seat and had to lay on a mattress instead.
This is what Crown wants Canadians to learn from trial of Ezekiel Stephan's parents (he'd died of meningitis) pic.twitter.com/enHFgsu0wb

— Kate Adach (@KateMedia) April 27, 2016
"They definitely, definitely loved their son but as stated in our closing arguments, unfortunately sometimes love just isn't enough," Crown prosecutor Lisa Weich said to the Toronto Sun. "Parents still have to follow a standard of care as set by criminal law."
The parents faced criticism following Ezekiel's death because of their decision not to vaccinate him.
According to the CDC, "The most effective way to protect you and your child against certain types of bacterial meningitis is to complete the recommended vaccine schedule [sic]."
The CDC also said there are roughly 1.2 million cases of bacterial meningitis per year worldwide.
In addition, "Without treatment, the case-fatality rate can be as high as 70 percent, and one in five survivors of bacterial meningitis may be left with permanent sequelae including hearing loss, neurologic disability, or loss of a limb."
The parents testified that they did not understand the severity of his condition and thought that he had the croup or the flu. The CDC also reported "[the parents] treated him for 2½ weeks with remedies that included hot peppers, garlic, onions and horseradish and a product from a naturopathic doctor aimed at boosting his immune system."
The Stephans finally called 911 when Ezekiel had stopped breathing and he was taken to the local emergency room and later flown to Alberta Children's Hospital in Calgary, where he was later pronounced brain dead and taken off of life support.
"I was in tears like everybody else," said Eric Sveinson, brother-in-law, to the Toronto Sun. "I was angry, frustrated. We're very disheartened and very disappointed and hope that the world can see that a beautiful family was unjustly charged today."