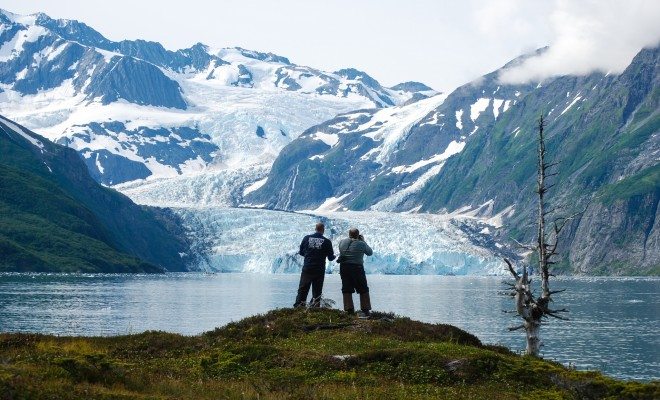 Image courtesy of [U.S. Geological Survey via Flickr]
News
Obama Doubles Down on Climate Change In Alaska
By
|
Amid a recent push to make climate change a larger issue in American politics, President Obama is traveling to Alaska to help give a more visual appreciation of how the climate is changing. The Obama administration has ratcheted up its efforts to fight climate change, but the Alaska trip shows a slight change in its tactics. Until now, Obama has focused largely on taking action in the form of new regulations and subsidies that prevent pollution and encourage the use of renewable energy. But in Alaska, Obama seeks to put a face to an issue that is often seen as complicated, boring, and distant.
Before his departure to Alaska, President Obama announced that the name of Mt. McKinley will be changed back to Denali–the name originally given to it by Alaska Natives.
The mountain has spoken 🗻 Mt McKinley officially renamed Denali: http://t.co/VSN2vl7yZo Congrats, Alaska! pic.twitter.com/ZdRTJ2PEHL

— US Dept of Interior (@Interior) August 30, 2015
While in Alaska, the President visited melting glaciers, met with Bear Grylls, spoke with Alaskan Natives, and gave multiples speeches about the importance of addressing climate change. The tone of his trip is focusing on the real life effects of climate change and the growing need for action, a topic that Obama will likely discuss frequently in the months leading up to the UN Climate Change Conference in Paris this December.
The President's decision to visit Alaska is significant but also complicated. Of the 50 states, Alaska is arguably the most affected by climate change, yet the Obama Administration recently granted Royal Dutch Shell a permit to drill in the Arctic's Chukchi Sea. The decision to allow drilling caused backlash from environmentalists and the timing of the President's Alaska trip has caused some groups, like the progressive social change organization Credo, to call Obama a hypocrite (although some of the group's other claims are problematic).
Despite the drilling controversy, Alaska is experiencing significant climate change effects and Obama's trip intends to highlight that. Temperatures in Alaska have risen more than in the rest of the United States, and climate change is beginning to affect the lives of the state's residents. According to a recent National Climate Assessment:
Over the past 60 years, Alaska has warmed more than twice as rapidly as the rest of the U.S., with average annual air temperature increasing by 3°F and average winter temperature by 6°F, with substantial year-to-year and regional variability.
A possible consequence for the increase in temperature is a rise in the number and severity of wildfires, which are a big problem for Alaska. According to recent research, the Alaskan wildfire season has increased by more than 40 percent since 1950, and was particularly bad this summer. Melting glaciers, thawing permafrost, and reduced snow cover are quickly affecting the Alaskan landscape. A recent Atlantic article highlighted the effects of climate change on the people in Newtok, Alaska–who actually voted to relocate their town before it was destroyed by rising water levels.
For years, Obama has lamented the lack of action and pushback from Congress, but now he is taking a much more aggressive approach. In his speech on Tuesday, he attacked those who refuse to acknowledge the issue, saying, "The time to plead ignorance is surely past.  Those who want to ignore the science, they are increasingly alone.  They're on their own shrinking island," in a speech to the GLACIER conference. His remarks also emphasized that time to address climate change is running out, painting a grave picture of what could happen if emissions are not significantly reduced, saying:
If we were to abandon our course of action, if we stop trying to build a clean-energy economy and reduce carbon pollution, if we do nothing to keep the glaciers from melting faster, and oceans from rising faster, and forests from burning faster, and storms from growing stronger, we will condemn our children to a planet beyond their capacity to repair
It's difficult to tell whether the President's new approach to trumpeting climate change will shift public opinion, but climate change will likely get more attention moving forward. With the Paris climate conference in December, the Democratic presidential candidates continuing to raise the issue, and impending legal challenges to new EPA regulations, climate change will be the topic of much discussion. Although most Americans acknowledge the fact that the climate is changing, they still rate it low on their list of priorities. While the future remains difficult to predict, the conversation has certainly been started.