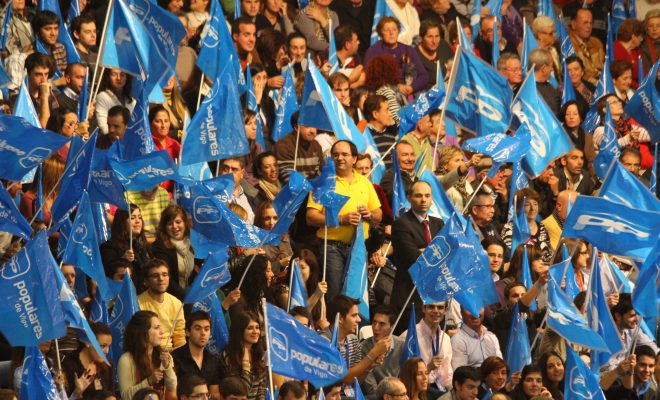 Image Courtesy of [Elentir via Flickr]
World
Dreaded Third Round of Elections Predicted for Spain: How Will it Escape Political Gridlock?
By
|
A political gridlock has rattled Spain for the past nine months, leaving the country without a national government and with a fractured legislature. Officials within this parliamentary constitutional monarchy simply haven't prevailed in forming a coalition government among longtime feuding politicians. Operating under stressful conditions, the 350-seat assembly in the lower house of Congress cannot reach a consensus over the fate of Prime Minister Mariano Rajoy and his contested People's Party (PP). In spite of the group's initial landslide victory in 2011, today the Spanish parliament (known as "Cortes Generales" in Spanish) is divided on whether or not the incumbent should be allowed to claim minority-rule within the estranged governmental system. The past two attempts to hold national elections were inconclusive due to the PP failing to earn a majority vote, despite receiving the highest numbers during the first plebiscite on December 20, 2015. 
For all intents and purposes, Spain is still a relatively young democracy. The death of former dictator Francisco Franco in 1975, for example, permitted the restoration of democratic rights and the development of a stringent two-party structure split between conservatives and socialists. With Spanish politics more stratified than ever before in recent history, there are more competitors seeking political representation and trying to secure power–making negotiations all the more complex. The fact of the matter is that none of these parties have succeeded in gaining the majority vote throughout the past two elections, hence the ongoing volatility and third round of polling looming over Spaniards' head. In acknowledgment of Spain's dynamic intergovernmental structure, this article attempts to introduce readers to some of the most central characters and predicaments within this game of political charades.
---
The Important Players
Mariano Rajoy: Even with rampant opposition, Mariano Rajoy still serves as the "caretaker" Prime Minister of Spain and leader of the conservative-leaning PP. Ultimately, the native Galician aspires to serve a second-term as prime minister, which would theoretically end what some consider to be political mayhem. Easier said than done, though, considering the polarization of Spanish politics. Nowadays he is scrambling to regain power by trying to win a vote of confidence from his colleagues, which has yet to yield positive results considering the fierce opposition he faces from the Spanish Socialist Workers' Party (PSOE).
Made evident by Rajoy's fall from grace, many of these issues stem from the parliamentary requisite for an absolute majority–meaning that despite receiving the most votes in the past two attempted elections, the PP still lagged behind. Adding fuel to the fire, Rajoy's reputation started to tarnish after his PSOE rival, Pedro Sánchez, accused him of financial corruption. Allegedly Rajoy was in cahoots with the former treasurer, Luis Bárcenas, in operating a "secret slush fund" for the PP's campaign purposes. Today Bárcenas is serving time for corruption, money-laundering, and tax evasion after it was exposed that he hoarded 47 million euros in Swiss bank accounts.   
"I made a mistake in maintaining confidence in someone we now know did not deserve it," said Rajoy, who maintained his party's innocence. "Nothing related to this matter has prevented me, nor will it prevent me from governing."
Pedro Sánchez: At the forefront of opposition against Rajoy is the former secretary general of the PSOE, Pedro Sánchez. Compared to other lawmakers, he and his deputies are influential players in hindering Rajoy's attempts to form a minority government. Originally King Felipe of Spain appointed Sánchez to pioneer a new system following Rajoy's decline. Earlier this month, though, Sánchez resigned after a tense 11-hour deliberation with fellow party members on October 1. Sánchez, who was considered to be Rajoy's most prominent antagonist, was ousted after the party ruled against him in a 132-107 vote. Spirits appeared to be deflated after senior PSOE member José Antonio Pérez Tapias told reporters outside the assembly that "the party is broken." Now that Sánchez is seemingly out of the picture, many Spaniards believe that Rajoy will finally be able to regain the support he needs to rejuvenate Spain's central government.  
King Felipe VI: Looming over Rajoy and Sánchez is King Felipe VI of Spain, who certainly complicates today's political conundrum based on how he plays "both sides of the fence." For example, it is the king's monarchical duty under the constitution to appoint (or rather endorse) an elected prime minister, but lately this seems more like a neglected formality. At this point in the political impasse, the head of state and commander-in-chief of Spain holds little clout when it comes to restoring order. King Felipe VI was originally responsible for endorsing Sánchez to pioneer a new and improved government after Rajoy's foundation plummeted. However, Sánchez and his Socialist party also lack the necessary parliamentary support to win majority-rule as well–only possessing 85 seats of the 350-seat legislature. To add insult to injury, his attempts to beckon Rajoy to power (once again) were also unfruitful. 
---
Contributing Factors to the Political Paralysis
What all of these delegates have in common are earnest intentions to alleviate Spain's long-standing economic issues. Following the aftermath of the 2007 economic crisis, 4.8 million Spaniards are jobless–leaving Spain with an unemployment rate of 20 percent, one of the highest in the developed world. In light of this national issue, two other parties have materialized to challenge the dual-partisan system and remedy the record-high unemployment rates. One of these groups is Ciudadanos (meaning "Citizens" in Spanish) led by Albert Rivera, one of the most popular Spanish leaders. The centre-left party forged an alliance with PP to create anti-corruption measures in parliament and help Rajoy find his way back into office. Conversely, there is also Unidos Podemos (meaning "United We Can" in Spanish) who are known for their staunch opposition against austerity measures and leftist-leaning ideologies. Pablo Iglesias, Unidos Podemos' young charismatic leader, feels good about shaking up Spain's status-quo.
"What happened was nothing short of revolutionary," said Iglesias in reference to the collapse of Spain's longstanding two-party arrangement in December. "Because even with an electoral system that promotes bipartisanship, we have this completely new landscape."
Another indelible factor complicating Spain's election is the stratification among regions vying for more autonomy, specifically in regards to Catalonia. Every political body appears to have a different opinion about their quest for sovereignty. The wealthy region where Barcelona is located recently promised to hold another referendum for independence in September of 2017, which will certainly infuriate certain individuals and potentially plunge the country into further confusion. PP and Ciudadanos are hesitant to approve the secession, PSOE is open to making constitutional changes, while Unidos Podemos is completely willing to allow the region to secede.
---
Conclusion
If a coalition government isn't formed by October 31, then we can anticipate King Felipe VI will dissolve parliament and enforce a third-round of elections on Christmas day, which is an outcome many Spaniards are dreading. According to the Spain's main newspaper El País, this would be an "unmitigated disaster." Yet with Sanchez's recent resignation, many speculate that Rajoy's party now yields higher chances to obtain a true majority. Upcoming regional elections in Galicia and the Pais Vasco (Basque Country) are also expected to play important roles in determining the outcome of Spain's national governance. Galicia's highly anticipated election may serve in Rajoy's favor considering that he is from the northern region himself and could prospectively align himself with the newly elected officials. For the time being, though, onlookers can expect a lot more negotiating and emblazoned attempts to form much-needed alliances. Let's hope that the rivalries simmer down in the interim. 
---
Resources
Al Jazeera: Spain: Is This the End of the Socialists?

Financial Times: Spain: Political Stalemate in Madrid
The Guardian: Spain Eyes Basque and Galician Elections to Break Political Deadlock
The Guardian: Spain Moves Towards Rightwing Government After Socialist Quits
The Guardian: Unidos Podemos: Spain's Leftwing Alliance Hoping to End Political Impasse
New York Times: Spain's Interim Leader Bids to Form New Government
Reuters: Center-Right Roars to Victory in Spain Election
Reuters: Spain's Socialist Leader Quits and Opens Door to End of Deadlock  
The Spanish Report: Pedro Sánchez Resigns As PSOE Leader
The Spanish Report: PP Wins Most Votes but Loses 63 Seats, Rajoy Says he will Try to Form a New Government
Sputnik News: Spain's Citizens and People's Party Ink Alliance Deal Before PM Investiture Vote
The Telegraph: Spain's Mariano Rajoy Reels Under Corruption Charges in TV Debate
Wall Street Journal: Spain's Socialist Leader Resigns in Potential Breakthrough to Country's Political Impasse