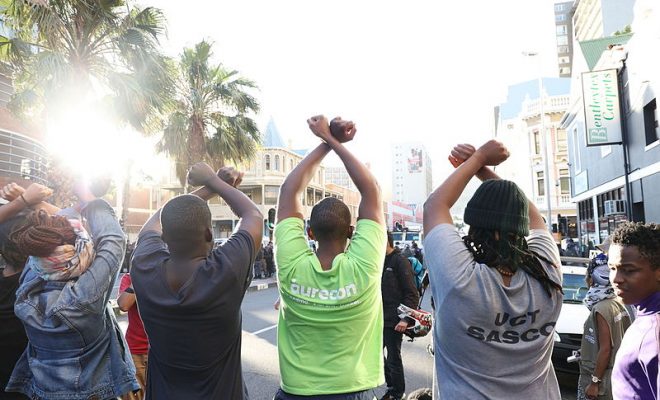 "South African Student Protests" Courtesy of [Myolisi via Wikimedia Commons]
World
Apartheid-Era Racism?: South African Students Protest Discrimination in Education
By
|
The appearance of one's hair may seem like a trivial or superficial matter to some. For students at South Africa's Pretoria High School for Girls or PHSG, however, hair is an integral part of their cultural identity–and it's currently under attack. Fed up with being told that they look "exotic" or distracting to others, or chastised for speaking their own local languages, these young girls have taken to the streets to protest the institute's dress code and code of conduct as inherently racist. 
Pupils at the prestigious all-girls school, which became racially integrated in 1990 (four years before apartheid ended), have historically been penalized for adorning "natural" hair in the form of afros or cornrows more than a centimeter wide. Girls at the school have been forced to straighten or chemically "relax" their hair to satisfy the school's standards. Those who fail to conform to such regulations face possible disciplinary action that not only deducts from valuable class time, but also contributes to the development of low self-esteem and a sense of inferiority.
"You weren't welcomed into any assembly; you'd most probably be kicked out of class," said Tiisetso Phetla, a recent graduate of the PHSG, about the consequences of looking too "native." "So it basically took away your learning time, it took away your right to education and the image of beauty that you possess of yourself because that's what they were telling you, that you're not good enough to be here with your natural hair."
Despite the abolition of apartheid more than 20 years ago, many black South African students say the country's current education system continues to be full of racial inequalities that force them to assimilate into a foreign culture.  This country is still healing from decades of systematic segregation and marginalization, but policies against natural hair are just the tip of a much larger, problematic iceberg.
---
History of Apartheid-Era Policies
Before apartheid was enacted in 1948, black schools fell under the jurisdiction of missionaries and churches, meaning they were relatively autonomous from white minority rule. Educational inequalities were exasperated when the National Party centralized the nation's education system under the Bantu Education Act of 1952. This mandate segregated South Africans into "population groups," deliberately depriving blacks from receiving a quality education. The architects of apartheid justified such arrangements with the false advocation of a "Christian National Education," saying that "the task of white South African with regard to the native is to Christianize him and help him culturally." 
South Africa's Department of Education was unevenly partitioned by race as a result of the Bantu Education Act, with black schools receiving the least amount of funding, resources, and qualified teachers. The ordinance also determined the length of time students had to be in school, which of course varied by one's perceived ancestry. While whites were obligated to be enrolled in school from the ages of seven to fifteen, black students were only expected to attend from seven to thirteen, if at all. By limiting access to the classroom and keeping access to education low, the blatantly racist act ensured that blacks remained part of the poorer working class. Considering that students at PHSG can lose classroom time for simply wearing their hair in its natural form, today's circumstances have opened old wounds for many South Africans.
---
Has the Rainbow Nation Fulfilled its Promises?
Originally, when democracy was introduced in South Africa in the early 1990s, education was touted as the key to solving South Africa's economic and social inequities. As the World Bank put it in a 2010 report, "development through education would lead to freedom."
Yet some scholars believe South African schools function under "de facto" segregation. More specifically, only white students can afford to study at private institutes, while black students and students of other ethnicities are left with resource-scarce schools. All things considered, these educational barriers have magnified economic disparities for people of color in South Africa. Fact of the matter is that blacks earned 20 percent of what their white counterparts were making in 1994 when apartheid formally ended. Considering that blacks are still on the lower-end of the economic spectrum, they still have less means to pay for schooling, and are therefore less likely to attend school at all.
Post-apartheid South Africa also saw a shift in policies, from being race-based to race-blind. What this means is that although South African schools cannot legally deny admission to somebody based on their race, black learners are still in overwhelmingly black schools. The majority of African students continue to live in rural areas or geographically isolated urban communities, which reinforces apartheid-era restrictions that forced blacks to reside in their own separate communities that were typically off the grid. This has made white schools all the more whiter. Therefore, schools are being segregated by default without overt racial discrimination ever being brought into the picture.
---
Present-Day Movement for Equal Rights
Equal Education, a South African civil rights group, was not surprised by the recent discrepancies from PHSG. The organization, which is comprised of activists, educators, students, and parents alike, strives to mobilize stakeholders in finding democratic solutions to these oftentimes neglected problems. For example, the committee implores the Department of Basic Education and provincial education departments to be adequately trained on matters of diversity and human rights. According to a press release on its website:
Racist prejudice is being expressed in the language of undemocratic school governance. South Africa's schools continue to be dominated by hierarchical and authoritarian power relations. Just as racism must be rooted out of these institutions, so too must their modes of governance be transformed so that it will not be possible for learners to be victimized like this in future.
Students from PHSG are also joining a much wider educational reform effort aiming to dismantle and "decolonize" the remnants of apartheid throughout South African schools. For example, proposed tuition increases in 2015 resulted in massive demonstrations last October, which later came to be known as the #FeesMustFall movement. At the epicenter of this activity were black South Africans who (aware of previous precedents) thought such proposals were deliberate means to exclude them from receiving an education. They succeeded in persuading South Africa's president, Jacob Zuma, to prevent a tuition hike from being legalized, but recently the Minister of Higher Education and Training, Dr. Blade Nzimande, said that it should be up to a university's discretion to raise tuition or not. Protests are still ongoing. 
Similarly, a documentary entitled "Luister" (which translates to "listen" in Afrikaans) showcased 32 interviews from black students at Stellenbosch University–all of whom discussed their trials and tribulations at allegedly one of the most racist schools in South Africa. Dan Corder, a literature student at the University of Cape Town, produced the 35-minute film in 17 days after his friend was penalized for protesting against the school's language policy, which they say clearly favors Afrikaans speakers. In fact, many South African public schools (like PHSG) and universities shun local African dialects and only conduct classes in the colonial language.
"Being black within the Stellenbosch community you know that you're not accepted and you kind of ask yourself what's wrong with me, like what did I do wrong?" said one interviewee. "In the beginning I actually started to assimilate, you know, wanting to lose myself and attain whiteness. Maybe this will work better and they'll accept me more because I'm trying to be like them. And I realized that I cannot do that. I'm not willing to sell my soul to whiteness. I have to be proudly black."
---
Conclusion
Following nationwide demonstrations, an online petition that garnered more than 30,000 signatures, and a meeting with parents, administrators in Gauteng province suspended PHSG's code of conduct surrounding in response to the protests over hair. The Head of Education, Panyaza Lesufi, also announced that an investigation will soon commence over accusations of racism.
"The code of conduct […] is insensitive to different people and discriminates badly against black pupils as it asks them to straighten their hair," said Lesufi. " That is not fair because some pupils have natural[ly curly] hair so we have agreed with the student governing body that it be suspended."
---
Resources
Primary
Terry Sanford Institute of Public Policy: Racial Equality in Education: How Far has South Africa Come?
Additional
CNN: South African Students Protest Against School's Alleged Racist Hair Policy
The Guardian: Luister: the Viral Film Exposing South Africa's Ongoing Racism Problem
The Guardian: South African Students Speak Out Against 'Aggressive' Ban on Afro Hair
NPR: Girls At South African High School Protesting Hair And Language Bans
The Washington Post: Protests Over Black Girls' Hair Rekindle Debate About Racism in South Africa
The Washington Post: South Africa's Student Protests are Part of a Much Bigger Struggle
Education Equality: We Demand an End to Prejudicial School Codes of Conduct!
Stanford University: A Brief History of Educational Inequality from Apartheid to the Present
The World Bank: South Africa's Long Walk to Educational Equality
South Africa: Overcoming Apartheid, Building Democracy: Bantu Education