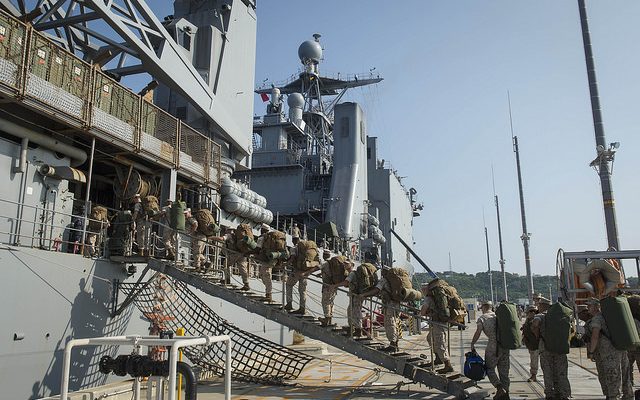 Image Courtesy of [Naval Surface Warriors via Flickr]
World
A Complicated History: Japanese Court Blocks Bid to Close Down American Military Base in Okinawa
By
|
Tensions between residents of Okinawa Prefecture in Japan and stationed American soldiers have reached a new boiling point. Last week court officials in the prefectural capital of Naha rejected incumbent Governor Takeshi Onaga's bid to close down the disputed Marine Corps Air Station Futenma in Ginowan. The resolution signified the first official judicial ruling over the complex reclamation project that was ignited in 1996 after three American soldiers were convicted of abducting and murdering a 12-year-old girl. Long-time opponents were once again outraged over the recent slaying of 20-year-old Rina Shimabukuro by former U.S. Marine and current military contractor, Kenneth Franklin Shinzato.
Onaga's administration teamed up with locals to urge the national government to scrap the foreign airbase altogether, but Prime Minister Shinzo Abe followed through on his resolution to relocate the contested encampment into a less populated region of Japan's southernmost province. Keep reading to learn more about how the Okinawa is struggling to achieve self-autonomy after decades of American military intervention.
---
History
A historical perspective is necessary to fully grasp such a political conundrum. During World War II Okinawa (formerly known as the sovereign Kingdom of Ryukyu) experienced some of the bloodiest fighting and conflict against the Allied Powers, particularly due to its strategic location between the South China Sea and Pacific Ocean. Some accounts say that up to 70,000 Japanese soldiers and 150,000 civilians died in the Battle of Okinawa, which wasn't as widely documented as the bombings of Hiroshima and Nagasaki. After the United States defeated Japan, Washington controlled Okinawa for 27 years until it became reincorporated on May 15, 1972.  However, the United States government managed to maintain its military installations throughout the island after signing a bilateral security treaty to end the war. Today there are over 25,000 American personnel deployed at 32 American military bases located on Okinawa, which occupy approximately 20 percent of the island's total landmass.
Before Governor Onaga was elected in December of 2014, former Governor Hirokazu Nakaima permitted the construction of a new American military base in Nago, which is where Futenma will likely be relocated. The legislation has yet to be implemented, however, due to such widespread opposition throughout Okinawa. Prime Minister Abe's recent resolution, though, now allows operations to formerly begin.
---
Local Opposition
Over the years, Okinawa's citizens haven't been keen on such arrangements, especially in terms of the noise, congestion, and crimes stemming from American troops in the area. Resentment against the United States heightened last spring after an American serviceman confessed to raping and murdering 20-year-old Rina Shimabukuro. Responding to the confession, an estimated crowd of 65,000 gathered in Naha to rally against the U.S.'s long-term military influence. A civil society group called All Okinawa Kaigi organized the event, with assistance from Okinawa's current governor, politicians, and provincial mayors. Governor Onaga himself was elected to office based on his advocacy for limiting both the central government and the U.S.'s jurisdiction over the island.
"The government should know that the anger of the people in Okinawa is almost reaching a limit and it is not [right] to sacrifice Okinawa people for military bases anymore," said Governor Onaga at the event. Determined to take matters into his own hands, Governor Onaga has not only requested Prime Minister Abe arrange a personal meeting with President Obama, but also presented a case to the UN Human Rights Council.
Anti-American sentiments are not uncommon in the Japanese prefecture after a series of violent crimes initiated massive protests and resistance. Prior to Shimabukuro's murder, a 12-year-old girl was gang raped by three American personnel in 1995. This event in particular is what prompted the relocation project to begin in the first place. Even more recently in March of 2016, an American sailor raped a Japanese tourist in her 40s as she slept in her hotel.
In a report published by Women in Action Against Military and Military Bases, approximately 180 Japanese female civilians were raped between 1945 and 1997–22 of whom were less than 20-years-old. The study also examined how American soldiers are still committing war crimes against Japanese women. In addition to these sexual crimes, locals have also felt threatened by the imminent threat of catastrophe. For example, a military jet lost control in 1959 and ended up crashing into an elementary school where 17 people were killed and 121 were injured. Moreover, local activists are concerned about the possible environmental damage the relocated Futenma base could have on Nago's ecosystem. Reports say that Nago Mayor, Susumu Inamine, has began mobilizing residents to resist the upcoming construction project.
---
Why are Some Japanese Supportive of American Military Bases?
Unlike Governor Onaga, Japanese Prime Minister Shinzo Abe has condoned American military presence in Okinawa at one time or another. A prominent blog on Japanese culture, Tofugu, explains how the arrangements benefits Japan in terms of increased geopolitical stability. Japan is surrounded by some of the world's most confrontational superpowers like China, Russia, and North Korea, and has few allies throughout the region after the damage it inflicted upon other countries in World War II.  It's plausible that the Japanese government feels more secure with American soldiers stationed in such close proximity due to China's increasingly assertive presence in the South China Sea. Yet the question sill persists–is Okinawa bearing the brunt of Japan's national security concerns?
The United States has been rewarded by the provisions, which allow Washington to yield authority in East Asia if prompted and keep close tabs on perceived adversaries in the vicinity. The Heritage Foundation also contends that American military presence assists Washington in pursuing its diplomatic interest and deterring would-be aggressors from attacking the region.
Although Prime Minister Abe is trying to preserve cooperation with the Obama Administration, he did not veer away from expressing disapproval toward the American president during a recent joint-news conference.
"This is an unforgivable crime, and I have expressed our anger," said Abe during a press conference with President Obama ahead of the Group of Seven Summit. "It has shocked not just the Okinawa people but also all the people of Japan." Abe also vowed to work to prevent future violence, such as Shimabukuro's murder, saying, "I have asked the president to carry out effective measures to prevent a recurrence of such crimes."
---
Conclusion
President Obama expressed his condolences in a historic visit to Hiroshima over Memorial Day Weekend. Some analysts worried that the newest island scandal would threaten the post-World War II alliance between the U.S. and Japan, but both countries seem steadfast in resolving such matters.
"We will be fully cooperating with the Japanese legal system in prosecuting this individual and making sure that justice is served," said President Obama in response to Shimabukuro's murder. "We want to see a crime like this prosecuted here in the same way that we would feel horrified and want to provide a sense of justice to a victim's family back in the United States."
Washington has responded to these controversies by imposing certain restrictions on its constituents, such as prohibiting off-base alcohol consumption. The policy change came after an American sailor injured two Japanese civilians while driving intoxicated last September. Along those lines, part of Prime Minister Abe's rationalization for relocating the contentious Futenma marine airbase to the island's rural south is that deployed Americans will be farther away from crowded residential areas. Considering that locals are still averse to the resolution, Governor Onaga's rivalry with Prime Minster Abe (and the Washington establishment) is likely to continue until Okinawa can truly disassociate itself from American troops.
---
Resources
Heritage Foundation: Top 10 Reasons Why the U.S. Marines on Okinawa Are Essential to Peace and Security in the Pacific 
TNI: The Human Rights of Children and Women Under the US Military Administration: Raped Lives
Tofugu: Japan's Sacrificial Lamb–The Okinawa Military Base Controversy
Al Jazeera: Japan Court Clears Way for US Okinawa Base Relocation
Al Jazeera: Ex-US Marine Charged with Rape, Murder of Okinawa Woman
Al Jazeera: Voices of Okinawa: Standing Against a US Military Base
Al Jazeera: Japan Protests Alleged Rape by US Sailor
CNN: Japan: Okinawa Murder Provokes Protests Against U.S. Bases in Okinawa
International Business Times: Japan to Halt US Okinawa Base Relocation Work But Government Says Plan Intact
Japan Times: What awaits Okinawa 40 Years After Reversion?
Japan Times: Okinawa Suspect Allegedly Admits to Rape of Women Before Killing Her
Japan Times: Okinawa Gov. Takeshi Onaga Asks Abe to Set up Meeting With Obama
Japan Times: Anger Over Okinawa Murder Grows Despite Obama's 'Deep Regret' Over the Incident
Sputnik News: Japan's Okinawa Requests to Shut Down US Marine Base Construction
USA Today: Tens of Thousands Protest on Okinawa to Close Key U.S. Bases in Japan
The Washington Post: Okinawa Murder Dominates Talks Between Obama and Abe