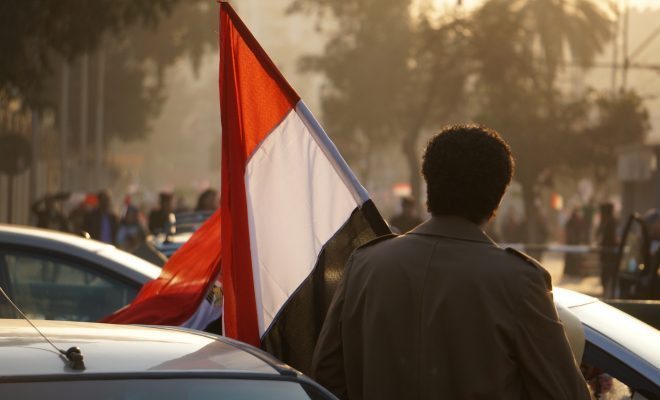 Image courtesy of [Sebastian Horndasch via Flickr]
World
Fattah al-Sisi: Challenges for Egypt's New Leader
By
|
While traveling in Egypt recently I met a man in Luxor who was eager to share his opinion on the state of Egyptian politics. "Mubarak is good, when Mubarak here I am never poor. They get rid of Mubarak. Then, I go sign my name for Morsi, they get rid of Morsi. I don't sign for Sisi. I'm done signing for this country." Is this man wrong to feel unenthusiastic, or even cynical about the stability of his newly democratic country?
It's true that, at the very least, Egypt's future is very much up in the air. The nation recently had essentially two different revolutions, complete with protests, military involvement, and government overthrows. The first revolution was in 2011 during the Arab Spring; the second in 2013. Given all of that turmoil, there are many questions as to how President Fattah al-Sisi will proceed. Read on to learn about the path that Egypt has taken in recent years, and some of the most pressing questions facing the nation today.
---
Revolution History
First, some background. After Mohamed Bouaziz, a Tunisian fruit vendor, lit himself on fire in protest in January 15, 2011, a movement spread through North Africa to overthrow leaders whom the public found to be corrupt or unjust. Egypt was one of the first nations to act.
The Egyptian President at the time was Hosni Mubarak, who reigned from 1981-2011. Due to cronyism, bribery, and a lack of opposition representation in parliament, many Egyptians were unemployed and unhappy with the dictator. Additionally, his British-educated son Gamal was being groomed to inherit the throne.
On January 25, 2011 the Egyptian people took to the streets. After 18 days of protest in Cairo's Tahrir Square, Mubarak submitted to the military's ruling body, the Supreme Council of the Armed Forces. The constitution was suspended and parliament disbanded. Egypt's Islamist groups wanted to see elections first, while Liberals and secularists preferred to write a constitution first. The Islamists won, and elections were held.
By November 2011, Egypt began to vote in parliamentary elections, a six-week process in which the Muslim Brotherhood, one of the main forces behind the Arab Spring movement in Egypt, won the majority of seats. Ultraconservative Salafis took another quarter, rendering Islamist religious groups in control of more than 90 percent of the seats. By June 2012, Muslim Brotherhood candidate Mohamed Morsi became the first Islamist and civilian leader elected as head of state. He chose General Abdul Fattah al-Sisi, former head of military intelligence, as his defense minister.
By December 2012, Morsi issued a decree allowing him to take any and all actions that he deemed necessary to protect the country. The Egyptian people interpreted this move as authoritarian, hearkening back to the Mubarak military regime. The new government's conformity with Sharia law was also a large concern.
On January 25, 2013–exactly two years after the first protests to overthrow Mubarak–the people flooded to the streets to protest Morsi and his rule. Morsi claimed the minority should submit to the majority in a democratic fashion. Acting on behalf of the Egyptian people, al-Sisi appeared on state television, ordering Morsi to come up with a political solution within 48 hours. Morsi argued that he was legitimately elected, and could not be threatened by political opposition.
By July 2013 however, Morsi was removed as President by military coup. Islamist and Morsi supporters rallied and did not go out without a fight. By September more than 1,000 Morsi supporters were killed during protests. In March 2014, 528 Muslim Brotherhood supporters were sentenced to death in a mass trial for murder and attacks on property and people.
After al-Sisi's appearance on television he was nominated as a Presidential candidate. Eventually al-Sisi won the pro forma presidential election with nearly 97 percent of the vote in May 2014, but with only 47 percent turnout.
---
Al-Sisi's To Do List
Al-Sisi has now been in power for just under a year. While he's made some progress with economic reforms, expanding the Suez Canal, and addressing concerns over the prevalence of sexual assault in the country, there are still issues that he will need to address moving forward.
The Shaky State of the Egyptian Constitution 
Cementing the Egyptian constitution has become increasingly important because it will define the new power balance between parliament and the executive office. While the constitution set up a system that includes both a president and prime minister, there are still many questions that need to be answered.
According to Human Rights Watch, "under Egypt's 2014 constitution, all legislation enacted in the absence of a parliament should be reviewed by the new parliament when it takes office, but the constitution allows the members of the new parliament only 15 days for this review. That has raised concerns about the efficacy of the checks and balances in the system."
Overall, aspects of the Egyptian constitution are up in the air as it is currently facing many changes. There are proposed amendments to Articles 277 and 289 of the criminal procedure code, which are primarily concerned with ensuring "access to prompt justice without prejudice to the rights of the litigants." The changes would put "all matters concerned with calling or hearing witnesses" into "the hand of the court." The amendments were drafted by the Supreme Committee for Legislative Reform (SCLR), a group of appointed officials created by al-Sisi. This vague language allows the Court all authority in calling witnesses; actions similar to the exploits of both Mubarak and Morsi, which proved detrimental to them both. While it's possible the motivation behind the amendment is in the interest of speediness, critics claim it's hard to see this in the true interest of justice.
Security Concerns
Under al-Sisi's control Egypt has embraced a doctrine of active defense, changing its military posture. During the Mubarak years, Egypt generally responded to regional threats by working on its deterrence skills; however, since the coup against Morsi in 2013, Cairo has been more aggressive and ready in its approach to security and appears more willing to project force abroad, as seen in its recent involvement in Yemen.
In addition, the government recently passed a law that broadens the state's definition of terrorism to include "anyone who threatens public order by any means," and allows for security forces to accuse potential terrorists without a trial. Civilians are dying while in custody, and there are reports of brutalizing student protesters, and increasingly censoring journalists working in the country–by and large human rights groups are alarmed. On the other hand, many Egyptians would argue that the country did just experience two revolutions in three years, therefore increased security is necessary. Still, concerns remain that too much power is left in the hands of the military.
Additionally, even in Cairo there is increased military and police presence. There are consistent checkpoints with the intention of eliminating violent protests and uprisings. Whether those will remain or end up as a symbol of authoritarianism is another issue that needs to be addressed by al-Sisi.
Relationship With Israel
U.S. ally Israel should certainly enjoy the improved relationship with its southern neighbor. Under al-Sisi's rule, thousands of tunnels between the Sinai and Gaza have been destroyed. Egypt also closed the formal border at Rafah. Without these two means of transportation, Gaza has no way of importing supplies, including goods and weapons. To al-Sisi, not only is Hamas a terrorist group, but also an offshoot of the Muslim Brotherhood, and Egypt sees the weakening of Hamas as a squeeze on Brotherhood support.The Palestinians are finding little sympathy from their Muslim neighbor. Destroying these tunnels may have been an attack on Hamas, but the tunnels were also used to bring food to the Palestinian people residing in the Gaza territory. It's easier to identify the reasoning for disposing the tunnels; anyone can smuggle anything. However, why the legitimate cross point Rafah, was shut down isn't as apparent. Some accuse Egypt of being indifferent to the suffering of the Gazan people. Regardless, the Egyptian actions certainly benefit Israel in its security operations.
Urban Development
Egypt has an overabundance of unfinished buildings. The rebar, or reinforcing steel, and pillars strike upward from the top of the residences with large piles of bricks sprinkled through neighborhoods. With cities so densely populated it would be logical to see some, but the tenements are so frequent it's concerning. This isn't a new problem, but it does raise the question for al-Sisi and governments moving forward as the country develops economically: how long can millions of unfinished buildings be tolerated in a developed nation? These policies are bound to change.
Return to Tourism
The revolutions left many Westerners scared to visit the country and as a result the tourism industry is dwindling. Investors recognize the fall, but they also recognize the potential for investment. Private companies are getting involved, such as Cairo Financial Holding, which is backing a $1 billion plan to revive Egypt's tourism sector.
After the fall of Russian currency, the slowdown in the Euro zone, and continued attacks in the Sinai peninsula, hotels, restaurants, and tour operators in the region are struggling. In order to attract tourists, hotels have been forced to offer all-inclusive deals, which often include flights as well. A recent poll of hotels revealed that less than five percent of the hotels in Sharm el-Sheikh were holding out and not offering all-inclusive packages. At the current rate, hotels are netting an unsustainably low amount.
There are some other changes in the works. A project was announced at the international economic development conference held in Sharm el-Sheikh, Egypt. The plan is to shift the capital from Cairo to Sharm el-Sheikh; meaning all new administrative, government, diplomatic, technology, and innovative parks would be built there as a part of a greater goal to alleviate the congestion and overpopulation in Cairo. These plans aim to bring in more business, tourism, and wealth.
According to Minister of Tourism Khaled Ramy, the tourism ministry's objective is to reach pre-crisis tourism revenue of $11.6 billion by 2016 and $15 billion by 2018. Saudi Arabia, Kuwait, and the United Arab Emirates pledged to offer $12 billion as investment aid to the country.
---
Conclusion
After the massive upheavals to every aspect of Egyptian life–including politics, the economy, and civil society–Egypt is obviously a changed place. Whether that's for better or worse will have to be seen, but it is indubitable that al-Sisi still has an upward climb in front of him. From crumbling infrastructure to an unclear political system, there are many things that are still up in the air for this once-thriving country.
---
Resources
Guardian: Egypt Siding With Israel Cost Gaza Dearly
Foreign Policy: Mubarak's Nine Biggest Mistakes
Time: Al-Sisi Wins Egypt's Presidency But is Stumbling Already
BBC: Egypt Court Sentences 528 Morsi Supporters to Death
Human Rights Watch: Egypt Law Changes Would Threaten Fair Trials
Foreign Policy Association: Does the Egyptian Military Regime Work For the US and its Allies?
The New York Times: Egypt Says it May Send Troops to Yemen to Fight Houthis
Washington Institute: A New Era For Egypt's Military
Telegraph UK: Egypt Implements New Real Estate Tax
Travel Weekly: Tourism in Egypt Boosted by $1bn Private Equity Fund
Al-Jazeera: Egypt Plans New Capital Adjacent to Cairo