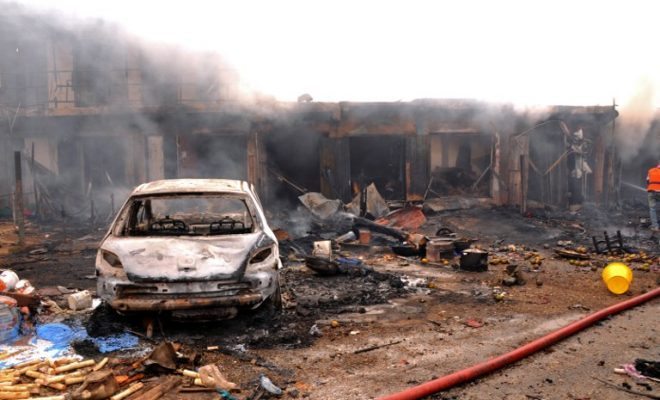 Image courtesy of [Diariocritico de Venezuela via Flickr]
World
Boko Haram: How Can Nigeria Stop the Terror?
By
|
Boko Haram became internationally known in April 2014 for the kidnapping of 276 teenage girls from a boarding school in the town of Chibok in Borno, a state in northeastern Nigeria. The group can be considered one of the deadliest and most dangerous terrorist organizations, as its attacks have displaced more than a million people and killed approximately 9,000 last year alone. This year is proving no different, as its beginning was marked with Boko Haram's abduction of 40 boys and men, and its seizure of a multinational military base. Read on to learn about the group, its history, and what can be done to counter it.
---
What is Boko Haram?
Boko Haram is a militant Islamic group that operates in Nigeria and adjacent countries.
"Boko Haram" often translates as "Western Education is Forbidden," conveying the group's opposition to Western influence, as well as its support for Islamic education and Sharia law. In its local language the group is refered to as "Jama'atu Ahlis Sunna Lidda'awati Wal-Jihad," which can be translated as "The Congregation of the People of Tradition for Proselytism and Jihad" or "People Committed to the Propaganda of the Prophet's Teachings and Jihad."
Boko Haram follows a radical Islamic ideology based on the fundamentalist Wahhabi theological system. Its main goal is to establish an extreme version of Sharia law and a true Islamic State in the whole of Nigeria. In addition, the leaders have articulated their demands to end the current government and to prohibit western education in its territory. It imposes its values on all non-believers, killing all those who refuse to embrace that interpretation.
---
History
Boko Haram appears to have existed since the late 1990s, but the official beginning of its activities can be traced to the year 2002 when the group was unified under Muslim leader Mohammed Yusuf. Yusuf was an eloquent leader, attracting and recruiting followers to his radical vision of Islam. He condemned the corrupt Nigerian government and rejected Western education and culture, advocating strict Islamic ideology as the alternative. The first hostilities date back to December 2003 when Boko Haram militants attacked multiple police stations in the state of Yobo. Generally from 2002 till 2009, the group engaged with villagers who failed to adhere to Yusuf's teachings, or attacked local police stations. As outbreaks of violence were sporadic and generally low-key, Boko Haram didn't attract international attention.
Boko Haram Uprising 
Everything changed in 2009 when Boko Haram's violence began to spread to northeastern states, including Borno, Kano, and Yobo, in the so-called "Boko Haram Uprising." It is possible, though difficult to confirm, that local politicians manipulated local issues, prompting Boko Haram to use violence against the state. The authorities responded with brutality, killing Yusuf and several hundred of his followers. The video below tells the in-depth story of the 2009 events, featuring video recordings of extrajudicial killings by the police, including that of Mohammed Yusuf.
The Nigerian government denies the allegations, claiming that Yusuf was shot after he tried to escape police custody.
Change of Leadership
Boko Haram re-emerged under the leadership of Yusuf's deputy, Abubakar Shekau. Staring in July 2010 when the organization released a video statement announcing Shekau's leadership, Boko Haram became a truly violent group. It changed its methods and tactics; the attacks became widespread and deadly. The group started to carry out kidnappings and bombings, mostly operating in northeastern Nigerian states.
Click here to see a the timeline of the attacks, including a death toll for each.
Chibok Kidnapping
Boko Haram became known around the globe on April 14, 2014 when it kidnapped 276 girls from their schools in Chibok. It prompted the West to start paying attention to the proliferation of the group, and resulted in the worldwide "Bring Our Girls Back" campaign. As of now, 57 girls have escaped and 219 remain captive.
---
Funding Boko Haram
Boko Haram finances its activities through profits from bank robberies, kidnapping ransoms, and smuggling. Due to the presence of an indigenous mining industry in Nigeria, explosives are easy to obtain. Vehicles and weapons are usually stolen. Theft of weapons from government sites is especially concerning as it implies a certain level of infiltration of military and governmental institutions by the group or its followers. So far, there is no information that can point to Boko Haram receiving remittances from oversees, confirming the group's sole interest in Nigeria and adjacent countries.
---
Ansaru
Ansaru is a splinter organization of Boko Haram based in the Kano and Kaduna provinces of northern Nigeria. It translates from local language as "Vanguards for the Protection of Muslims in Black Africa." As evidenced by its name, the group is against the killing of Muslims, instead targeting Christian populations. As Boko Haram carries out murders of Muslims who adhere to a more tolerant version of Islam, Ansaru diverged, not willing to kill Muslim brothers.
Unlike Boko Haram, Ansaru has links with other radical Islamist groups outside the country such as Algeria and Mali. Some of its fighters are from Chad and Niger. It's believed that it was Ansaru that introduced kidnappings and suicide bombers to the region in the last year. There are also rumors that two groups are reuniting as Ansaru tactics are evident in the most recent Boko Haram attacks.
---
Why is Boko Haram getting so strong?
Boko Haram's ideology is not based on international goals, nor does it have tight ties with other radical Islamist groups outside the country. This poses the question of why its influence throughout the region continues to grow.
Poverty and Poor Governance
In spite of considerable oil wealth, the majority of the Nigerian population is poor. The country lacks infrastructure such as roads and transportation and there is a shortage of clean water and reliable electrical power, not to mention inadequate education and healthcare systems.
Nigeria is also one of the most unequal countries in the world. While profits from the oil extraction go to the pockets of the country's elite in the South, the northern states are underdeveloped, uneducated, and desperately poor. This map provides a good idea of wealth distribution in Nigeria.
Both grand and petty corruption are considered widespread in the country, and are often cited as primary reasons for the above shortcomings and the overall poverty level. Transparency International scores Nigeria only at 27 out of 100. Combined with poor governance it's a recipe for failure.
Religious Divide
Nigeria is literally divided into a Muslim North and a Christian South. Both religions converge in the middle belt, creating a fertile ground for the conflict. Besides that, the Muslim North was long dominated by the struggle between different Islamist factions, in particular the one between Salafi fundamentalists and tolerant Sufis. Boko Haram's interpretation of Islam is very radical, while northern Nigerians adhere to the more traditional version of the religion. For example, Sharia law exists in the North, but regulated by the secular law and court proceedings. Boko Haram wants to implement a much stronger version of it, without proper trial and with public hangings for any minor deviation from its version of the religion. Not only is Boko Haram a threat to the traditional Islamists in the North, but also to the Christian population in the South.
The video below provides background on both economic and religious factors that contribute to the proliferation of Boko Haram.
Political Dispute
The current president of Nigeria, Goodluck Jonathan, is Christian. That wouldn't really be problem if he didn't break a long-standing political deal between Muslim and Christian elites brokered at the end of military rule in 1998. In simple terms, the two religious groups decided that Muslims and Christians should take turns governing the country. The ruling People's Democratic Party established this rule to manage ethnic, regional, and religious divisions between the Muslim North and Christian South. Now the deal is off. In November 2014, Goodluck Jonathan announced that he would seek a second term in the next elections scheduled for February 2015. This decision incited more dissatisfaction with the current government, especially from the northern states. At the same time, it provides a favorable environment for Boko Haram to proceed with its radical agenda.
---
Response to Boko Haram
Government Response
The Nigerian government doesn't recognize that Boko Haram emerged from the country's religious divisions, poverty, inequality, and poor governance. It declared a "state of emergency" in northeastern Nigeria and marked Boko Haram and Ansaru as terrorist organizations. It further responded with killings of alleged Boko Haram members and many others who were simply in the wrong place at the wrong time.
Nigeria's security forces have been accused of human rights violations in the past and during their current efforts to contain the violence perpetrated by Boko Haram. As thousands of military and police forces were deployed around the country to fight the organization, they engaged in brutalities, disregarding law and human rights of the citizenry. Nigerian security forces are responsible for multiple atrocities against their own citizens such as extrajudicial executions, arbitrary arrests, beatings, looting, and even rape. Not only did it create a further divide between the government and communities, but prompted many people to withhold information and provide support and lodging for Boko Haram instead.
The video below gives an in-depth look at the military abuses during Nigeria's fight of Boko Haram.
International Response
The United States and British governments labeled Boko Haram and Ansaru as terrorist organizations in 2013. The United Nations followed suit, designating Boko Haram an al-Qaeda affiliate in 2014. The same year, the U.N. Security Council announced that it approved sanctions against Boko Haram, including an arms embargo, travel bans, and asset freezes.
After the Chibok kidnapping, the United States and major western countries publicly condemned Boko Haram's actions. The most famous public speech regarding the schoolgirls' kidnapping was issued by Michelle Obama on Mother's Day. See the video below.
The West also dispatched multidisciplinary teams of experts, expanded intelligence sharing, and provided aircrafts and military units to look for the missing girls. According to the White House there are several initiatives under way:
A $40 million Global Security Contingency Fund for Cameroon, Chad, Niger, and Nigeria to fight Boko Haram.
The Security Governance Initiative (SGI) in which Nigeria and the United Sates are planning to work together to improve security sector institutions.
In addition, the United States provides some humanitarian assistance to the victims of Boko Haram through trauma counseling, and is planning to create other initiatives to promote democratic institutions, strengthen education for women, and improve dialogue with security forces.
The entire international community wants Nigeria and its neighbors, Cameroon, Chad, Niger, and Benin, to resolve the Boko Haram problem on their own, while the West will provide technical, advisory, and financial assistance. As former UK foreign secretary William Hague put it: "That requires a better regional strategy among the African countries, but with our support."
However, countries that are committed to advancing human rights around the globe are reluctant to provide further assistance to Nigeria due to its security forces' long-standing human rights atrocities. For example, the Leahy Law in the United States bars the Pentagon from training or funding military forces that commit human rights abuses.
---
What should be done to stop Boko Haram?
First and foremost, both the Nigerian government and the West should focus on humanitarian assistance to the victims of Boko Haram violence. The clashes between government forces and Boko Haram have already internally displaced thousands of people and forced many to cross the borders. It's critical to secure basic needs for the Nigerian population and extend humanitarian assistance to the neighboring countries. As mentioned earlier, the United States has already assisted the affected population, and other Western countries should follow.
Before the international community can help to contain violence in the region, the Nigerian government needs to clean up its act. This includes:
Prosecuting those responsible for the human rights violations. The citizenry needs to know that the government is protecting their interests. Needless to say, the military forces should stop engaging in further brutalities and human rights abuses. If Nigeria fails to do so, there will be no assistance from the West.
Start lifting people from poverty. The "Safe School Initiative" is so far the only example of economic and security development in the northern region of Nigeria. It aims to provide the physical protection of schools. Started by a $10 million investment from the country's business leaders, it was matched with another $10 million by the Nigerian government. More initiatives are needed to create jobs and safety in the northern states.
Enforce the rule of law through the judicial system. The Nigerian government cannot retaliate by killing people without trial and expect its citizenry to trust it. The rule of law should be upheld for all Boko Haram affiliates according to the existing laws and through the court proceedings.
Begin tackling corruption to legitimize the government and release much needed funds that otherwise would be pocketed by the few.
How Nigeria's Neighbors Can Help
As Boko Haram's violence has already spilled across the borders, adjacent countries should unite in their efforts to tackle the issue. Creation of a multinational joint border patrol comprised by representatives from Nigeria, Cameroon, Chad, Niger, and the Republic of Benin can be the first step. Discussions between the countries is on the way, but action should be taken soon, before it's too late.
How the West Can Help
The West can help to train Nigerian military forces in counter-insurgency, as that is essentially what they have to do to fight Boko Haram. Besides learning technical skills, security forces need to know how to engage with local communities in the northeastern regions to gain their support and trust. Western nations can also develop mechanisms of accountability to minimize human rights violations by military forces. It's vital that appropriate training in how to engage with civilians and alleged Boko Haram supporters is provided as it will foster military personnel's understanding of human rights principles and guidelines.
Western nations can provide greater intelligence and data support, increasing the chances of Nigerian forces finding the right strategies and methods to fight the terrorist group. And finally the West can provide financial support. Nigeria doesn't have sufficient funds to initiate training, pay salaries to the military, and obtain much-needed equipment and arms. In addition, the high level of corruption spoils all the odds of using government funds to the fullest.
---
Conclusion
In order to effectively contain violence in Nigeria and to fight Boko Haram, tactical counterinsurgency should be paired with economic development and increased support for the rule of law. The Nigerian government should realize that Boko Haram has emerged from the shortcomings of the government's own system and start dealing with that fact.  The Nigerian government should focus on human security and development, not military response alone as it's simply not working.
---
Resources
Primary
HRW: Spiraling Violence: Boko Haram Attacks and Security Forces Abuses in Nigeria
Norwegian Peacebuilding Resource Centre: Boko Haram: Origins, Challenges, and Responses
Transparency International: Corruption Perception Index 2014
White House: Fact Sheet; U.S. Efforts to Assist the Nigerian Government in Its Fight Against Boko Haram
Additional 
World Bulletin: Nigeria 2014 Sees Bloodier, Emboldened Boko Haram
African Arguments: Nigeria is Losing This War: Here's How to Win the Fight Against Boko Haram
CNN: Boko Haram Seizes Military Base in Nigeria
Hamilton Spectator: Boko Haram Extremists Kidnap 40 Boys, Young Men in Northeast Nigeria, Attack Army Base
BBC: Why Nigeria Has Not Defeated Boko Haram
Guardian: African Leaders Pledge 'Total War' on Boko Haram After Nigeria Kidnapping
The New York Times: Dealing With Boko Haram
Christian Science Monitor: Africa's Best Response to Boko Haram
C-Span: Boko Haram and Nigeria
Human Rights First: To Stop Boko Haram, Start Promoting Human Rights
Vanguard: Boko Haram: The US House report
Huffington Post: Nigeria's President Goodluck Jonathan Will Run For A Second Term
Africa Check: Fact Sheet: How Many Schoolgirls Did Boko Haram Abduct and How Many Are Still Missing?