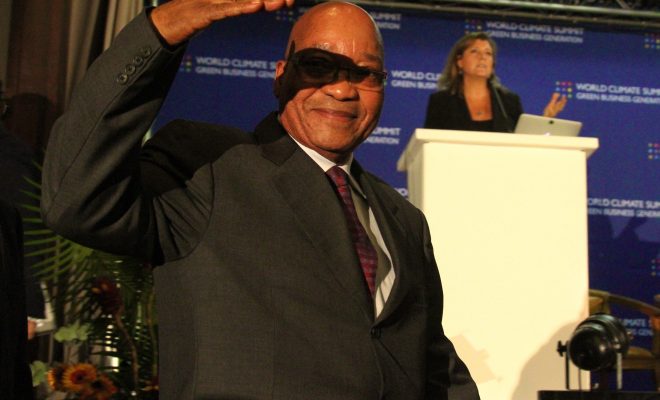 "President Zuma" courtesy of Linh Do; License: (CC BY 2.0)
World
The ANC After Zuma: What's Next for South Africa?
By
|
Earlier this week, South African President Jacob Zuma publicly indicated that he might endorse his ex-wife to be the next leader of his party, the African National Congress. Zuma will soon be finishing his term as the head of the party and rumors indicate that he may even end his term as president early amid calls for him to step down. The reason for his potential exit stems from a number of controversies that have reached a fever pitch in the country after he has led the party once run by Nelson Mandela for more than a decade. Read on to find out more about the legacy of the ANC, its current leadership, and how the myriad scandals engulfing President Zuma could affect the party going forward.
---
The African National Congress
The ANC or African National Congress, now headed by Jacob Zuma and once led by the luminary Nelson Mandela, started back in 1912. Originally, the party was known as the South African Native National Congress (SANNC) and was founded with the hope of achieving equality for the majority black population of South Africa (it was renamed the ANC in 1923). Despite growing pains, due to limited funds and internal squabbles, the party endured and rose to prominence in response to Apartheid, which fueled political activism.
In 1961, the party moved beyond activism and started a military wing known as Spear of the Nation or MK. The military branch waged war with the South African Apartheid government with support from sympathetic African nations and from the Soviet Union. Apartheid finally ended in 1994 and the ANC quickly came to dominate the first few elections up through the early 2000s. But the party's grasp on power began to slip with the election of Jacob Zuma in 2009, and it slipped further with his reelection in 2014.
---
Nelson Mandela
One of the key figures in the rise and eventual dominance of the ANC was Nelson Mandela, who joined the party in 1944. Throughout the 1940s and 1950s, he played an instrumental role in many of the party's major programs–including the ANC Youth League, its Defiance Campaign, and the Freedom Charter Campaign–until his arrest following the 1960 Sharpeville Massacre. After his release and acquittal in an earlier treason trial in the mid-1950s, he led the formation of the MK and was its first Commander-in-Chief. He was arrested again in 1962 and sentenced to five years in prison for incitement and illegally leaving the country when he traveled to Botswana. However, when police discovered his diary detailing his plans for armed conflict, he was infamously sentenced to life in prison on Robben Island in 1964.
Mandela spent the next 27 years in prison. When he was finally released in 1990 the ANC was also removed from the list of banned parties following domestic and global pressure on the Apartheid government. In 1991, he ascended to become the leader of the ANC after two separate stints as its deputy president in the 1950s and 1980s. In 1994, Mandela was elected president of South Africa in an unopposed election. He retired from the post in 1999 and was succeeded by Thabo Mbeki, who had already assumed Mandela's role as president of the ANC in 1997.
The video below goes into more detail about Nelsen Mandela's life:
While serving as President of both the ANC and the nation, Mbeki would famously dismiss current South African President Jacob Zuma from his position as the country's Deputy President in 2005 after he was implicated in a bribery scandal. This led to a split in the party, however, Zuma would ultimately prevail–taking over the ANC in 2007 and the presidency in 2009, while essentially forcing Mbeki into retirement.
---
Zuma's Many Controversies
Jacob Zuma was a decidedly different leader than Mandela, although their paths converged in several key instances. Unlike Mandela, a trained lawyer, Zuma was born into poverty to a single mother and had no formal schooling. When he was just 17 he joined the ANC's militant branch led by Mandela. He was imprisoned alongside Mandela and went into exile in Mozambique after he was released. In 1990, he returned and participated in the discussions that brought about the end of the Apartheid government. Zuma's everyman appeal and his adherence to traditional African norms made him popular. These traits proved to be the deciding factors in his rise to power and in his dispute with former President Mbeki, whom he helped force to resign in 2008.
While Zuma shared the charisma of Mandela, he has differed in his inability to avoid controversy. Long before he became president, he was embroiled in a bribery scandal concerning a large arms deal in the late 1990s. While the case was eventually dropped almost 10 years later by the country's National Prosecution Authority, it was done under dubious circumstances and just before he was elected president. The circumstances were so suspicious that a campaign to reopen the case continues today.
Zuma also attracted negative press when he took money from the South African government to make lavish additions to his home, although he promised to pay back the loans. The country's highest court actually ruled in 2016 that his actions were unconstitutional, forcing him to apologize and promise again to pay back the loans. Even his personal life has been controversial, as he adheres to a Zulu tradition of polygamy and has four wives and 21 children. Some of his children have come from extra-marital affairs, and in one of those cases, he was accused of rape, although he was ultimately acquitted.
Zuma's Time in Office
Despite his frequent scandals, Zuma did have one notably large accomplishment during his time in office. He oversaw a restructuring of the country's AIDS policies, which made HIV medication much more easily available to South Africans. This was particularly important given that South Africa has the highest number of people living with HIV in the world. This was in stark contrast to the policies put in place under Mbeki, who doubted the relationship between HIV and AIDS.
But Zuma recently has faced even more criticism when he fired the country's finance minister, Pravin Gordhan, earlier this year. Gordhan's firing contributed to Standard & Poor's decision to downgrade South Africa's credit rating to junk status. The economic situation is particularly relevant because it was one of the issues Zuma had campaigned on as a way to differentiate himself from his predecessor, who he associated with political and economic elites.
Unfortunately for Zuma, the economy has not done him many favors. While it narrowly avoided a recession last year and is projected to grow by 1 percent this year, things are not great. Although the GDP of Africa's largest economy is growing, its unemployment rate continues to rise and its per capita income is expected to decline. The unemployment rate in South Africa reached a 13-year high of 27.1 percent in 2016.
Consistent scandals and economic hardship have led to a breaking point for Zuma. Efforts are currently underway to hold a vote of no-confidence by secret ballot. Although Zuma has managed to survive past votes of no-confidence, they have never been done through secret balloting, which could give members of his own party cover to vote against him. A march in support of the secret ballot also took place recently in Johannesburg. Some have suggested that Zuma may endorse his ex-wife in an attempt to secure a pardon from the next president. An endorsement could also ensure that he continues to have political influence even after he leaves his post.
---
What's Next for South Africa?
Since the end of Apartheid and the beginning of democracy in South Africa, the ANC has never been out of power. However, after the party lost elections in several key metro areas for the first time last year, that streak may be coming to an end. Specifically, in the area of Gauteng, traditionally an ANC stronghold, a private survey showed a drop of more than 10 percent in the party's public support following Zuma's latest round of controversies. Although it is impossible to point to the exact cause of that drop, the survey results indicated that the recent scandals played an important role in last year's local elections.
With upcoming elections, the party must now consider something once considered impossible, the need to form a coalition government in the absence of a clear majority. Despite the seemingly endless stream of controversies following Zuma, the ANC has so far refused to call on him to resign, although many have criticized his decision to fire the finance minister.
The video below looks at the current challenges facing the ANC:
---
Conclusion
The African National Congress came to prominence while challenging the Apartheid government in South Africa. It became the leading party in the country for the black majority and stood in opposition to the white minority ruling party. The ANC was eventually led by Nelson Mandela, a man who literally embodied this struggle. Upon his release from prison and subsequent election, the ANC appeared to have unquestioned dominance in South African politics.
Nevertheless, that dominance has begun to show signs of waning. Several municipalities have already voted the ANC out of power and now it must learn to develop coalitions, a challenge that it has never really had to deal with before but must already grapple with at the local level. Part of this can be attributed to the party achieving, at least to some degree, many of its original goals. But a much larger problem is the political capital lost by Jacob Zuma, the party's current leader  and president of the country. Zuma's endless scandals and provocative nature appear to finally have worn thin on the voters. The transition of power in Africa's largest economy and one of its most politically stable since the end of Apartheid bears watching. Even if the ANC retains its dominance, a change of the guard seems to be coming sooner rather than later.