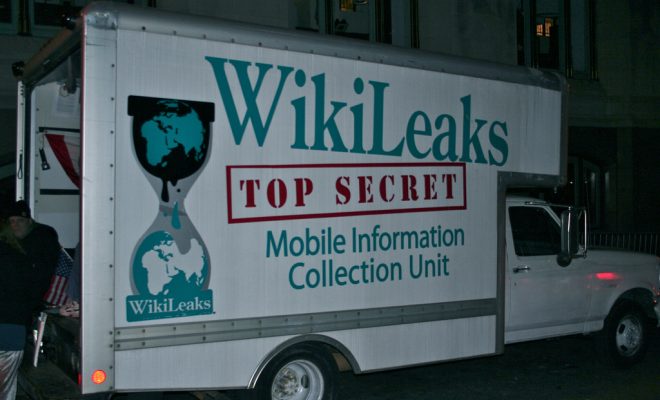 Image courtesy of Christine und Hagen Graf; License: (CC BY 2.0)
Politics
What is WikiLeaks and Who is Julian Assange?
By
|
You may have noticed "WikiLeaks" coming up in the news a few times lately. Recently, its founder, Julian Assange, saw the Swedish investigation into rape allegations levied against him suspended–although he does still face arrest if he leaves the Ecuadorian embassy in London. And Chelsea Manning, who leaked a massive number of documents to WikiLeaks, was just released from prison after her sentence was commuted by former President Barack Obama.
Wikileaks, which was launched in 2006 with the purpose of providing government and other relevant documents to citizens, has been all over the news since its inception. But what exactly is it, who is its founder, and why do you need to about it? Read on to learn more.
---
The Origins of WikiLeaks
Wikileaks officially launched in 2006 and the first document was posted in December of that year, but the domain name "WikiLeaks" was registered that October.
WikiLeaks calls itself a "not-for-profit media organization" that seeks to increase transparency worldwide. Despite the similarity in names, there's no connection between WikiLeaks and Wikipedia. Instead, WikiLeaks is associated with an organization called "Sunshine Press," which handles some of the private aspects of WikiLeaks' business.
WikiLeaks states its mission as:
Our goal is to bring important news and information to the public. We provide an innovative, secure, and anonymous way for sources to leak information to our journalists (our electronic drop box). One of our most important activities is to publish original source material alongside our news stories so readers and historians alike can see evidence of the truth.
Australian Julian Assange is usually attributed as its main founder–although there are many other people, some anonymous, who worked on the project. Also associated with the project was investigative journalist Gavin MacFadyen, Assange's mentor. He was the director of WikiLeaks. Before his death in 2016, MacFadyen founded the Julian Assange Legal Defense Committee. Sarah Harrison, a British journalist and researcher, has also been publicly identified as one of the organization's associates. She's best known for aiding Edward Snowden's trip out of the U.S. after he leaked a trove of classified documents. Many of the other people associated with WikiLeaks are anonymous, but the organization claims that they include "accredited journalists, software programmers, network engineers, mathematicians, and others."
How Does WikiLeaks Operate?
The organization is somewhat secretive in how it operates. But it is currently funded by donors and has no one permanent location or office. It has servers in multiple countries and claims it does so to protect the organization in case one country decides to crack down on its operations. In 2016, Assange told Der Spiegel that the organization had posted over 10 million documents in 10 years. According to WikiLeaks, it is sent documents anonymously through email or other anonymous electronic means, and then those documents are vetted and uploaded–although it is important to note that there has been significant criticism about the veracity of some of those documents. WikiLeaks has occasionally worked with media organizations, including Le Monde, El Pais, The Guardian, Der Spiegel, and The New York Times, although its relationships with some of those organizations have fluctuated over the years.
---
WikiLeaks and Well Known Whistleblowers
Chelsea Manning
Chelsea Manning is one of the most widely-known names associated with WikiLeaks. Manning, a U.S. soldier then known as Pte First Class Bradley Manning, sent more than 720,000 secret documents to WikiLeaks in 2010. At the time, she was working as an intelligence analyst. One of the most notable things included in this leak was video footage of a U.S. helicopter firing on and killing Iraqi citizens and journalists in 2007. She also leaked State Department cables, information related to the wars in Iraq and Afghanistan, and data about the prisoners held at Guantanamo Bay.
Manning was convicted of 20 charges associated with this leak, and sentenced to 35 years in prison. President Barack Obama commuted most of Manning's sentence before he left office. When she was released in May 2017, she had spent seven years in prison. Manning's sentence was controversial; many claimed it was too harsh, including advocates for whistleblower protections, transparency, and some human rights groups like Amnesty International. Others claimed that the punishment fit the crime. President Donald Trump, for instance, has called Manning an "ungrateful TRAITOR."
Manning's punishment was complicated by the fact that she is a transwoman who was confined in a men's prison. Manning's difficulty transitioning while incarcerated was made public, and her struggles to obtain that care worried human rights advocates.
The video below discusses Chelsea Manning's case in more detail:
Edward Snowden 
Perhaps the most recognizable whistleblower in the world is Edward Snowden. Snowden worked for the CIA and then for well-known government consulting firm Booz Allen Hamilton. In 2013, he leaked hundreds of thousands of documents that, among other things, revealed the NSA's surveillance of American citizens as well as information about British surveillance programs.
Snowden did not release this information to WikiLeaks, instead, he gave the documents to media sources. According to Snowden, the only two who were given the full array of documents were Glenn Greenwald, who worked for The Guardian and Laura Poitras, who later made "Citizenfour," the award-winning documentary about Snowden. However, in the aftermath of the leaks, Snowden was aided by WikiLeaks-associated individuals. After Snowden fled the United States, Sarah Harrison helped him get set up in Russia and avoid American detection. WikiLeaks also submitted asylum requests to multiple countries on Snowden's behalf.
Since 2013, Snowden has been loosely associated with WikiLeaks at other times. At various points, Snowden has weighed in on the accuracy of documents leaked by the organization. For example, in March 2017, Snowden publicly said that he believed the documents related to CIA hacking techniques released by WikiLeaks were true.
But, Snowden has also been critical of WikiLeaks. In July 2016, Snowden criticized WikiLeaks for not curating the information it released, instead just indiscriminately posting documents related to the U.S. election. In response, WikiLeaks accused Snowden of trying to curry favor with the then-front-runner in the election, Hillary Clinton.
---
WikiLeaks Controversy and Criticisms
There are lots of criticisms consistently levied against WikiLeaks and the people associated with it. Here are some of the most prevalent:
Julian Assange's Legal Troubles
Julian Assange has spent the last five years in the Ecuadorian Embassy in London. Assange was accused of sexual assault by two women in Stockholm, Sweden in 2010. Assange claims that the sexual encounters with the two women were both consensual and that they were only accusing him of assault because of political reasons. In 2012, Assange sought asylum from Ecuador and was granted the ability to stay in the country's embassy in London. While Sweden recently announced that it was no longer seeking his arrest, he still isn't likely to leave the embassy any time soon. U.K. officials have said they can arrest him on other charges, like jumping bail. And if he's extradited to the United States, he could be subject to a variety of charges related to WikiLeaks. If he is ever extradited to the U.S. for charges related to release of documents stolen by Chelsea Manning, he could be in serious trouble.
Redactions Wanted
WikiLeaks' "leak all for transparency's sake" approach to releasing information has garnered it some criticism. In July 2016, WikiLeaks claimed to publish a number of documents related to Turkish President Recep Tayyip Erdogan. The so-called "Erdogan emails" didn't really appear to contain any political bombshells, but did include links to databases containing the information of Turkish citizens. One database had the personal information of almost every woman in the country. The info included things like addresses, cell phone numbers, and political information. Essentially, WikiLeaks doxxed almost half the country. While the files were eventually taken down, WikiLeaks was criticized for going beyond transparency to potentially harming private individuals.
2016 Election Hacks
WikiLeaks has recently been criticized for its role leaking documents pertaining to the 2016 election. WikiLeaks leaked DNC emails that reflected negatively on Hillary Clinton's presidency campaign. Charlie Savage of the New York Times argued that Assange specifically timed the release of the DNC emails to come out at the most politically damaging time for Clinton, a claim bolstered by Assange's own admission that he saw Clinton as a "personal foe." In addition to releasing emails from the DNC, Wikileaks also published a trove of emails from Clinton campaign chairman John Podesta's personal email account. Those were also released in batches in a way that kept much of the information in the news as the campaign progressed. WikiLeaks has even been accused of colluding with Russia's attempts to propel now-President Donald Trump to the presidency. The U.S. intelligence community issued a report that attributed the DNC hack to Russian intelligence services, which caused many to question the extent to which WikiLeaks is associated with the Russian government. WikiLeaks has refused to divulge the source of the documents and has so far denied any connection with Russia.
---
Conclusion
As a political topic, WikiLeaks is no doubt controversial. In the era of fake news, and distrust in the media and government institutions, WikiLeaks has often garnered credit for being willing to provide ordinary citizens with primary sources. On the other hand, WikiLeaks' mystique, founder's legal issues, and accusations of bias and irresponsible dissemination of information has led to plenty of criticism. In fact, in the last year, plenty of think pieces have been written, accusing WikiLeaks of "losing its friends" and "losing the moral high ground." But given the space it has carved out as a repository for leaked information, and the relative fame of some of the people associated with it, including Julian Assange, it's unlikely to disappear from our radars anytime soon.