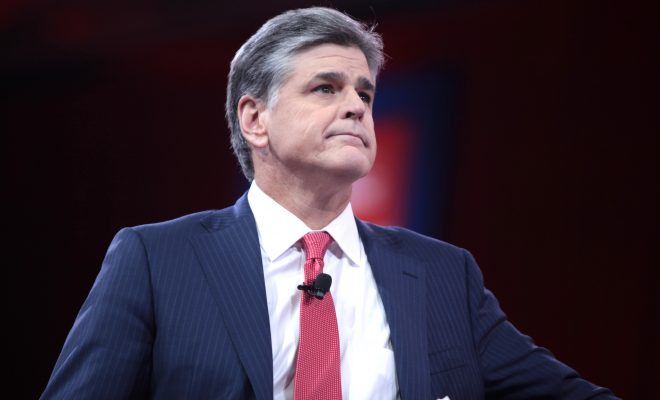 "Sean Hannity" Courtesy of Gage Skidmore; License: (CC BY-SA 2.0)
Society and Culture
Fox News Retracts Seth Rich Conspiracy Theory
By
|
Fox News retracted a story from its website Tuesday afternoon, after a week of conspiracy theory peddling from one of its most popular television hosts, Sean Hannity. The story was about Seth Rich, the 27-year-old DNC staffer who was murdered last July while walking to his home in D.C. The story was also popular on a number of websites, including alt-right Breitbart and the far-right Drudge Report.
Quoting Rod Wheeler, a private investigator who was supposedly looking into the case on behalf of the Rich family, the story claimed that Rich leaked emails and other documents from DNC staffers and Hillary Clinton to WikiLeaks. That would mean the information did not come from Russian operatives, as both the CIA and the FBI have concluded. Fox issued the following statement on its retraction of the story:
On May 16, a story was posted on the Fox News website on the investigation into the 2016 murder of DNC Staffer Seth Rich. The article was not initially subjected to the high degree of editorial scrutiny we require for all our reporting. Upon appropriate review, the article was found not to meet those standards and has since been removed.
Early last week, Wheeler sparked the tinder that would set the "alt-right" media–and Hannity–aflame: he told Fox 5 D.C. he had sources at the FBI that said Rich had released a trove of emails and attachments to WikiLeaks. Rich was assassinated, according to the unfounded conspiracy, as part of an attempt to spread rumors that the Trump campaign colluded with Russia to harm the Clinton campaign by releasing thousands of embarrassing emails.
The FBI, along with the Senate and House intelligence committees, are currently investigating communications between the Trump campaign and the Russian government. Hours after Wheeler's report, he told CNN that his "information" was in fact "from the reporter at Fox News," not based on hard evidence or any of his own original findings or sources, including at the FBI. Wheeler later told Fox 5 the false report was due to "miscommunication."
But that has not stopped Hannity and others on Twitter from fanning the flames:
Congress, investigate Seth Rich Murder! @JulianAssange made comments u need to listen to! If Seth was wiki source, no Trump/Russia collusion https://t.co/QPHZwypU34

— Sean Hannity (@seanhannity) May 22, 2017
 On Sunday's "Fox and Friends," Newt Gingrich also parroted Wheeler's false report, saying: "We have this very strange story now of this young man who worked for the Democratic National Committee, who apparently was assassinated at 4 in the morning, having given WikiLeaks something like 53,000 emails and 17,000 attachments."
Hannity and others have been able to latch on to Wheeler's account, and earlier conspiracies swirling around Rich's murder, because of the investigation's lack of progress–the case remains unsolved. The investigation is ongoing; D.C. Metropolitan Police have some evidence that the murder was a botched robbery.
Meanwhile, The Daily Beast reported earlier this week that staff members and reporters at Fox News found Hannity's insistence that this story has merit to be "embarrassing" and "gross." Wheeler could find himself in court because of his unfounded claims. Rich's family already sent a "cease-and-desist" letter to Wheeler through their lawyer, Joseph Ingrisano.
"Your improper and unauthorized statements, many of which are false and have no basis in fact, have also injured the memory and reputation of Seth Rich and have defamed and injured the reputation of the members of the family," Ingrisano wrote.
Wheeler told the Chicago Tribune that he is "exploring all of my legal options and I sincerely hope that one day we find the person who took Seth's life."
In a Washington Post op-ed, Mary and Joel Rich, Seth's parents, pleaded with those who continue to promulgate the falsehoods "to give us peace, and to give law enforcement the time and space to do the investigation they need to solve our son's murder." They added: "With every conspiratorial flare-up, we are forced to relive Seth's murder and a small piece of us dies as more of Seth's memory is torn away from us."