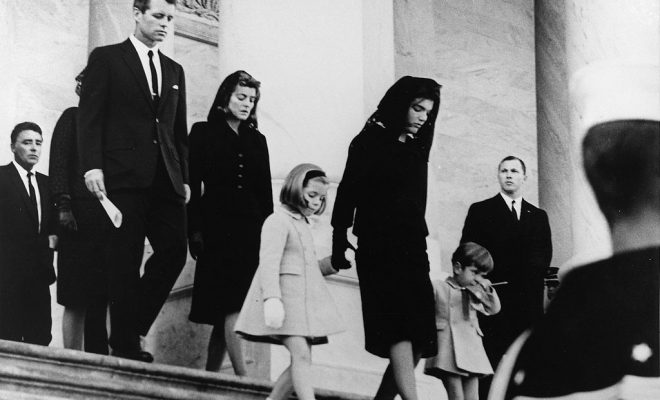 Image courtesy of [Abbie Rowe White House Photographs via Wikimedia]
Politics
Political Family Dynasties in the United States
By
|
Although the United States was founded to escape a monarch and royal family, it is irrefutable that certain families have dominated the American political spectrum. Surnames have transformed into a sort of brand for these families through money, publicity, talent, or a combination of them all. As of October 2013, 37 members of Congress had a relative who had previously served in Congress. Some of the most discussed names of potential candidates for the 2016 presidential election are those shared with former presidents. The scope of power and attention each of these families has acquired through the years is a testament to America's fascination with celebrity figures.
---
The Kennedy Family
Perhaps one of the most iconic families in American politics, the Kennedys have shaped the country over several generations. The first, Patrick Joseph "P.J." Kennedy, was a savvy businessman born to Irish Catholic immigrants. As a young man, he worked on the Boston docks to support his three sisters and widowed mother. P.J. built a name and fortune for himself, eventually entering the political realm. He served five consecutive one-year terms in the Massachusetts House of Representatives, followed by three two-year terms in the state senate. His political aspirations went beyond his own career, influencing and pushing for his children to reach the highest office in the country.
John Fitzgerald Kennedy ("Jack", "JFK")
P.J.'s eldest son, Joseph Patrick "Joe" Kennedy, Jr., was expected to become president, but those plans were derailed when Joe Jr. was killed in action during WWII. His father's aspirations then fell upon a younger son, John F. Kennedy.
After serving in the U.S. Navy, JFK was elected to the House of Representatives from Massachusetts' eleventh district for six years, followed by a stint as a Senator fro the same state until he was elected president. To this day, he is the only Roman Catholic president and the only one to have won a Pulitzer Prize. He was also the youngest elected to office, inaugurated at just 43 years old.
JFK's presidency was dominated by the Cold War. He is known for the failed military invasion in Bay of Pigs, which damaged his administration's image; however, the Cuban Missile Crisis restored faith in his presidency. JFK also started the Peace Corps, and supported racial integration and the civil rights movement.
Only two years and ten months passed between his inauguration and assassination, yet to this day he remains one of the most celebrated and idolized figures in American history.
Robert Francis Kennedy ("Bobby," "RFK")
Jack's younger brother Robert served as his campaign manager and White House advisor during the presidency. Bobby's authority over cabinet departments led the press to call him, "Bobby – Washington's No. two man." JFK appointed him as Attorney General, causing controversy as critics claimed he was unqualified and inexperienced.
His position as AG allowed him to advocate for the  Civil Rights Movement. The sense of urgency for racial equality that RFK projected greatly influenced the President.
After JFK's assassination, Robert became senator of New York and then began campaigning for presidency. He was shot and killed the night he won the California primary while leaving the ballroom where he had addressed his supporters.
Edward Moore "Ted" Kennedy
Edward was the youngest Kennedy and far outlived his brothers. He was the third-longest serving senator in America, having represented the state of Massachusetts for nearly 47 years. During his time in the Senate, he was chairman and member of many different committees.
The presidency was not a realistic goal for Ted after the Chappaquiddick incident, in which a young woman was killed. Despite this tragedy, he attempted to run in the 1980; however, he lost the Democratic primary to President Jimmy Carter.
The Next Generations
The privileges and opportunities afforded to members of the Kennedy family are vast.  While many descendants of the Kennedys have served at various levels government, these are some of the more notable examples:
Caroline Bouvier Kennedy
Caroline is the only surviving child of JFK and Jackie since her brother, John Fitzgerald Kennedy, Jr., was killed in a plane crash in 1999. There were talks of "John John" following in his father's political footsteps before his untimely death. President Obama appointed Caroline as United States Ambassador to Japan in 2013.
Kathleen Kennedy Townsend
Eldest child of Robert F. Kennedy, Kathleen served as Lieutenant Governor of Maryland from 1995 to 2003.
Joseph P. Kennedy II
The former U.S. Representative for Massachusetts' eighth district, RFK's eldest son served in office from 1987 until 1999.
Joseph P. Kennedy III
Son of Joseph P. Kennedy II and grandson of RFK, he was elected to Massachusetts' fourth congressional district in 2012.
Patrick J. Kennedy II
The only child of Ted Kennedy to enter politics, he served as U.S. Representative for Rhode Island's first Congressional district for 16 years. When Patrick decided not to run for reelection, which was prior to Joseph P. Kennedy III's service, it was the first time Washington was without a Kennedy in office in 60 years.
John Bouvier Kennedy Schlossberg
Although still an undergrad at Yale University, JFK's only grandson has already discussed pursuing a future career in politics. "Jack" has already interned on Capitol Hill for John Kerry and writes political commentary for Yale publications and CNN.
---
The Bush Family
While the Kennedys are royalty among liberals, the Bush family is champion of the right. Two Governors, two U.S. Senators, one Supreme Court Justice, one Vice President, and two Presidents make up their lineage. Various business achievements have created a net worth of $60 million. Peter Schweizer, a research fellow at the Hoover Institution, said that the Bushes have "got to be considered the most successful political dynasty in American history."
David Davis
Davis started the political dynasty serving as Abraham Lincoln's campaign manager. Once Lincoln was elected, David received a recess appointment to a seat on the United States Supreme Court. He was an associate justice from 1862 to 1877. He is first cousin three times removed to George H. W. Bush's generation.
Prescott Bush
Prescott Bush was the father of George H. W. Bush and grandfather of George W. and Jeb Bush. Prescott became a profitable businessman before becoming a U.S. Senator from Connecticut from 1952 to 1963.
George H.W. Bush
Commonly referred to as Bush Sr. since his son's administration, the elder Bush enlisted in the U.S. Navy before attending Yale. Bush Sr. moved his family to Texas and became a prominent member of the oil industry. He had become a millionaire before the age of 40.
Prior to his presidency, Bush Sr. held various positions including: Member of the House of Representatives, Ambassador to the United Nations, Chairman of the Republican National Committee, Chief of the Liaison Office to the People's Republic of China, Director of Central Intelligence, and Vice President to Ronald Reagan.
Following his inauguration in 1989, his administration was instrumental to changes both domestically and abroad. The collapse of the Soviet Union and Berlin Wall happened in the earlier stages of his presidency. The United States was involved in the Gulf War during this time as well. At home, Bush signed the Immigration Act of 1990, which led to a 40 percent increase in legal immigration to the United States. Bush St. lost his campaign for a second term to Bill Clinton.
George W. Bush
Following in his father's footsteps, George W. Bush entered both the oil industry and political arena. George W. worked on his father's presidential campaign, and then joined others in purchasing the Texas Rangers. He made history as Governor of Texas by becoming the first Governor to be elected to two consecutive four-year terms.
The terrorist attacks on September 11, 2011 transformed George W. into a wartime president. They propelled the United States into the War on Terror and the enactment of the USA PATRIOT Act.
Approval ratings for George W. landed on both ends of the spectrum. During the 2008 financial crisis they were one of the lowest on record, while following the events of 9/11 they were the highest in history. To this day, George W. Bush's legacy is split between those who praise him and those who view him as catastrophic for the country.
John Ellis "Jeb" Bush
George W. Bush's younger brother Jeb served as Governor of Florida from 1999 to 2007. Jeb was the first and only Republican to serve two full four-year terms as Governor of Florida. Republicans are hopeful for a Bush 2016 campaign in the next presidential cycle, and Jeb has acknowledged that he is thinking about running. There are many factors that will decide the younger Bush's next steps, such as immediate family wishes and if he predicts he could run a successful campaign.
---
The Clinton Family
While not technically a dynasty yet, the Clinton family continues to be influential in the world of politics, philanthropy, and advocacy.
William Jefferson "Bill" Clinton
Unlike President Kennedy and Bush, Bill Clinton was not born into a family of wealth. He grew up in a modest home in Arkansas before earning scholarships to Georgetown and Yale Universities.
Clinton entered public service through election as Arkansas Attorney General prior to his election as Governor of Arkansas. He was inaugurated as the 42nd President of the United States on January 20, 1993. Clinton quickly gained popularity with the public by signing into law the Family and Medical Leave Act of 1993. A major disappointment of his presidency, the inability to create a national health care system spearheaded by the First Lady, plagued his administration. The House of Representatives voted to impeach Clinton in 1998 following the Monica Lewinsky scandal on alleged acts of obstruction of justice and perjury. The Senate voted to acquit Clinton on both charges. Despite the impeachment, Clinton left office with an approval rating of 66 percent.
Since leaving office, President Clinton has been active in philanthropic endeavors. The William J. Clinton Foundation (renamed in 2013 as the Bill, Hillary, & Chelsea Clinton Foundation) was founded in 2001 to, "Bring people together to take on the biggest challenges of the 21st century."
Hillary Rodham Clinton
Hillary's time as First Lady was influential and has had lasting impacts. She played a central role in shaping the course of her husband's administration. Hillary used her position to help pass legislation such as the State Children's Health Insurance Program, Foster Care Independence Act, and the Adoption and Safe Families Act.
Her time spent as a United States Senator from New York was also filled with progress. She served on five Senate committees with nine subcommittee assignments. President Obama nominated Hillary to the position of Secretary of State in 2009, and she served in this capacity until 2013.
Hillary ran for president in 2008, but ended her campaign to endorse future President Obama. Many Democrats hope she will run again in 2016, and there is already a campaign-in-waiting in place if she formally decides to run.
Chelsea Clinton
As the only child of Bill and Hillary, Chelsea has been in the public eye her entire life. She has worked for NBC as a special correspondent, and works closely with the Clinton Foundation as Vice Chairwoman.
---
Negative Aspects of Family Dynasties
The 2012 presidential election was the first since 1976 in which a member of the Bush or Clinton families was not a presidential or a vice presidential candidate; however, a recent poll conducted by the Wall Street Journal and NBC News finds that 69 percent of Americans would prefer that neither a Bush nor a Clinton dominate the 2016 presidential race. This implies that Americans dislike family dynasties, yet they continue to elect them. Why is that? It's easier to vote for a familiar name, regardless of the actions of its predecessor. By nature budding politicians who are raised in the spotlight have an easier time building a political career, as the public and potential donors will take their campaign more seriously and feel an instant connection.
Kennedy
Following the appointment of Caroline Kennedy as Ambassador to Japan, speculations rose regarding if she deserved the position or if sharing the high-profile Kennedy name prompted the assignment. It would benefit the Obama Administration to have a member of one of the most beloved Democrat families representing him and the country. Japan is an advanced nation, so her position would not be as challenging compared to being placed in a country ensnared in domestic or international conflicts.
Bush
While in many instances being related to former politicians is a blessing, for potential presidential nominee Jeb Bush having the family name could be detrimental to a potential presidential campaign. His older brother's tainted legacy will prove to a be challenge if the younger Bush does decide to make a stab at running for the presidency.
Clinton
With revelations about what goes on behind the scenes of the Clinton Foundation, speculations surround the Clintons and their willingness to sell their image and reputation to further their own agendas. One of which could be a potential Hillary campaign, as the former Secretary of State has made the foundation her base while she contemplates a presidential run. With the addition of Hillary and Chelsea taking on major roles, it has truly become a family affair.
The New York Times wrote a takedown of the Clinton Foundation, stating:
For all of its successes, the Clinton Foundation had become a sprawling concern, supervised by a rotating board of old Clinton hands, vulnerable to distraction and threatened by conflicts of interest. It ran multimillion-dollar deficits for several years, despite vast amounts of money flowing in.
---
 Resources
Primary
Hart Research Associate/Public Opinion Strategies: Survey
Additional
The New York Times: Unease at Clinton Foundation Over Finances and Ambitions
Time: Liz Cheney And The Family Business: A Chart of All Congressional Dynasties
JFK Library: Joseph P. Kennedy
JFK Library: Life of John F. Kennedy
James W. Hilty: Robert Kennedy: Brother Protector
CNN: RFK Assassination Witness Tells CNN: There was a Second Shooter
JFK Library: Edward M. Kennedy
History Channel: Incident on Chappaquiddick Island
Time: Remembering JFK Jr., 15 Years Later
NBC News: The Kennedys: Portrait of an American Dynasty
Celebrity Net Worth: Bush Family Net Worth
Washington Times: Rise of 'Dynasty' Quick, Far-reaching
Michael Fix: The Paper Curtain: Employer Sanctions' Implementation, Impact and Reform
Washington Post: As Jeb Bush Eyes 2016, Key Question is how a Presidential Campaign Would Affect his Family
The New York Times: Impeachment: The Overview — Clinton Impeached; He Faces a Senate Trial, 2D in History; Vows to do job Till Term's 'Last Hour'
Politico: Foundation Renamed for all Three Clintons
Christian Science Monitor: Chelsea Clinton Gets PhD From Oxford: For What?
Huffington Post: Political Family Feuds: The Good, the Bad, and the Really Ugly
Washington Post: 3 Reasons why we Have a Love/Hate Relationship With Political Dynasties