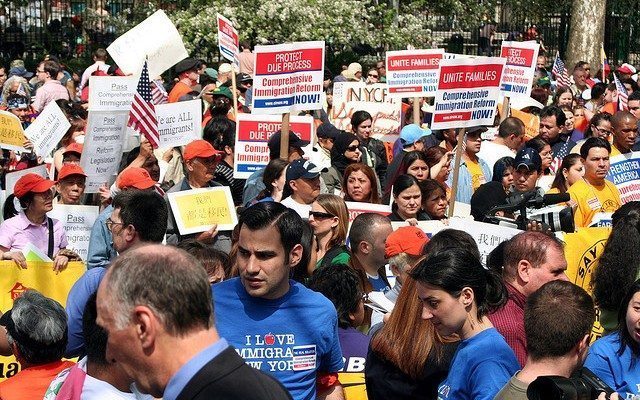 Image courtesy of [Boss Tweed via Flickr]
Politics
Obama's Immigration Reform: Earned Citizenship and Beyond
By
|
Since his first presidential campaign, President Obama has advocated for immigration reform, and his administration has experienced its share of successes and failures. Notably, it failed to accomplish its goal to see through the passage of the Dream Act, legislation that would allow unauthorized immigrant students without a criminal background to apply for temporary legal status and eventually earn U.S. citizenship if they attended college or enlisted in the U.S. military. Immigration reform seemed to truly pick up steam, however, during Obama's second term. In 2013, he proposed earned citizenship for unauthorized immigrants. But what exactly is earned citizenship?
---
Undocumented Immigrants in the U.S.
An undocumented immigrant is a foreigner who enters the U.S. without an entry or immigrant visa, often by crossing the border to avoid inspection, or someone who overstays the period of time allowed as a visitor, tourist, or businessperson. According to the Department of Homeland Security's Office of Immigration Statistics, 11.4 million undocumented immigrants lived in the United States as of 2012. The combined number of undocumented immigrants living in California, Texas, New York, and Florida accounted for 55 percent of that figure.
More than eight million, or 71 percent of all undocumented immigrants, were from Central American countries in 2008-12. Asia accounted for 13 percent; South America for seven percent; Europe, Canada, and Oceania for four percent; Africa for three percent; and the Caribbean for two percent. The top five countries of birth included: Mexico (58 percent), Guatemala (six percent), El Salvador (three percent), Honduras (two percent), and China (two percent).
In the U.S., 61 percent of unauthorized immigrants are between the ages 25-44 and 53 percent are male. Interestingly, 57 percent of unauthorized immigrants over the age of 45 are female.
---
What is Obama's Earned Citizenship Proposal?
In 2013, Obama called for earned citizenship in an attempt to fix what he calls a broken system. It is an alternative to deporting the 11 million undocumented immigrants living in the U.S illegally that allows a legal path for them to earn citizenship. In this proposal, unauthorized immigrants must submit to national security and criminal background checks, pay taxes and a penalty, wait a specific amount of time, and learn English in order to earn citizenship. If the eligibility requirements are met, citizenship is guaranteed. Lastly, young immigrants would be able to fast track citizenship through military service or higher education pursuit.
Provisional Legal Status
Unauthorized immigrants must first register, submit biometric data, pass both national security and background checks, and pay penalties/fees in order to be eligible for provisional legal status. Before applying for legal permanent status–a green card–and eventually U.S. citizenship, they must wait until current legal immigration backlogs are cleared. A provisional legal status will not allow federal benefits. Lawful permanent resident status eligibility will require stricter requirements than the provisional legal status, and applicants must pay their taxes, pass further background and national security tests, register for Selective Service if applicable, pay additional fees and penalties, and learn English and U.S. Civics. In accordance with today's law, applicants must wait five years after receiving a green card to apply for U.S. citizenship.
DREAMers and AgJOBS
This proposal includes the voted-down Dream Act. Innocent unauthorized immigrant children brought to the U.S. by their parents can earn expedited citizenship through higher education or military service. Agricultural workers can fast track legal provisional status as well in a program called AgJOBS. This a measure to specifically fight against employers taking advantage of unauthorized farmers who will work for the bare minimum.
Combatting Fraud
The proposal allocates funding to DHS, the Department of State, and other relevant federal agencies to create fraud prevention programs that will "provide training for adjudicators, allow regular audits of applications to identify patterns of fraud and abuse, and incorporate other proven fraud prevention measures." These programs will help ensure a fair and honest path to earned citizenship.
---
2013 Immigration Reform Bill
Much of Obama's proposal for earned citizenship came to life in the Senate's 2013 Immigration Reform Bill. "Nobody got everything they wanted. Not Democrats. Not Republicans. Not me," the President said, "but the Senate bill is consistent with the key principles for commonsense reform." The bill was a heavily bipartisan effort, written by a group of four Republicans and four Democrats called the Gang of Eight. The bill would have provided $46.3 million in funding for its implementation. Immigrants could start applying for a lawful permanent residence when specific goals and timelines of the bill are reached.
Border Security
The bill mandated a variety of border security measures, including the following: the training and addition of 19,200 full-time border agents amassing to 38,405 in total; activation of an electronic exit system at every Customs and Border Control outlet; constructions of 700 miles of fencing; increased surveillance 24 hours a day on the border region; and some specific technology measures including ground sensors, fiber-optic tank inspection scopes, portable contraband detectors, and radiation isotope identification devices. The bill also mandated more unauthorized immigration prosecution, including the hiring of additional prosecutors, judges, and relevant staff. Interior Enforcement would be required to increase its efforts against visa overstay, including a pilot program to notify people of an upcoming visa expiration. And finally, a bipartisan Southern Border Security Commission to make recommendations and allocating funds when appropriate.
Immigrant Visas
Registered Provisional Immigrants' (RPI) status would be granted on a six-year basis. Unauthorized immigrants would be eligible for application if they have been in the U.S. since December 31, 2011, paid their appropriate taxes as well as a $1,000 penalty. Applicants would need a relatively clean criminal background, although the bill allowed judges more leniency in determining the severity of a person's criminal background. After ten years of living in the U.S. with continuous employment (or proof of living above the poverty line), the payment of additional fees, and additional background checks, those with RPI status could apply for legal permanent residence. Naturalized citizenship could be applied for after three years of legal permanent residence.
Between 120,000 and 250,000 visas would be handed out each year based on a two-tier point system. Tier one visas would be designated for higher-skilled immigrants with advanced educational credentials and experience, and tier two visas would be reserved for less-skilled immigrants. The top 50 percent that accrued the most points in each tier would be granted visas, and points would be based on a combination of factors including: education, employment, occupation, civic involvement, English language proficiency, family ties, age, and nationality.
Interior Enforcement
Essentially, this provision mandated the use of E-verify, which is "an internet-based system that allows businesses to determine the eligibility of their employees to work in the United States by comparing information from an employee's Employment Eligibility Verification Form I-9 to data from U.S. government records." E-verify, in use now on a limited basis, would be mandated for all employers in the time span of five years. Employers would be required to register newly hired employees with E-verify within three days, and regular assessments would take place to ensure that E-verify isn't used for discriminatory purposes.
Watch the video below for more information on the Immigration Reform Bill.
---
Stopped in the House
The Senate passed the bill with overwhelming support in a 68-32 vote. Both sides were highly pleased with the bipartisan teamwork the bill produced. "The strong bipartisan vote we took is going to send a message across the country," said Sen. Chuck Shumer (D-NY). "It's going to send a message to the other end of the Capitol as well." When the bill was finalized, the group broke into a "Yes, we can!" chant.
Devastatingly, House Speaker John A. Boehner (R-Ohio) refused to even allow the bill to come to a vote after previously claiming that something needed to be done about immigration reform. He said:
The idea that we're going to take up a 1,300-page bill that no one had ever read, which is what the Senate did, is not going to happen in the House. And frankly, I'll make clear that we have no intention of ever going to conference on the Senate bill.
No room was allowed for comprise or debate on potential house legislation.
---
Obama's Immigration Accountability Executive Actions
President Obama's immigration reform executive actions, announced in November 2014, focus on three items: cracking down on illegal immigration at the border, deporting felons instead of families, and accountability. Basically, these encompass a minor segment of the immigration reform he was trying to pass all along. People attempting to cross the border illegally will have a greater chance of failure. Border security command-and-control will be centralized. Deportation will focus on those who threaten security and national safety. Temporary legal status will be issued in three-year increments for unauthorized immigrants who register, pass background checks, and pay appropriate taxes. It will protect up to five million unauthorized immigrants from deportation.
The executive actions established Deferred Action for Childhood Arrivals (DACA) and Action for Parents of Americans and Lawful Permanent Residents (DAPA). While DACA protects immigrants who came to the U.S. as children, DAPA provides temporary relief from deportation for eligible parents of U.S. citizens and lawful permanent residents.
 Are the Executive Actions legal?
These executive actions saw immediate backlash. House Judiciary Committee Chairman Bob Goodlatte (R-VA) responded, "The president's decision to recklessly forge ahead with a plan to unilaterally change our immigration laws ignores the will of the American people and flouts the Constitution." Senator Rand Paul (R-KY) moved for the House to sue the president.
On Feburary 16, 2015, conservative Texas district court judge Andrew Hanen ruled in favor of Texas and 25 other states to overturn Obama's action as unconstitutional. Hanen  ruled that the executive actions would cause these states "irreparable harm."
The matter will now be appealed to the 5th Circuit Court of Appeals in New Orleans. Obama's actions are blocked indefinitely. Until then, a number of states including New York, California, and New Mexico, have asked for a lift of the ban for their states. They await a ruling.
---
 Conclusion
Immigration has been the center of heated debate for years. The closest our government came to finally passing a bill that would aid the problem of illegal immigration didn't even come to a vote in the House. So President Obama decided to take the matter into his own hands. Whether forcing states to participate in his immigration reform is constitutional or not will be a decision left to the courts. Obama's proposal for earned citizenship started a snowball effect of immigration policy that will likely end in a showdown at the Supreme Court.
---
Resources
Primary
White House: Earned Citizenship
Additional
Immigration Policy Center: A Guide to S.744
Immigration Policy Center: The Dream Act
Politico: Immigration Reform Bill 2013: Senate Passes Legislation 68-32
U.S. News & World Report: Is Obama's Immigration Executive Order Legal?
Washington Post: Boehner Closes Door on House-Senate Immigration Panel
Washington Post: A Dozen States Will CAll for Courts to Allow Obama's Executive Actions to Proceed